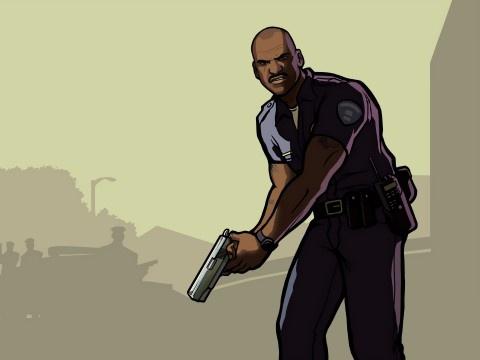 Frank Tenpenny appears as a Major Character and Antagonist in GTA San Andreas.
Tenpenny is an officer of Los Santos Police Department (LSPD) and also a member of C.R.A.S.H (Community Resources Against Street Hoodlums), a corrupt unit.
Tenpenny used his power over Carl by bribing him into doing work for him or he'll risk being arrested for a crime he didn't commit. Over the course of the game, Tenpenny tasks Carl with missions such as killing FBI witnesses to C.R.A.S.H crimes, obtaining a FBI dossier and planting tainted evidence.
Frank Tenpenny: Character Info
Gender

Male

Nationality

United States

Location

Los Santos

Occupation

LSPD

Performer / Actor

Samuel L. Jackson

Affiliation

Big Smoke C.R.A.S.H. Eddie Pulaski Jimmy Hernandez Ryder The Truth

Vehicles

Police Car

Weapons

Combat Shotgun Pistol (9mm) Shotgun Shovel
Frank Tenpenny: Appearances
Frank Tenpenny: Artworks