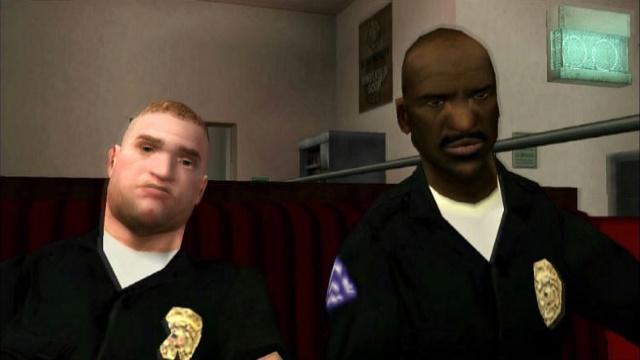 C.R.A.S.H. is a government organization featured in Grand Theft Auto: San Andreas.
C.R.A.S.H. is a unit of the LSPD intended to reduce the level of gang crime within the city, but is extremely corrupt. Frank Tenpenny, the leader of the unit, is one of the most influential antagonists in the game, while the gang serves as the main antagonist group in San Andreas.
C.R.A.S.H. was founded by Frank Tenpenny and his partner Eddie Pulaski, who claimed that the unit's goal is to clean up San Andreas from crime. In reality, the unit makes business with street gangs such as the Ballas. An IAA officer, Ralph Pendelbury, threatened to expose the actions of the organization, but was assaulted and killed by CRASH member Jimmy Hernandez.
The unit involves themselves heavily in CJ's life, planting evidence on him to link him to Pendelbury's death in order to coerce him into working for them. After a failed attempt to take out Carl Johnson, Tenpenny meets his end in the center of Grove Street.
Following the unit's leader's death, CRASH is finally disbanded.
C.R.A.S.H.: GTA SA Info
Group Type

Law Enforcement Agency

Faction Type

Special Law Enforcement Unit

Nationality

United States

Location

Los Santos

Also Known As

Community Resources Against Street Hoodlums

Enemies

Grove Street Families

Based on (Real Life)

LAPD C.R.A.S.H.
C.R.A.S.H.: Appearances
C.R.A.S.H. Missions in GTA San Andreas:

Appearances in Story Missions: