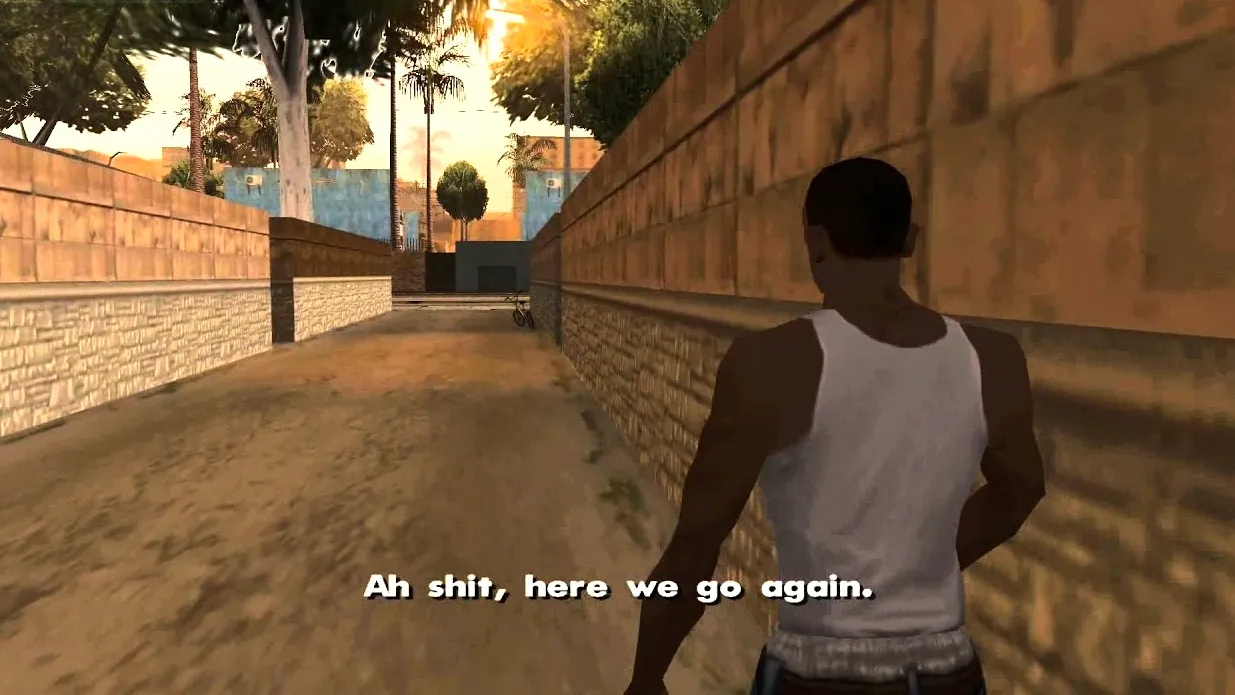 In the Beginning is the introductory cutscene of the GTA San Andreas story mode.
Carl makes his way back to Grove Street after five years away
CJ returns back to Los Santos after his mother, Beverly Johnson, is killed in a drive-by shooting. After arriving at Francis International Airport, CJ takes a taxi back to Grove Street but on his journey back, the taxi is pulled over by a police car.
Inside the car are Frank Tenpenny, Eddie Pulaski and Jimmy Hernandez, corrupt members of C.R.A.S.H. They handcuff CJ and take his money, believing that it's drug money. Tenpenny welcomes back CJ to Los Santos, making it clear that they've had a run-in before.
They take CJ away in the police car and let the taxi drive away, albeit with CJ's things inside it. Tenpenny starts describing how not 10 minutes ago another police officer was gunned down and will pin the murder on CJ if he doesn't behave. They drop him off, away from Grove Street, and tell CJ to be available when they need him.
Alone in Jefferson, CJ is left with a BMX to get himself back to Grove Street.
Since 'In the Beginning' is not considered a mission by the game, when the initial cutscene ends, the player is free to explore Los Santos before actually going to Grove Street.
In the Beginning: Mission Objectives
Get on the BMX bicycle.
Follow the "CJ" icon on the map and go to Johnson House in Grove Street.
In the Beginning: Mission Info
Mission Giver

Carl Johnson

Location

Los Santos International Airport; Jefferson; Grove Street (Ganton)

State / Area

Los Santos
Rewards

Safehouses in Los Santos; Aircrafts in Los Santos International Airport; Maverick in Easter Bay Airport; Access to Red County

Unlocked Items

MaverickJefferson SafehouseMulholland SafehouseRoboi's Food MartSanta Maria Beach SafehouseVerdant Bluffs SafehouseVerona Beach SafehouseWillowfield Safehouse
In the Beginning: Video Walkthrough
Original Game Walkthrough (PS2, Xbox, PC):
The Definitive Edition Remaster Walkthrough: