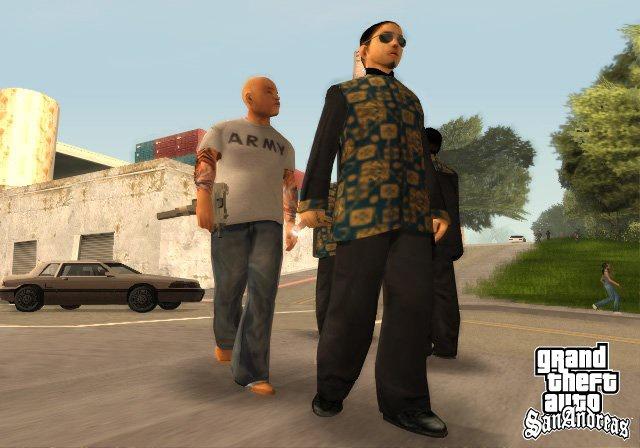 The Da Nang Boys are a Gang featured in Grand Theft Auto: San Andreas.
Its name derives from the Vietnamese city Da Nang, the gang being based on real-life Cantonese-Vietnamese smuggling gang, the Jackson Street Boys.
The Da Nang Boys are known to cause trouble for the Loco Syndicate's drug dealing organization, and are also at war with the San Fierro Triads, having massacred the Blood Feather Triad subsect of the SF Triads.
Da Nang members can be seen roaming around their turf, Easter Basin, Esplanade North and East, wearing t-shirts or robes, with blue, black or army jeans. On the street, they wield pistols and micro SMGs, and drive around in Tampas, Mananas and Buccaneers.
Da Nang Boys: GTA SA Info
Group Type

Gang

Faction Type

Vietnamese Crime Syndicate

Nationality

Vietnam

Location

Easter Basin; Esplanade North; Esplanade East

Occupation

Human trafficking; Slavery; Drug trafficking; Extortion

Gang Colors

Orange; Grey

Front Companies

Easter Basin Shipping Company

Members

The Snakehead

Weapons

AK-47GrenadeKatanaKnifeMicro SMGPistol (9mm)RPG (Rocket Launcher)ShotgunSMGSniper RifleTec-9

Based on (Real Life)

Jackson Street Boys; Asian Boyz; Born to Kill
Da Nang Boys: Appearances
Appearances in Story Missions: