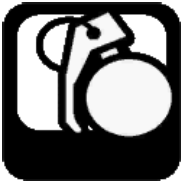 The Grenade is a weapon in the Thrown Weapons class featured in Grand Theft Auto: San Andreas. The design of the Grenade in GTA San Andreas is based on a real life M67 Grenade.
This weapon also appears in Grand Theft Auto V, Grand Theft Auto IV, GTA Vice City and GTA III.
Grenade Description:
Grenades are extremely effective weapons to blow up vehicles and to kill enemies in cover. Make sure to not be next to one that's about to explode, otherwise, have fun!
How to get the Grenade in GTA San Andreas:
The Grenade can be found and picked up around the San Andreas map (see the spawn locations in the "Appearances" section below).
The Grenade can also be purchased from Ammu-Nation for a price of $300 (or 20% higher in Las Venturas).
Grenade: GTA SA Statistics
Skill Levels

No

Can Crouch

No

Can Jump

Yes

Can Sprint

Yes
Grenade: GTA SA Info
Weapon Class

Thrown Weapons

Fire Type

Projectile

Story Mode Price

$300

Weapon Slot

9

Weapon Tier

Tier 2 (Professional Cheat Set)

Based on (Real Life)

M67 Grenade
Grenade: GTA SA Appearances
Grenade Spawn Locations in GTA San Andreas

Here is where to find the Grenade in GTA San Andreas:

Available for purchase in Ammu-Nation stores for $300 each.
Found in Las Colinas, Los Santos, beside a burnt wooden shack.
Found in East Beach, Los Santos, in a corner of the multi-story carpark.
Found in Idlewood, Los Santos, at the motel, on a balcony.
Found in Santa Maria Beach, Los Santos, near the end of the Yacht Harbor, right beside the railing.
Found in Doherty, San Fierro, outside the Doherty Garage (After taking all 50 Photographs).
Found in Bayside, Tierra Robada, in a small alleyway.
Found in Rockshore East, Las Venturas, on top of the southernmost building in the eastern complex.
Found at K.A.C.C. Military Fuels, Las Venturas, inside the warehouse (only during "Up, Up and Away!").