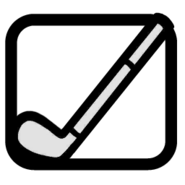 The Golf Club is a weapon in the Melee Weapons class featured in Grand Theft Auto: San Andreas.
This weapon also appears in Grand Theft Auto 6, Grand Theft Auto V and GTA Vice City.
Golf Club Description:
Another sports item that has wide usage in the violence department. Less effective than the Pool Cue, but it does its job well enough.
How to get the Golf Club in GTA San Andreas:
The Golf Club can be found and picked up around the San Andreas map (see the spawn locations in the "Appearances" section below).
Golf Club: GTA SA Statistics
Damage

10.00

Fire Rate

40.00

Range

1.60
Skill Levels

No

Can Crouch

No

Can Jump

Yes

Can Sprint

Yes
Golf Club: GTA SA Info
Weapon Class

Melee Weapons

Fire Type

Melee

Weapon Slot

2
Golf Club: GTA SA Appearances
Golf Club Spawn Locations in GTA San Andreas

Where to find the Golf Club in GTA San Andreas:

Found in Mulholland, Los Santos, at the base of the broadcasting tower behind the large Vinewood Sign.
Found in Angel Pine, Whetstone, in a garage on the southwest side of Angel Pine.
Found in the Avispa Country Club, San Fierro, beside the entrance to the club building.
Found in the Yellow Bell Golf Course in Las Venturas, on top of the overhang behind the main clubhouse.
Angering Taxi Drivers can cause them to take out a Golf Club and attack the player.
Entering the Caddy will automatically give the player a golf club.