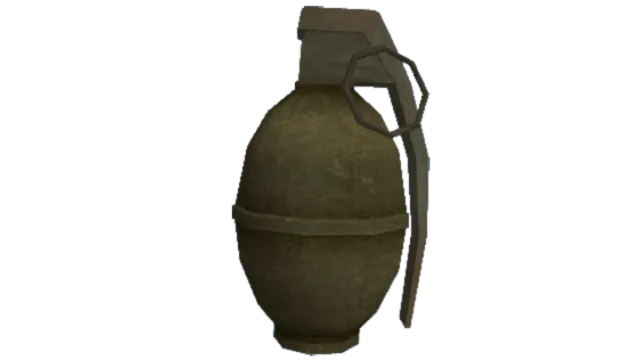 The Grenade is a weapon in the Thrown Weapons class featured in Grand Theft Auto IV & Episodes.
The design of the Grenade in GTA IV is based on a real life Mk2 Grenade.
This weapon also appears in Grand Theft Auto 6, Grand Theft Auto V, GTA San Andreas, GTA Vice City and Grand Theft Auto III.
How to get the Grenade in GTA IV:
In GTA IV, the Grenade can be purchased from Underground Gun Shops for a price of $1,000.
It can also be obtained from friend Little Jacob (GTA IV), Terry Thorpe (TLAD), Armando Torres (TBoGT), for a price of $700.
It becomes available after completing the mission Deconstruction for Beginners in Story Mode.
The Grenade can also be found and picked up around the map (see the spawn locations in the "Appearances" section below).
Grenade: GTA IV Statistics
Damage

100.00

Range

35

meters
Grenade: GTA IV Info
Weapon Class

Thrown Weapons

Acquisition

Underground Gun Shops

Little Jacob (GTA IV)

Terry Thorpe (TLAD)

Armando Torres (TBoGT)

Available After Mission (Story Mode)

Story Mode Price

$1,000

Friend Price

$700

Weapon Tier

Tier 2

Based on (Real Life)

Mk2 Grenade
Grenade: GTA IV Appearances
Game Edition

Grand Theft Auto IV & Episodes
Grenade Spawn Locations in Grand Theft Auto IV

Where to find the Grenade in

Grand Theft Auto IV & Episodes

:

Steinway
Meadows Park
Francis International Airport
Fortside
Charge Island
Star Junction
The Triangle
The Meat Quarter
Suffolk
Chinatown
Happiness Island
Alderney City
Port Tudor

Notable Owners:

Luis Fernando LopezNiko Bellic

Similar Weapons