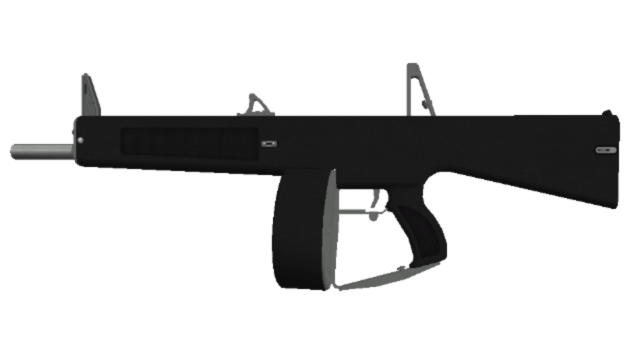 The Automatic Shotgun is a weapon in the Shotguns class featured in GTA IV: The Ballad of Gay Tony.
The design of the Automatic Shotgun in GTA IV is based on a real life AA-12.
How to get the Automatic Shotgun in GTA IV:
The Automatic Shotgun can be obtained from friend Armando Torres (TBoGT), for a price of $1,250.
It becomes available after completing the mission Drug Wars and Corner Kids in Story Mode.
The Automatic Shotgun also Spawns at the player's safehouse after completing 30 Drug Wars (and after High Dive is completed).
Automatic Shotgun Description:
The low recoil automatic shotgun blends the power of a full shotgun shell with rapid fire to take down multiple targets easily. Explosive shells turn this already powerful weapon into a gun that shreds vehicles in their tracks.
Automatic Shotgun: GTA IV Statistics
Damage

25.00

Fire Rate

130

rpm

Accuracy

Poor

Range

35

meters

Reload

2.9

seconds
Automatic Shotgun: GTA IV Info
Weapon Class

Shotguns

Acquisition

Bonus Reward

Armando Torres (TBoGT)

Available After Mission (Story Mode)

How To Unlock

Spawns at the player's safehouse after completing 30 Drug Wars (and after High Dive is completed)

Friend Price

$1,250

Based on (Real Life)

AA-12
Notes

This weapon allows the use of two different types of ammunition - standard and explosive. They can be interchanged by discarding the current type of ammunition
Automatic Shotgun: GTA IV Appearances
Game Edition

GTA IV: The Ballad of Gay Tony
Automatic Shotgun Spawn Locations in Grand Theft Auto IV

Where to find the Automatic Shotgun in

GTA IV: The Ballad of Gay Tony

:

Used By:

Notable Owners:

Federal Investigation Bureau (FIB)Luis Fernando Lopez

Appearances in Story Missions: