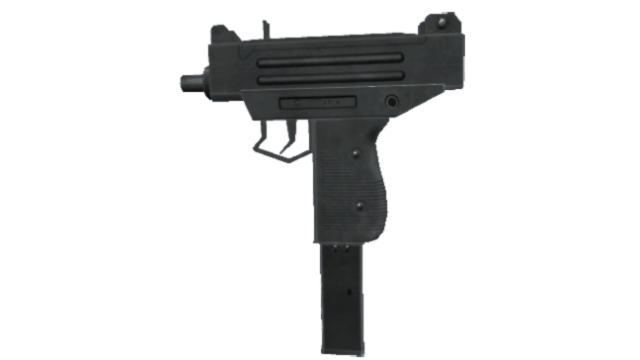 The Micro SMG is a Submachine Guns weapon featured in Grand Theft Auto IV & Episodes.
The design of the Micro SMG in GTA IV is based on a real life Micro Uzi.
How to get the Micro SMG in GTA IV:
In GTA IV, the Micro SMG can be purchased from Underground Gun Shops for a price of $1,200.
It can also be obtained from friend Little Jacob (GTA IV), Terry Thorpe (TLAD), Armando Torres (TBoGT), for a price of $840.
It becomes available after completing Do You Have Protection? in Story Mode.
The Micro SMG can also be found and picked up around the map (see the spawn locations in the "Appearances" section below).
Micro SMG Description:
The smallest member of the Uzi family was introduced by Israel Military Industries in 1986 as a security weapon to fill the gap between pistols and fill-size submachine guns. It lacks a bit in the accuracy department due to its short barrel, but the extreme rate of fire and capacity make up the difference.
Micro SMG Statistics
Damage

20.00

Fire Rate

650

rpm

Accuracy

Decent

Range

50

meters

Reload

2.2

seconds
Micro SMG: Information
Weapon Type

Submachine Guns

Available from

Underground Gun Shops

Little Jacob (GTA IV)

Terry Thorpe (TLAD)

Armando Torres (TBoGT)

Available After Mission (Story Mode)

Story Mode Price

$1,200

Friend Price

$840

Weapon Tier

Tier 1

Based on (Real Life)

Micro Uzi
Micro SMG: Appearances
Game Edition

Grand Theft Auto IV & Episodes
Map Locations (Spawn Areas)

Here is where to find the Micro SMG in Grand Theft Auto IV & Episodes:

Beechwood City
Francis International Airport
Steinway
Charge Island
Star Junction
The Exchange
Happiness Island
Booth Tunnel
Westdyke
Alderney City

Similar Weapons

Appearances in Other Games