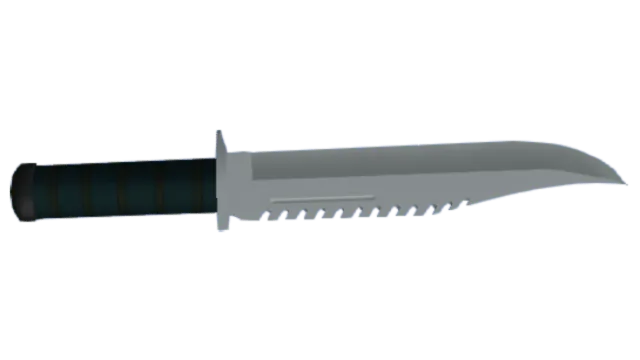 The Knife is a weapon in the Melee Weapons class featured in Grand Theft Auto IV & Episodes.
The design of the Knife in GTA IV is based on a real life UC-RB1.
This weapon also appears in Grand Theft Auto 6, Grand Theft Auto V, Red Dead Redemption 2, GTA San Andreas and GTA Vice City.
How to get the Knife in GTA IV:
The Knife can be obtained from friend Little Jacob (GTA IV), Terry Thorpe (TLAD), Armando Torres (TBoGT), for a price of $100.
The Knife can also be found and picked up around the map (see the spawn locations in the "Appearances" section below).
Knife: GTA IV Statistics
Damage

1.00

Range

1.6

meters
Knife: GTA IV Info
Weapon Class

Melee Weapons

Acquisition

Little Jacob (GTA IV)

Terry Thorpe (TLAD)

Armando Torres (TBoGT)

Friend Price

$100

Weapon Tier

Tier 1

Based on (Real Life)

UC-RB1
Knife: GTA IV Appearances
Game Edition

Grand Theft Auto IV & Episodes
Knife Spawn Locations in Grand Theft Auto IV

Where to find the Knife in

Grand Theft Auto IV & Episodes

:

South Slopes
Rotterdam Hill
Schottler
Charge Island
South Bohan
Industrial
Northwood Heights Bridge
Middle Park West
Middle Park
Silvestri
Tudor

Used By:

Dardan Petrela
Eddie Low
some pedestrians

Notable Owners:

Albanian MobAncelotti Crime FamilyAngels of Death MCBilly GreyBledar MorinaDardan PetrelaEdward LowFaustin-Rascalov MafiyaJim FitzgeraldKorean MobLiberty City TriadsNorth Holland HustlersNorthwood Dominican Drug DealersPetrovic MafiyaSantoSpanish LordsThe Lost MCYardies

Appearances in Story Missions:

Similar Weapons