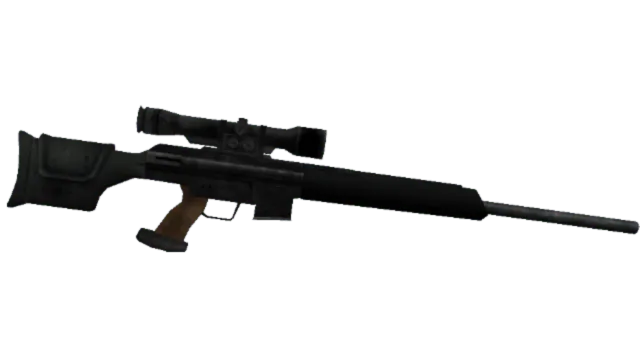 The Combat Sniper is a weapon in the Sniper Rifles class featured in Grand Theft Auto IV & Episodes.
The design of the Combat Sniper in GTA IV is based on a real life PSG-1.
This weapon also appears in GTA Vice City.
How to get the Combat Sniper in GTA IV:
In GTA IV, the Combat Sniper can be purchased from Underground Gun Shops for a price of $8,500.
It can also be obtained from friend Little Jacob (GTA IV), Terry Thorpe (TLAD), Armando Torres (TBoGT), for a price of $5,000.
It becomes available after completing the mission Luck of the Irish and Pegorino's Pride in Story Mode.
The Combat Sniper can also be found and picked up around the map (see the spawn locations in the "Appearances" section below).
Combat Sniper Description:
The PSG-1 is one of the most accurate, yet heaviest and most expensive semi-automatic sniper rifles created. An overpriced piece of stamped steel German engineering; it does the job. You'll have too much money to ever spend by the end of the game anyway.
Combat Sniper: GTA IV Statistics
Damage

75.00

Fire Rate

170

rpm

Accuracy

Great

Range

1500

meters

Reload

2.1

seconds
Combat Sniper: GTA IV Info
Weapon Class

Sniper Rifles

Acquisition

Underground Gun Shops

Little Jacob (GTA IV)

Terry Thorpe (TLAD)

Armando Torres (TBoGT)

Available After Mission (Story Mode)

Story Mode Price

$8,500

Friend Price

$5,000

Weapon Tier

Tier 2

Based on (Real Life)

PSG-1
Combat Sniper: GTA IV Appearances
Game Edition

Grand Theft Auto IV & Episodes
Combat Sniper Spawn Locations in Grand Theft Auto IV

Where to find the Combat Sniper in

Grand Theft Auto IV & Episodes

:

Hatton Gardens
Acter
Acter Industrial Park

Used By:

Notable Owners:

Bulgarin MafiyaLiberty City Police Department (LCPD)Niko Bellic

Similar Weapons