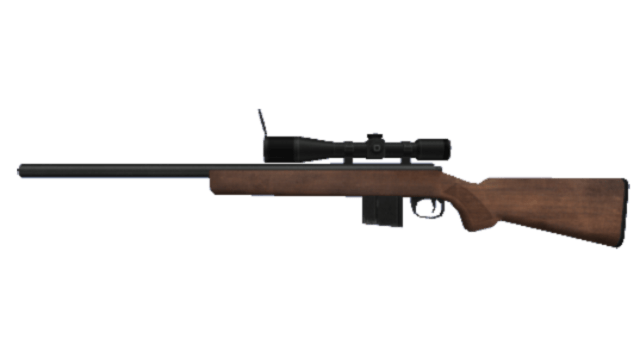 The Sniper Rifle is a Sniper Rifles weapon featured in Grand Theft Auto IV & Episodes.
The design of the Sniper Rifle in GTA IV is based on a real life M40A1.
How to get the Sniper Rifle in GTA IV:
In GTA IV, the Sniper Rifle can be purchased from Underground Gun Shops for a price of $6,000.
The Sniper Rifle can also be found and picked up around the map (see the spawn locations in the "Appearances" section below).
Sniper Rifle Description:
The M40A1 started its life as a Remington 700, and was then customized by the US Marine Corps to fit their sniping needs. Strangely enough, the one in the game appears to have been further customized to use an external 10 round magazine, yet it only holds 5.
Sniper Rifle Statistics
Damage

75.00

Fire Rate

55

rpm

Accuracy

Great

Range

1500

meters

Reload

1.3

seconds
Sniper Rifle: Information
Weapon Type

Sniper Rifles

Available from

Underground Gun Shops

Story Mode Price

$6,000

Weapon Tier

Tier 1

Based on (Real Life)

M40A1
Notable Owners

Niko Bellic
Sniper Rifle: Appearances
Game Edition

Grand Theft Auto IV & Episodes
Map Locations (Spawn Areas)

Here is where to find the Sniper Rifle in Grand Theft Auto IV & Episodes:

East Hook
Steinway
Northwood

Similar Weapons

Appearances in Other Games