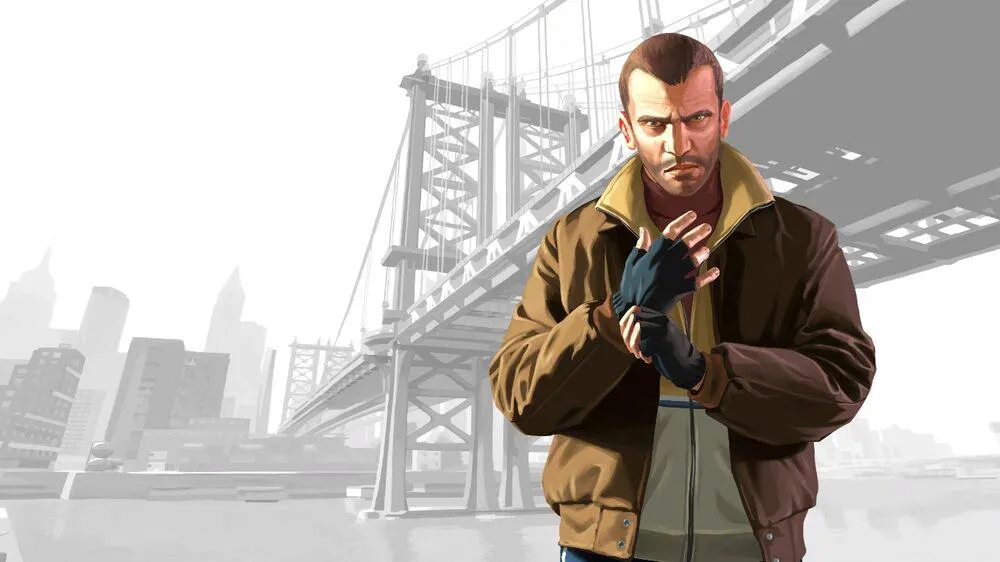 Niko Bellic is the Main Protagonist and playable character in Grand Theft Auto IV. He is also a supporting character in GTA IV: The Lost and Damned and The Ballad of Gay Tony.
Born in 1978 Yugoslavia, Niko Bellic is the veteran protagonist of GTA IV.
During the war, Niko faced many tragedies, including his squadron being ambushed, leading to only 3 survivors. After the war, Niko turned to a life of crime, spending some time in prison. After his release from prison, he started working for a human trafficking ring led by Ray Bulgarin. After a boat carrying human cargo sank in the Adriatic Sea during a smuggling run, Niko managed to swim to safety, but the boat and cargo were lost. Bulgarin believed Niko had betrayed him and stole his money, so Niko joined the merchant navy to escape his wrath.
Persuaded by his cousin Roman, Niko moves to Liberty City to start a new life and pursue the "American Dream". However, he quickly finds out Roman's lies about the life in Liberty City, and begins to understand the true way of life in the USA.
Niko is a serious, calm, self-reflective character and possesses a deep intellect and strong moral guidance. He is very confident in his abilities and does not question himself about a job if it pays enough. Niko is also trained extensively in weapon use and hand-to-hand fighting.
Working for Roman, Niko ends up having to work for the Russian and Italian Mafias, doing work for Mikhail Faustin, Jimmy Pegorino and several others. Niko is eventually coerced to work with the IAA, who blackmails him into doing "country-protecting" work.
Niko Bellic: Character Info
Game Edition

Grand Theft Auto IVGTA IV: The Lost and DamnedGTA IV: The Ballad of Gay Tony
Role in TLAD

Supporting Character

Role in TBoGT

Supporting Character

Gender

Male

Born In Year

1978 (30 years old in 2008)

Nationality

Serbia

Location

Mohawk Avenue, Hove Beach, Broker (Destroyed)
Joliet Street, South Bohan, Bohan
Albany Avenue, Middle Park East, Algonquin
Xenotime Street, Northwood, Algonquin
Mahesh Avenue, Alderney City, Alderney

Occupation

Contract killing; Armed robber; Car Theft; Bellic Enterprises; Brucie's Executive Lifestyle Autos

Also Known As

Nicky; NB; Money; Mr. Mention

Performer / Actor

Michael Hollick

Family

Affiliation

Brucie KibbutzDwayne ForgeLittle JacobMichelle / KarenPatrick McRearyPlayboy XRoman Bellic

Property / Safehouse

Broker SafehouseSouth Bohan ApartmentMiddle Park East SafehousePlayboy X's PenthouseAlderney Safehouse
Niko Bellic: Appearances
Niko Bellic Missions in Grand Theft Auto IV:

Appearances in Story Missions:
Niko Bellic Screenshots
Niko Bellic Artworks
Niko Bellic: Videos