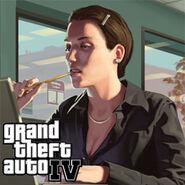 Michelle / Karen appears as a Girlfriend and Supporting Character in Grand Theft Auto IV.
Karen is an undercover government agent working for United Liberty Paper.
Before her true identity is revealed, she becomes Niko Bellic's girlfriend under the alias "Michelle". A previous criminal affiliation is hinted when the ULP contact mentions they "gave her life back" as a reward for bringing Niko in.
The character of Karen Daniels also appears in Grand Theft Auto V.
Michelle / Karen: Character Info
Game Edition

Grand Theft Auto IV
Gender

Female

Born In Year

1981 (27 years old in 2008)

Nationality

United States

Location

Apartment Complex, Mohawk Avenue, Rotterdam Hill, Broker

Occupation

Undercover Government Agent

Also Known As

Michelle; Karen Daniels

Performer / Actor

Rebecca Henderson

Affiliation

United Liberty Paper Contact

Vehicles

Merit
Notes

Appears in both GTA V and GTA Online;
Michelle / Karen: Appearances
Michelle / Karen Missions in Grand Theft Auto IV:

Appearances in Story Missions: