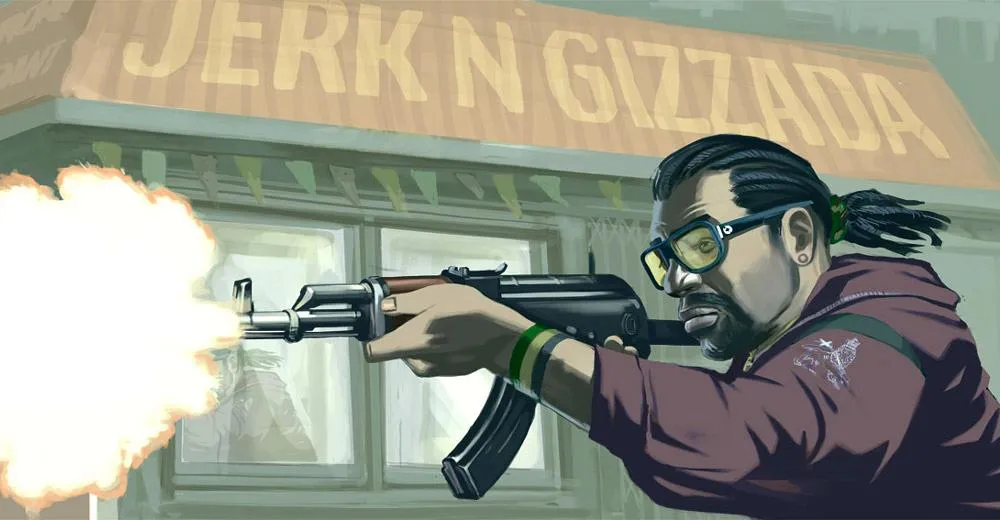 Little Jacob appears as a Major Character and Friend in Grand Theft Auto IV.
"Little" Jacob Hughes is the tritagonist of Grand Theft Auto IV.
Little Jacob is a Jamaican drugs and arms dealer and one of the closest allies to the Bellic cousins. He is also a high-ranked member of the Yardies.
Throughout the events of the game, Little Jacob often has missions available for Niko and often helps and aids him during tasks. Despite his job, he is a calm-natured character.
Friendship Activities
After the mission "Shadow", Niko and Jacob become friends. Little Jacob is available between 13:00 and 4:00. Little Jacob can be taken to Drink, Eat, play Pool, go to a Strip Club, watch a Show or play Darts.
Jacob's favorite locations to eat are Cluckin' Bell restaurants, while his favorite drinking venue is Club Liberty.
Friendship Rewards
Getting Jacob's likeness level over 60% will enable Niko to buy discounted weapons from Little Jacob, unlocked gradually as the game progresses.
Little Jacob: Character Info
Game Edition

Grand Theft Auto IV
Gender

Male

Born In Year

1982 (26 years old in 2008)

Nationality

Jamaica

Location

1006 Dillon Street, Schottler, Broker, Liberty City

Occupation

Arms Dealing; Drug Dealing; Homebrew Cafe

Also Known As

Jacob Hughes; LJ

Performer / Actor

Coolie Ranx
Little Jacob: Appearances
Little Jacob Missions in Grand Theft Auto IV:

Appearances in Story Missions:
Little Jacob Screenshots
Little Jacob Artworks