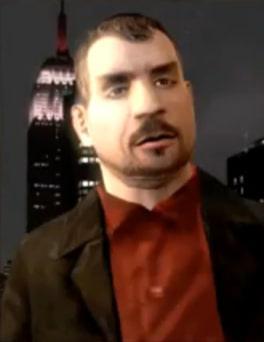 Frickie Van Hardenburg appears as a Minor Character in GTA IV: The Ballad of Gay Tony.
Frickie was said to be a controversial South African who was accused of financing conflicts and a string of humanitarian crimes.
He had also been linked to weapons smuggling, gem dealing, the slave trade, and drugs; all allegations which he strongly denied. By 2008, Frickie obtained a Visa despite the controversy among liberal politics who demanded that Frickie to be put on trial for his war crimes.
Frickie Van Hardenburg: Character Info
Game Edition

GTA IV: The Ballad of Gay Tony
Role in TBoGT

Minor Character

Gender

Male

Nationality

South Africa

Location

Liberty City

Occupation

Arms Smuggling; Gem Dealing; Slave Trade; Drug Trade

Vehicles

BuzzardSuper Drop Diamond
Frickie Van Hardenburg: Appearances
Appearances in Story Missions: