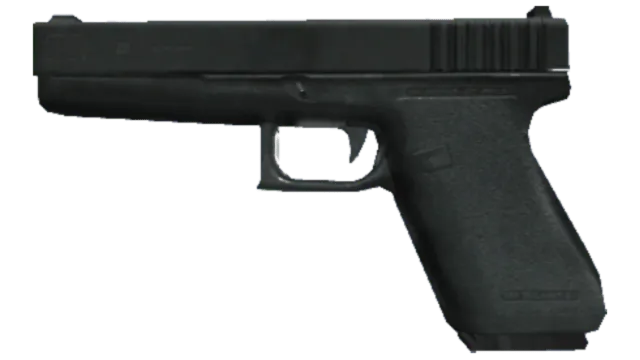 The Pistol is a weapon in the Handguns class featured in Grand Theft Auto IV & Episodes.
The design of the Pistol in GTA IV is based on a real life Glock 17.
This weapon also appears in Grand Theft Auto 6, Grand Theft Auto V, GTA San Andreas, GTA Vice City and Grand Theft Auto III.
How to get the Pistol in GTA IV:
In GTA IV, the Pistol can be purchased from Underground Gun Shops for a price of $600.
It can also be obtained from friend Little Jacob (GTA IV), Terry Thorpe (TLAD), Armando Torres (TBoGT), for a price of $420.
It becomes available after completing the mission Jamaican Heat, Clean and Serene and I Luv L.C. in Story Mode.
The Pistol can also be found and picked up around the map (see the spawn locations in the "Appearances" section below).
Pistol Description:
Developed in the '80s by Austrian engineer Gaston Glock, the eponymous pistol went on to become the world's most popular civilian and law enforcement sidearm. Thanks to its polymer frame and simple, internal striker-fired mechanism, the Glock is both lightweight and extremely durable.
Pistol: GTA IV Statistics
Damage

25.00

Fire Rate

200

rpm

Accuracy

Decent

Range

50

meters

Reload

2

seconds
Pistol: GTA IV Info
Weapon Class

Handguns

Acquisition

Underground Gun Shops

Little Jacob (GTA IV)

Terry Thorpe (TLAD)

Armando Torres (TBoGT)

Available After Mission (Story Mode)

Story Mode Price

$600

Friend Price

$420

Weapon Tier

Tier 1

Based on (Real Life)

Glock 17
Pistol: GTA IV Appearances
Game Edition

Grand Theft Auto IV & Episodes
Pistol Spawn Locations in Grand Theft Auto IV

Where to find the Pistol in

Grand Theft Auto IV & Episodes

:

Firefly Island
Hove Beach
Roterdam Hill
East Hook
Willis
Broker Bridge
West River
Northern Gardens
South Bohan
Northwood
Middle Park
The Meat Quarter
Westdyke
Berchem

Used By:

Notable Owners:

Albanian MobAncelotti Crime FamilyAngels of Death MCBilly GreyBrian JeremyClarence LittleClay SimonsEugene ReaperFaustin-Rascalov MafiyaFederal Investigation Bureau (FIB)Gay Tony PrinceJason MichaelsJim FitzgeraldKorean MobLiberty City Police Department (LCPD)Liberty City TriadsLittle JacobLuis Fernando LopezMalcolmMcReary Crime FamilyMikhail FaustinNiko BellicNorth Holland HustlersPatrick McRearyPegorino Crime FamilyPetrovic MafiyaSpanish LordsTerry ThorpeThe Commission (Cosa Nostra)The Lost MCUnited Liberty Paper ContactUptown RidersYardies

Appearances in Story Missions:

Similar Weapons