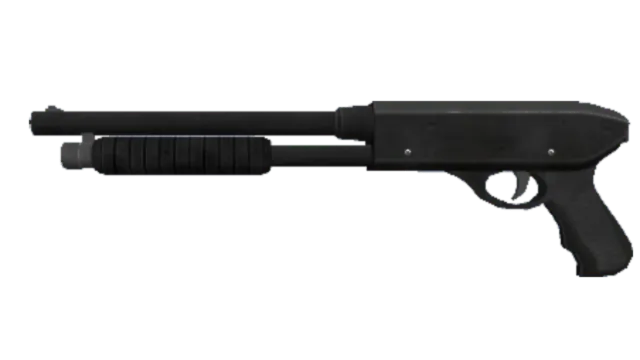 The Pump Shotgun is a weapon in the Shotguns class featured in Grand Theft Auto IV & Episodes.
The design of the Pump Shotgun in GTA IV is based on a real life Winchester 1300.
This weapon also appears in Grand Theft Auto 6, Grand Theft Auto V, Red Dead Redemption 2, GTA San Andreas, GTA Vice City and Grand Theft Auto III.
How to get the Pump Shotgun in GTA IV:
In GTA IV, the Pump Shotgun can be purchased from Underground Gun Shops for a price of $1,200.
It can also be obtained from friend Little Jacob (GTA IV), Terry Thorpe (TLAD), Armando Torres (TBoGT), for a price of $840.
It becomes available after completing the mission Concrete Jungle and Do You Have Protection? in Story Mode.
The Pump Shotgun can also be found and picked up around the map (see the spawn locations in the "Appearances" section below).
Pump Shotgun Description:
Based roughly on the classic Remington model 870, the Winchester 1300 line is also known as the "Speed Pump" series thanks to the short, fast cycling of the action. This feature has made the shotgun popular for both sporting and security purposes.
Pump Shotgun: GTA IV Statistics
Damage

20.00

Fire Rate

50

rpm

Accuracy

Poor

Range

35

meters

Reload

2.9

seconds
Pump Shotgun: GTA IV Info
Weapon Class

Shotguns

Acquisition

Underground Gun Shops

Little Jacob (GTA IV)

Terry Thorpe (TLAD)

Armando Torres (TBoGT)

Available After Mission (Story Mode)

Story Mode Price

$1,200

Friend Price

$840

Weapon Tier

Tier 1

Based on (Real Life)

Winchester 1300
Pump Shotgun: GTA IV Appearances
Game Edition

Grand Theft Auto IV & Episodes
Pump Shotgun Spawn Locations in Grand Theft Auto IV

Where to find the Pump Shotgun in

Grand Theft Auto IV & Episodes

:

Meadows Park
Francis International Airport
Northern Gardens
Middle Park
Varsity Heights
Alderney City

Used By:

Russian Mafia
Biker gangs
LCPD
NOOSE
FIB

Notable Owners:

Angels of Death MCClay SimonsFaustin-Rascalov MafiyaFederal Investigation Bureau (FIB)Gordon SargentJason MichaelsJoseph DiLeoKorean MobLiberty City Police Department (LCPD)Liberty City TriadsLittle JacobMcReary Crime FamilyPegorino Crime FamilyReal BadmanThe Commission (Cosa Nostra)The Lost MCUptown Riders

Similar Weapons