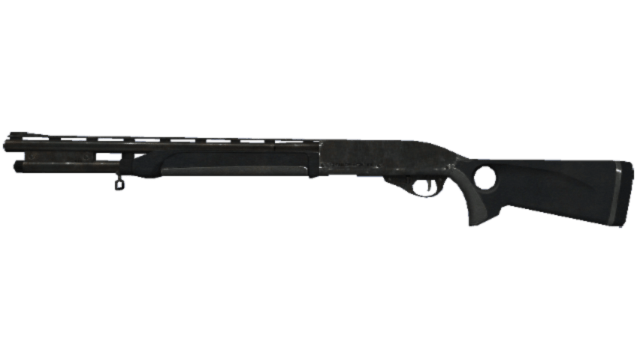 The Combat Shotgun is a weapon in the Shotguns class featured in Grand Theft Auto IV & Episodes.
The design of the Combat Shotgun in GTA IV is based on a real life Beretta 1201.
This weapon also appears in GTA Online, GTA San Andreas and GTA Vice City.
How to get the Combat Shotgun in GTA IV:
In GTA IV, the Combat Shotgun can be purchased from Underground Gun Shops for a price of $2,500.
It can also be obtained from friend Little Jacob (GTA IV), Terry Thorpe (TLAD), Armando Torres (TBoGT), for a price of $1,500.
It becomes available after completing the mission Blow Your Cover in Story Mode.
The Combat Shotgun can also be found and picked up around the map (see the spawn locations in the "Appearances" section below).
Combat Shotgun Description:
This shorgun seems to be based on the Baretta 1201 FP, but with the barrel of a military Remington 870.
Combat Shotgun: GTA IV Statistics
Damage

10.00

Fire Rate

150

rpm

Accuracy

Poor

Range

40

meters

Reload

2.9

seconds
Combat Shotgun: GTA IV Info
Weapon Class

Shotguns

Acquisition

Underground Gun Shops

Little Jacob (GTA IV)

Terry Thorpe (TLAD)

Armando Torres (TBoGT)

Available After Mission (Story Mode)

Story Mode Price

$2,500

Friend Price

$1,500

Weapon Tier

Tier 2

Based on (Real Life)

Beretta 1201
Combat Shotgun: GTA IV Appearances
Game Edition

Grand Theft Auto IV & Episodes
Combat Shotgun Spawn Locations in Grand Theft Auto IV

Where to find the Combat Shotgun in

Grand Theft Auto IV & Episodes

:

Schottler
Francis International Airport
Northern Gardens
Colony Island old hospital
Lancaster
Castle Gardens
Leftwood
Alderney City
Acter Industrial Park

Used By:

Guards of UGS
LCPD
NOOSE
FIB

Notable Owners:

Ancelotti Crime FamilyClay SimonsLiberty City Police Department (LCPD)Ray BoccinoThe Commission (Cosa Nostra)The Lost MC

Similar Weapons