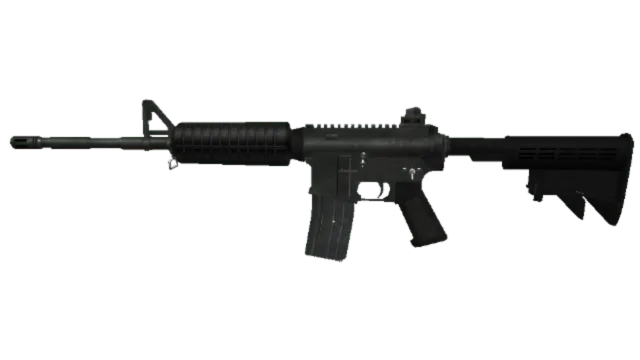 The Carbine Rifle is a weapon in the Assault Rifles class featured in Grand Theft Auto IV & Episodes.
The design of the Carbine Rifle in GTA IV is based on a real life M4 Carbine.
This weapon also appears in Grand Theft Auto V, GTA San Andreas, GTA Vice City and Grand Theft Auto III.
How to get the Carbine Rifle in GTA IV:
In GTA IV, the Carbine Rifle can be purchased from Underground Gun Shops for a price of $5,000.
It can also be obtained from friend Little Jacob (GTA IV), Terry Thorpe (TLAD), Armando Torres (TBoGT), for a price of $3,500.
It becomes available after completing the mission Gang Wars and Three Leaf Clover in Story Mode.
The Carbine Rifle also Spawns at the player's safehouse after completing 30 Gang Wars (The Lost and Damned).
Carbine Rifle Description:
Despite some teething problems with the earlier M16 variant during the Vietnam War, Eugene Stoner's 1958 AR-15 design went on to become one of the most popular and versatile rifles in the world. Given its light weight and compact size, the M4 carbine comes in handy for urban combat and police work.
Carbine Rifle: GTA IV Statistics
Damage

30.00

Fire Rate

450

rpm

Accuracy

Good

Range

70

meters

Reload

2.1

seconds
Carbine Rifle: GTA IV Info
Weapon Class

Assault Rifles

Acquisition

Bonus Reward

Underground Gun Shops

Little Jacob (GTA IV)

Terry Thorpe (TLAD)

Armando Torres (TBoGT)

Available After Mission (Story Mode)

How To Unlock

Spawns at the player's safehouse after completing 30 Gang Wars (The Lost and Damned)

Story Mode Price

$5,000

Friend Price

$3,500

Weapon Tier

Tier 2

Based on (Real Life)

M4 Carbine
Carbine Rifle: GTA IV Appearances
Game Edition

Grand Theft Auto IV & Episodes
Carbine Rifle Spawn Locations in Grand Theft Auto IV

Where to find the Carbine Rifle in

Grand Theft Auto IV & Episodes

:

Industrial
Algonquin Bridge
Easton
Leftwood
Tudor

Used By:

Notable Owners:

Federal Investigation Bureau (FIB)Liberty City Police Department (LCPD)Niko BellicPegorino Crime FamilyTerry Thorpe

Appearances in Story Missions:

Similar Weapons