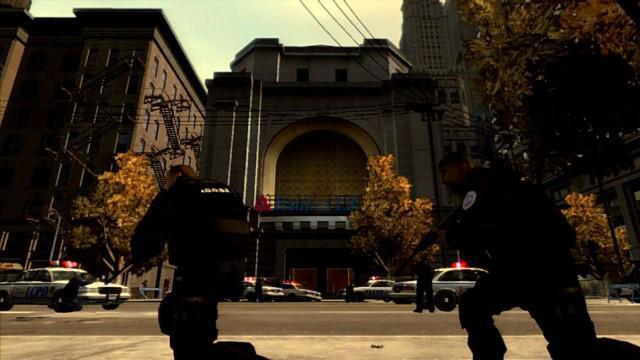 Three Leaf Clover is a main story mission in Grand Theft Auto IV, given by Patrick McReary.
It's the 38° GTA IV mission in chronological order, and it takes place in Broker / Dukes.
Niko, Packie, Derrick and Michael rob the Bank of Liberty City.
While waiting for the charges in the bank to blow the safe open, Michael Keane unuspectedly gets shot and killed by Eugene Reaper, a young computer technician. The other three robbers escape from the bank and fight through the police forces to get away with the money.
After this mission, the State of Alderney is unlocked and Niko can take missions from Gerald McReary.
If Niko touches a hostage, they will die.
The Annihilator shooting at the player can only be destroyed in the xBox One Backwards Compatible version of the game.
The heist canonically takes place on a Saturday afternoon.
Three Leaf Clover: Mission Objectives
Pick up your

partners

.
Go to the

bank

.
Go down to the vault and get the

money

.
Cover

Packie

and

Derrick

.
Follow

Packie

and

Derrick

.
There are too many

cops

. Clear the path.
Get to

street level

.
Find a four door car and go to

Packie's Ma's house

.
Three Leaf Clover: Mission Info
Game Edition

Grand Theft Auto IV
Mission Number

38

Mission Giver

Patrick McReary

Location

McReary Residence, Meadows Park, Liberty City

State / Area

Broker / Dukes

Available After Mission (Story Mode)
Rewards

250,000$; "Full Exploration" Achievement; Alderney is now available; Packie is now available as a friend

Unlocked Items

Carbine Rifle Actions Speak Louder than Words Smackdown Taking in the Trash
Three Leaf Clover: Video Walkthrough