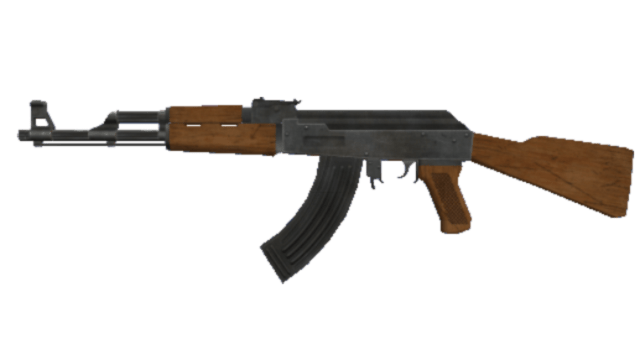 The Assault Rifle is an Assault Rifles weapon featured in Grand Theft Auto IV & Episodes.
The design of the Assault Rifle in GTA IV is based on a real life AK-47.
How to get the Assault Rifle in GTA IV:
In GTA IV, the Assault Rifle can be purchased from Underground Gun Shops for a price of $3,500.
It can also be obtained from friend Little Jacob (GTA IV), Terry Thorpe (TLAD), Armando Torres (TBoGT), for a price of $2,450.
The Assault Rifle can also be found and picked up around the map (see the spawn locations in the "Appearances" section below).
Assault Rifle Description:
Even after sixty years, Mikhail Kalashnikov's legendary AK-47 rifle is still a hard act to follow, both in reliability and popularity. Created with mass production in mind, the simple design and loose clearances resulted in a rifle that's practically indestructible, and that will remain functional with little maintenance or cleaning.
Assault Rifle Statistics
Damage

30.00

Fire Rate

450

rpm

Accuracy

Decent

Range

65

meters

Reload

2.1

seconds
Assault Rifle: Information
Weapon Type

Assault Rifles

Available from

Underground Gun Shops

Little Jacob (GTA IV)

Terry Thorpe (TLAD)

Armando Torres (TBoGT)

Story Mode Price

$3,500

Friend Price

$2,450

Weapon Tier

Tier 1

Based on (Real Life)

AK-47
Assault Rifle: Appearances
Game Edition

Grand Theft Auto IV & Episodes
Map Locations (Spawn Areas)

Here is where to find the Assault Rifle in Grand Theft Auto IV & Episodes:

East Island City
Industrial
Castle Gardens
Colony Island
Acter

Used By:

Similar Weapons

Appearances in Other Games