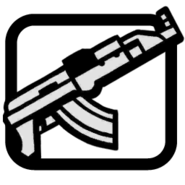 The AK-47 is a weapon in the Assault Rifles class featured in Grand Theft Auto: San Andreas. The design of the AK-47 in GTA San Andreas is based on a real life Norinco Type 56.
This weapon also appears in Grand Theft Auto 6, Grand Theft Auto V, Grand Theft Auto IV and Grand Theft Auto III.
AK-47 Description:
The AK 47 is an extremely popular Assault Rifle because of its cheap design and incredible reliability. A strong fire rate, good accuracy and great range make for a very powerful weapon.
This weapon has three Skill Levels you can progress through: Poor, Gangster and Hitman. Reaching the Hitman level allows you to fire while moving and improves lock-on range, accuracy, rate of fire, and strafe speed when using the weapon.
How to get the AK-47 in GTA San Andreas:
The AK-47 can be purchased from Ammu-Nation for a price of $3,500 (or 20% higher in Las Venturas).
It becomes available after completing the mission Lure in Story Mode.
The AK-47 can be found and picked up around the San Andreas map (see the spawn locations in the "Appearances" section below).
The AK-47 also Spawns at Johnson House after completing 100 Gang Tags.
AK-47: GTA SA Statistics
Damage

30.00

Fire Rate

60.00

Accuracy

6.00

Range

70.00
Skill Levels

Yes

Can Crouch

Yes

Can Strafe

Hitman LVL

Can Jump

Yes

Can Sprint

No

Ammo Capacity

30
AK-47: GTA SA Info
Weapon Class

Assault Rifles

Fire Type

Instant Hit

Available After Mission (Story Mode)

How To Unlock

Spawns at Johnson House after completing 100 Gang Tags

Story Mode Price

$3,500

Weapon Slot

6

Weapon Tier

Tier 1 (Thug Cheat Set)

Based on (Real Life)

Norinco Type 56
AK-47: GTA SA Appearances
AK-47 Spawn Locations in GTA San Andreas

Where to find the AK-47 in GTA San Andreas:

Found in Ganton, Los Santos, at the Johnson House (After Spray Painting all 100 Gang Tags).
Found in Mulholland, Los Santos, behind Roboi's Food Mart.
Found in Vinewood, Los Santos, at the movie studios, behind the westernmost studio.
Found at Ocean Docks, Los Santos, in the warehouse.
Found in Blueberry, Red County, around the FleischBerg factory.
Found in Foster Valley, San Fierro, behind a big rock.
Found in Downtown, San Fierro, on the SFPD headquarters helipad (only if not picked up during Toreno's Last Flight).
Found in Bone County, behind a trailer park near Valle Ocultado and Las Payasadas.
Found at The Four Dragons Casino in Las Venturas, at the roof of a Casino enclosed by two walls.
Found in Redsands West, Las Venturas, in an apartment complex east of the Redsands West Safehouse.
Available for purchase from Ammu-Nation for $3500 after completing "Lure".
Seen used by the San Fierro Triads.

Notable Owners:

Big Smoke CIA Da Nang Boys Emmet FBIGrove Street Families Los Santos Vagos Russian Mafia Ryder San Fierro Rifa San Fierro Triads Sweet Johnson T-Bone Mendez The Ballas

Appearances in Story Missions:

Similar Weapons