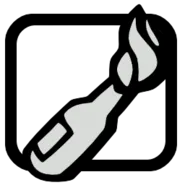 The Molotov Cocktail is a weapon in the Thrown Weapons class featured in Grand Theft Auto: San Andreas.
This weapon also appears in Grand Theft Auto 6, Grand Theft Auto V, Red Dead Redemption 2, Grand Theft Auto IV, GTA Vice City and Grand Theft Auto III.
Molotov Cocktail Description:
Throw a molotov cocktail against a wall to set the surroundings on fire. This versatile weapon can be used to control areas from enemies, or just to burn everyone down. So many uses for such a simple piece of "technology"
How to get the Molotov Cocktail in GTA San Andreas:
The Molotov Cocktail can be found and picked up around the San Andreas map (see the spawn locations in the "Appearances" section below).
The Molotov Cocktail also Spawns at Johnson House after completing 100 Gang Tags.
Molotov Cocktail: GTA SA Statistics
Skill Levels

No

Can Crouch

No

Can Jump

Yes

Can Sprint

Yes
Molotov Cocktail: GTA SA Info
Weapon Class

Thrown Weapons

Fire Type

Projectile

How To Unlock

Spawns at Johnson House after completing 100 Gang Tags

Weapon Slot

9

Weapon Tier

Tier 1 (Thug Cheat Set)
Molotov Cocktail: GTA SA Appearances
Molotov Cocktail Spawn Locations in GTA San Andreas

Where to find the Molotov Cocktail in GTA San Andreas:

Found in Vinewood, Los Santos, to the right of the Hobos diner in the northeast portion.
Found in Ocean Docks, Los Santos, to the right of a short street that connects to Los Santos International Airport, underneath a building.
Found in East Los Santos, in an alleyway beside the Recycling Center, north of Cluckin' Bell.
Found in Ganton, Los Santos, on a table inside the kitchen of the Johnson House. (After Spray Painting all 100 Tags).
Found in Palomino Creek, Red County, at the southwest corner of the rooftop of the red brick building at the southwest edge of town.
Found in Flint Range, Flint County, in Helena Wankstein's tool shed (If dating her).
Found in the Creek, Las Venturas, at the shopping center, on the roof, at the very southern edge.
Found at Come-A-Lot, Las Venturas, at the north end of the casino, on the roof of the tan brick building.
Found in Redsands West, Las Venturas, between some bushes and palm trees beside Las Venturas Fire Station.
Found in Fort Carson, Bone County, next to the dumpster behind the "P Hat Liquor" store at the south end of town..

Notable Owners:

The Ballas Los Santos Vagos

Appearances in Story Missions: