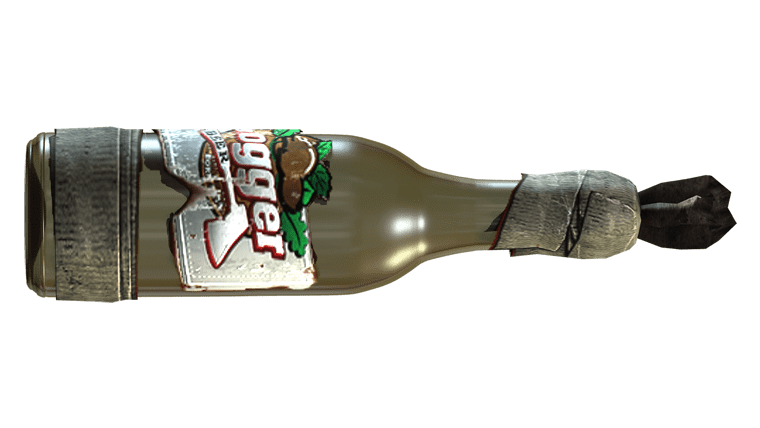 The Molotov is a weapon in the Thrown Weapons class featured in Grand Theft Auto V and GTA Online.
This weapon cannot be customized.
The Molotov also appears in Grand Theft Auto VI, Red Dead Redemption 2, Grand Theft Auto IV, GTA San Andreas, GTA Vice City and Grand Theft Auto III.
How to get the Molotov in GTA 5 Story Mode:
In GTA V, the Molotov can only be found and picked up around the map (see the spawn locations in the "Appearances" section below). It cannot be otherwise purchased.
How to get the Molotov in GTA Online:
In GTA Online, the Molotov can be simply found and picked up around the map (see the spawn locations in the "Appearances" section below), or it can be purchased for a price of $200.
It's unlocked for purchase after reaching Rank 31 in GTA Online.
You can also obtain 3 Molotovs by requesting a Merryweather Ammo Crate Drop for $1,000.
Molotov Description:
Crude yet highly effective incendiary weapon. No happy hour with this cocktail.
Molotov: GTA V Statistics
Damage

50.00

Fire Rate

20.00

Accuracy

20.00

Range

8.00

Overall

24.50
Unlock Rank

31

Ammo Capacity

25
Molotov: GTA V Info
Molotov: GTA V Appearances
Molotov Spawn Locations in Grand Theft Auto V

Where to find the Molotov in

GTA Online and GTA V Story Mode

:

Story Mode:

Back deck of Boathouse, Sandy Shores
Under Great Ocean Highway, South of Hookies
Top floor of construction site in Little Seoul
Rear of Chumash Plaza
Alley behind Mirror Park Barber Shop
End of Zancudo Grain Towers Field, Mount Chiliad
Stoner Cement Works, Baytree Canyon Road
Scrapyard behind LSIA Los Santos Customs

GTA Online:

Park Bench, small hill at North Point Trim Track, Paleto Bay
Second floor, eastern building of Derelict Motel, Algonquin Boulevard, Sandy Shores
Fence beside small shed, radio towers above Vinewood sign, Mount Haan Dr, Vinewood Hills
Side Doors Asian styled Club, West Vinewood
Netted area, building by dock, Millar's Fishery, North Calafia Way, Galilee
Burned Out Building, large island Southeast of Lighthouse, Mount Gordo
Behind Bait & Tackle shop on Sonar dock, Great Ocean Highway, Paleto Cove
Behind Discount Store next to Ammu-Nation, Route 68, Great Chaparral
Patio, Templar Hotel, Adams Apple Bouelvard, Mission Row
Parking area, south side of oil fields, El Burro Heights
Storage area, Barracuda Cafe, Barbareno Road, Chumash
Between wall & table inside north-most trailer with blue doors, Stab City
Trailer with pink flowers, Senora Way, Ron Alternate's Wind Farm
Seats, Vinewood Bowl, Vinewood Park Drive
Innocence Boulevard cul-de-sac, behind Tatoo shop

Notable Owners:

The Lost MC Marabunta Grande

Similar Weapons
Molotov: GTA V Screenshots
Coming soon.