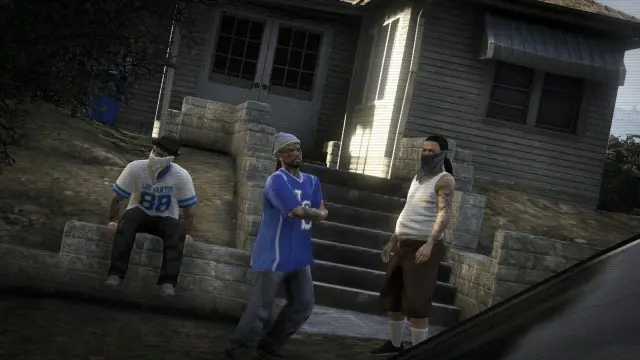 The Marabunta Grande is a Gang featured in Grand Theft Auto V and GTA Online.
The Marabunta Grande is heavily involved in drug trafficking and are currently at war with the Mexican Varrios Los Aztecas over business in Blaine County.
They appear for the first time in-game during Father/Son, when Jimmy tries to sell his father's boat but ends up having it stolen.
Members of the gang can be seen in El Burro Heights and are most active at night, being seen in groups. They are very territorial and will attack if provoked. They can be identified by their full-face tattoos and bandanas. Their dominant color is blue.
Marabunta Grande: GTA V Info
Group Type

Gang

Faction Type

Salvadoran Street Gang

Nationality

El Salvador

Location

El Burro Heights; Vespucci Beach; Grand Senora Desert; East Vinewood Drain Canal

Occupation

Drug Trafficking; Drug Manufacturing; Weapons Trafficking; Contraband

Gang Colors

Blue; White

Affiliation

The Lost MC

Vehicles

BuzzardCuban 800EmperorFaction Custom DonkMananaPeyoteRebelSabre Turbo CustomTornadoVirgo Classic Custom

Based on (Real Life)

Mara Salvatrucha (MS-13)
Marabunta Grande: GTA V Appearances
Appearances in Story Missions: