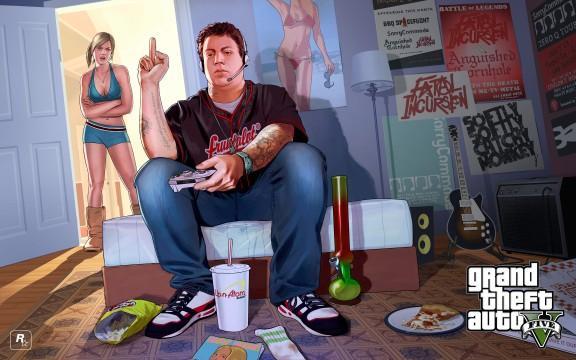 Jimmy De Santa appears as a Major Character and Companion in Grand Theft Auto V, as well as a character in GTA Online.
Jimmy De Santa is the son of Michael and Amanda.
He is a 20-year-old, fat, whiny pot smoker, who is prominently very lazy and addicted to video games, and, like the other members of his family, has a conflicted relationship with his father.
James "Jimmy" De Santa is a redheaded, overweight young man, shorter than the rest of his family. He has tattoos and is dressed in a way that mimics the appearance of gangster rappers.
Jimmy shows much cowardice throughout the storyline, blaming his dad for all of his own failings, and is quick to shift the blame for any of his poorly thought-out actions. At one point, he drugs his father and steals his car, leaving to get his own place. Despite his cowardice, he saves his father after a Merryweather goon knocks him down and prepares to shoot him by hitting the goon with a bong.
Towards the end of the storyline, Jimmy accepts that his situation isn't entirely Michael's fault and starts to exercise and look for a job.
Jimmy appears in Grand Theft Auto: Online during the events of the Diamond Casino Heist, being employed by Lester Crest at his Arcade. He now has longer hair and sports a hoodie, sunglasses, and a black hat.
Jimmy De Santa: Character Info
Gender

Male

Born In Year

1993 (20 years old in 2013)

Nationality

United States

Location

Portola Drive, Rockford Hills, Los Santos

Occupation

Unemployed

Also Known As

James Townley; Jim; Big-J

Performer / Actor

Danny Tamberelli

Family

Affiliation

Franklin ClintonTrevor Philips

Property / Safehouse

De Santa Residence (Michael's Mansion)

Playability

Director Mode

Vehicle
Jimmy De Santa: Appearances
Game Edition

GTA OnlineGTA V Story Mode

Platforms

PC

PlayStation 4

Xbox One

PlayStation 3

Xbox 360
Jimmy De Santa Missions in Grand Theft Auto V:

Appearances in Story Missions:
Jimmy De Santa Screenshots
Jimmy De Santa Artworks