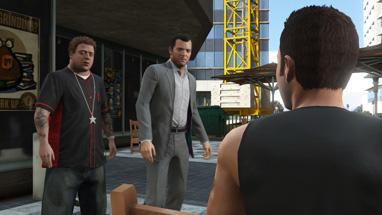 Reuniting the Family is a main story mission in Grand Theft Auto V, involving protagonist Michael De Santa .
It's the 60° GTA V mission in chronological order, and it takes place in Los Santos.
Michael begins to make amends with his family.
Gold Medal Objectives (100%)
The following are the Mission Objectives required to obtain the Gold Medal in the mission "Reuniting the Family":
Time: Complete within 10:30.
Note: You can complete each Gold Medal requirement in multiple playthroughs of the mission. You don't need to obtain them all in one single playthrough.
Reuniting the Family - Mission Details:
Michael goes home and passes out on the couch while watching a film. He's woken up by Jimmy, who has come to apologise for spiking him. he starts going off on a tangent, explaining that he just gets angry and does stuff and wants to hug it out and say I love you, even though he doesn't like doing that sort of thing. He also starts having a go at Michael for the way he is but still misses him regardless.
The pair makeup and Michael asks how Amanda is doing. Jimmy plays Michael up saying she's sleeping with other men but is just joking to get his dad annoyed. Jimmy says she's mad at Michael but ultimately wants him to win her back. Jimmy and Michael head a nearby Bean Machine, where Amanda is with Fabien.
Fabien is berating Amanda for her wellbeing and starts doing the same to Jimmy when they arrive. Amanda is now annoyed at Fabien and asks Michael to hit him. Michael grabs the laptop of a nearby screenwriter, who keeps shushing the group and hits Fabien round the face with it. Michael apologises to Amanda for his ways and that he wants them to try again, which she accepts, as long as they all go to family counselling.
Michael and Jimmy go to pick up Tracey, who is at a tattoo parlour on Vinewood Boulevard, while Amanda takes Fabien away and agrees to meet at Dr Friedlander's office later. When they get to the tattoo parlour, Michael sees Tracey in there with Lazlow. She trying to get another shot at fame after her time on Fame or Shame. He says he'll help her out if she blows him. Michael is outraged with what he hears and starts threatening Lazlow again. He pushes him into the tattoo chair and forcibly pierces his eyebrow, nose and ear. he then tattoos a penis onto either his back or chest. Not satisfied with his punishment enough, Michael finishes off by cutting off Lazlow's trademark ponytail.
Michael then demands that Tracey can have whatever she wants without any repercussions and Lazlow agrees to give Tracey whatever she wants. Tracey leaves with Michael and Jimmy and they all head to Dr Friedlander's.
The family seem to get nowhere in counselling. Michael and Amanda just argue and the kids keep quiet. Once outside, Amanda still agrees to come home, despite the bad session. They all drive back to the house. Once the mission is complete, play automatically switches to Trevor, who is laying drunk on a beach.
Reuniting the Family: Mission Objectives
Go to

Bean Machine

.
Go to the

tattoo parlor

.
Go to

Dr. Friedlander's office

.
Go back to

Michael's house

.
Reuniting the Family: Mission Info
Rewards

The Tennis Court in Michael's Mansion becomes available again; Michael can hang out with Amanda and Jimmy again

Unlocked Items

Exercising Demons - Trevor
Reuniting the Family: Videos
PS3 / Xbox 360: Gold Medal Video Walkthrough
PS4 / Xbox One (First Person): Gold Medal Video Walkthrough
Reuniting the Family: Screenshots
Coming soon.