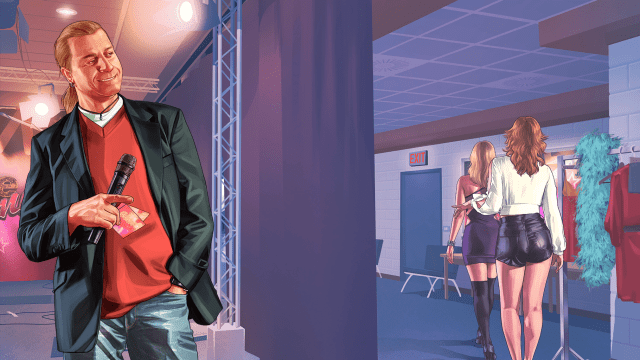 Lazlow Jones appears as a Minor Character in Grand Theft Auto V, as well as a character in GTA Online.
Lazlow Jones is a fading 1980s radio personality, who is currently struggling to rehabilitate his career. He is now the host of Fame or Shame, a talent show on Weazel, and is also the co-host of the Chattersphere segment of liberal-leaning FM radio station WCTR 95.6 alongside Michelle Makes.
Lazlow appears physically in Grand Theft Auto: V, first seen at the Maze Bank Arena hosting auditions for Fame Or Shame, where Tracey de Santa, Michael's daughter, is attempting to join the show with a sexually suggestive dance routine. Trevor and Michael arrive and see Lazlow dancing inappropriately with her, losing their temper and pushing Lazlow to the ground, who calls security and runs away. The two chase Lazlow, whose car runs out of battery, leaving him trapped in the Los Santos Storm Drain. Later on, Lazlow is seen once again at the Blazing Tattoo shop, where Tracey tries to get back on Fame or Shame. Lazlow agrees to let her back in exchange for a blowjob, which Michael overhears. Michael proceeds to pierce Lazlow's eyebrow, nose, and ear and tattoo a penis on his chest, demanding he let Tracey back on the show for free.
Five years after the events of GTA V, Lazlow appears in GTA Online with the introduction of Nightclubs in the GTA Online: After Hours update.
Lazlow Jones is a real-life American talk show host, voicing himself in the Grand Theft Auto series.
Lazlow Jones: Character Info
Role

Minor Character

Gender

Male

Born In Year

1962 (51 years old in 2013)

Nationality

United States

Location

Los Santos

Occupation

TV presenter

Performer / Actor

Jeffrey Crawford Jones (Himself)

Affiliation

Tracey De Santa

Playability

Director Mode

Vehicle
Lazlow Jones: Appearances
Game Edition

GTA OnlineGTA V Story Mode

Platforms

PC

PlayStation 4

Xbox One

PlayStation 3

Xbox 360
Appearances in Story Missions:
Lazlow Jones Screenshots
Lazlow Jones Artworks