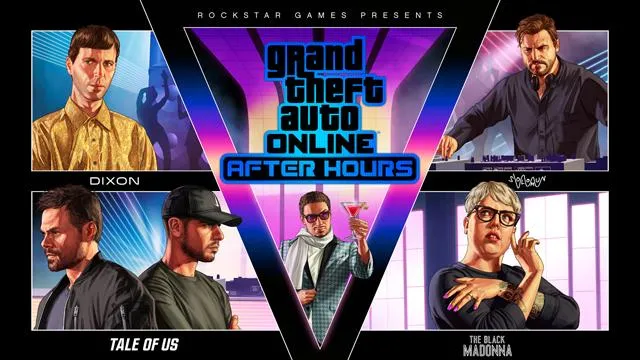 Release Date

July 24, 2018

Game Edition

GTA Online

Platforms

PC

PlayStation 4

Xbox One
New Nightclubs Properties
Partner with legendary impresario Tony Prince to open and operate a top shelf Nightclub featuring world-class DJ acts Solomun, Tale Of Us, Dixon and The Black Madonna, and use it as a front for the most concentrated network of criminal enterprise ever to hit San Andreas.
Nightclubs are a way for players to make legitimate income in GTA Online but also act as a Hub for players' other illegal businesses that they already own via the expandable Nightclub Warehouse underneath.
The Nightclub can be customized with a choice of Nightclub Style and Nightclub Name – optional add-ons such as a Light Rig, Storage, Dancers and Dry Ice are also available.
Players can purchase a Nightclub from the Maze Bank Foreclosures website from a selection of 10 locations.
New Vehicles
New Weapons
New GTA Online Characters
New Characters introduced to GTA Online as part of this Title Update.
Other Title Update Notes
New Content – PS4, Xbox One and PC Only
Business Battles have been added to GTA Online

Business Battles are Freemode Missions that launch every 15 minutes in public Freemode sessions, pitting players in head to head battles over large drops of Business goods

Over 250 new items of clothing for male and female characters have been added to GTA Online
A new Freemode Bounty Hunter activity has been added to GTA Online. Completion of this activity will allow players the use of a Stone Hatchet in GTA Online and Red Dead Redemption 2
New Freemode Client Jobs have been added to GTA Online, specific to the Benefactor Terrorbyte:

Collector's Pieces
Data Sweep
Deal Breaker
Diamond Shopping
Robbery in Progress
Targeted Data

Hunting Pack (Remix): A new Adversary Mode for 4-8 players has been added to GTA Online, available at Rank 1 -

You're one long mile from the finish line, these Scramjets are crashing off the sides of your Dune MTL like its rush hour, your teammates in Vigilantes are pinned down and the speedometer is rigged to some high explosives. It can only mean one thing: Hunting Pack has returned to GTA Online - with an upgrade. Hunting Pack (Remix) challenges a Runner to pick up speed and maintain it all the way to the deactivation zone to prevent an onboard bomb from detonating. If the Runner drops below the minimum speed for too long, the round comes to a swift and explosive conclusion. Attackers do all they can to bring the Runner to a halt, while a team of Defenders must protect the Runner at all costs.

Trading Places (Remix): A new Adversary Mode for 2-10 players has been added to GTA Online, available at Rank 1:

The grand battle of winners and losers returns, but this time with special guest appearances from The Juggernaut and The Beast. Take out a Juggernaut as the Beast to steal their heavy armor, their thermal vision, and their place on the winners' team. Pass the Parcel and Podium Finish modes available.

Running Back (Remix): A new Adversary Mode for 2-8 players has been added to GTA Online, available from Rank 1:

The Adversary Mode starring the undersized Panto that dared to dream big is back. The main goal of reaching the end zone is still the same in Running Back (Remix), but now the pocket-sized hatchback Runner is both flanked and opposed by an upgraded fleet of 5-star recruits in Tezeracts. This new gridiron clash is built specially to maximize the carnage and competition.

Sumo (Remix): A new Adversary Mode for 2-16 players has been added to GTA Online, available from Rank 1:

It's time to brush off your territorial instincts in this remix of the classic adversary mode. The bottom line is the same: be in the safe zone when the timer runs out - or prepare to overheat, permanently. But this time, as well as getting smaller, the safe zone changes location every time the clock resets, and bits of the track might disappear at random. Stay sharp.

Several existing vehicles are now available for purchase in GTA Online from Southern San Andreas Super Autos:

Benefactor Serrano (SUV)
Karin BeeJay XL (SUV)
Fathom FQ (SUV)
Emperor Habanero (SUV)
Chariot Romero Hearse (Sedan)
Mammoth Patriot (SUV)
Bollokan Prarie (Compact)
Imponte Ruiner (Muscle)
Karin Futo (Sports)

Six new liveries have been added for existing vehicles, available from LS Customs and all other mod shops and vehicle workshops:

Bollokan Prarie
Declasse Mamba
Imponte Ruiner
Inverto Coquette Classic
Karin Futo
Maibatsu Penumbra
New Features / Updates - PS4, Xbox One and PC Only
A new radio station called "Los Santos Underground Radio (LSUR)" has been added to GTA Online, featuring mixes from Solomun, Tale Of Us, Dixon and The Black Madonna.
Eight new player actions have been added to GTA Online
One new walking style has been added to GTA Online
Eight new awards have been added to GTA Online
Players can now change their player action without having to go into the Interaction Menu. This can be done by performing an action and then pressing L1/LB to go back an action, and R1/RB to go forward an action (press / press and hold Caps Lock on PC)
Special vehicles with flight functionality (boost, glide or hover) will now be detected by the Air Defense system of the Galaxy Super Yacht
Players now receive Adversary Mode invites from Martin Madrazo every 25 minutes in Freemode
Outfit selection is no longer present in Jobs with over 16 players
The Hotring Races Circuit Series has been renamed to "San Andreas Super Sport Series"
Changes have been made to the locations of the San Andreas Super Sport Series triggers in GTA Online Freemode
A new 'Audio Track' option has been added to the Race Creator
The 'Forced Weapon' option in the Deathmatch Creator > Team Details Menu has been renamed to 'Team Forced Weapon'
Rockstar Editor Fixes – PS4, Xbox One and PC Only
Fixed an issue with the Mammoth Avenger's turret view rendering the world in low quality when playing back previously recorded Rockstar Editor clips
Fixed an issue with burst vehicle tires sometimes rendering incorrectly when playing back previously recorded Rockstar Editor clips
Fixed an issue with the hood of the Weeny Issi Classic disappearing after being damaged when playing back previously recorded Rockstar Editor clips
Fixed issues with incorrect weapon positioning of several turreted vehicles when playing back previously recorded Rockstar Editor clips
Rockstar Creator Fixes – PS4, Xbox One and PC Only
Fixed an issue that resulted in the 'Switch Camera' option to not be present
Fixed an issue that resulted in checkpoints incorrectly changing to 'Seat Swap' checkpoints
Fixed an issue that resulted in players being unable to exit the 'Props' Menu
Fixed an issue that resulted in 'Team Start Points' and 'Spawn Points' to not work correctly
Fixed an issue that caused players to fall through the world when manually respawning in a published Race
Fixed issues that resulted in multiple vehicles being missing from the available vehicles
Fixed an issue that resulted in players being unable to set the Double Action Revolver as a forced weapon
Fixed an issue that meant players could be killed in test mode
Fixed an issue that caused the Blimp prop text to flicker
Fixed issues with prop placement in water
Fixed an issue that resulted in players recorded paths being incorrectly deleted
Fixed an issue that resulted in the button prompts to toggle vehicle modes not functioning
Fixed an issue that caused the path recording path to not change color or drop any nodes
Fixed frame rate issues with the Target Assault Creator
Fixed an issue that resulted in the flashlight not being available in the Creator
Fixed an issue that resulted in the path drawing not clearing up correctly
Fixed issues with helmets in the Deathmatch Creator
Fixed an issue that resulted in players not being told when they had exceeded the limit of path nodes
Fixed an issue that meant players could incorrectly set the maximum players to an odd number
Fixed an issue that meant players were unable to select transform checkpoints while placing checkpoints on water
Fixed an issue that caused the Police Barrier Prop to turn into the Construction Fence Prop
Fixed issues with trigger snapping
Fixed an issue that resulted in the 'Forced Weapon' setting not appearing
Fixed an issue that resulted in players spawning at the wrong team start points at the start of the published Job
Fixed issues that caused the Blonded radio station to not be selectable in the 'Lobby Radio' option
Fixed an issue that meant players could only set 2 team start points
Fixed an issue that meant the 'Change Race Type' option would not be present in the Creator
Fixed an issue that resulted in the Transform Vehicle list missing
Fixed issues with the wheels of vehicles clipping with the ground after being placed
Fixed help text issues with the 'Cycle Items' Menu
Fixed an issue that meant players are unable to set the maximum amount of team respawn points
Fixed issues with the UI in the middle of orientation checkpoints
Fixed an issue that resulted in the Buckingham Swift having no livery options available
Fixed an issue that resulted in the checkpoint type changing to primary from secondary after being placed
Fixed an issue that caused checkpoints to visibly pop
Fixed an issue that caused the vehicles to be missing when placing a grid
Fixed an issue that resulted in players being placed in the wrong vehicle when testing a Race
Fixed an issue that resulted in players being incorrectly told that the selected prop is too far away from other props in the template
Fixed an issue that resulted in players being unable to place more than one vehicle while in the 'Team Restrictions' Menu
Fixed an issue that resulted in a "Completed" screen appearing while testing a Deathmatch
Fixed issues with 'Incorrect Maximum Players' UI
Fixed issues with 'Team Start Points' UI
Fixed an issue that caused vehicle lights to turn on and off switching between the primary and secondary path type
Fixed an issue that resulted in players not receiving points from shooting targets in UGC Target Assault Races
Fixed an issue that caused players' UGC Stunt Races to have their laps incorrectly capped
Fixed an issue that resulted in warp checkpoint destinations to be considered invalid after testing your UGC Race
Fixed an issue that resulted in the Double Action Revolver to reset to the pistol upon publishing your UGC Job
Fixed an issue that resulted in players being incorrectly forced on a Blazer Aqua in an UGC Oppressor Race
Fixed an issue that resulted in the vehicles in players' old UGC to be damaged and smoking upon editing
Fixed an issue that resulted in players seeing other players' character as their own in UGC Race lobbies
Fixed issues with players spawning into each other at the start of UGC Deathmatches
Fixed an issue that resulted in players being unable to publish their content
Fixed an issue that meant players could incorrectly publish an untested Job
General / Miscellaneous – PS4, Xbox One and PC Only
The following Freemode Challenges no longer trigger:

Melee Kills Challenge
Drive-by Kills Challenge

The following Freemode Events no longer trigger:

Kill List Competitive
Moving Targets
Dead Drop

The following Freemode Events no longer trigger for a limited time:

Penned In
Kill List
Hold the Wheel
King of the Castle
Hot Property
Checkpoints
Hunt the Beast
Criminal Damage

Fixed an issue that prevented the front-mounted guns of the HVY Nightshark from extending properly when selected
Fixed issues with the Akula helicopter that were preventing the co-pilot turret and rear passenger cameras from functioning correctly
Fixed issues with the turret weapon of the Nagasaki Ultralight not rotating correctly
Fixed pricing issues with the proximity mine mod for various weaponized vehicles
Fixed an issue that resulted in the left headlight on the Vapid Flash GT to be inverted
Fixed an issue that resulted in players' Heist progress not saving
Fixed an issue that resulted in Heist payouts not behaving correctly
Fixed an issue in the Vehicle Cargo Mission – Cargobob that caused the barge that the mission objective vehicles sits on to fill with water and cause the mission to Fail
Fixed an issue that allowed the Mammoth Avenger's weapons to be used inside the Yacht's defence zone
Fixed an issue that caused vehicle health pick-ups to not work as intended in GTA Races
Fixed an issue that caused removed Freemode Events to still appear in the Interaction Menu after being hidden with the Hide Option
Fixed an issue that resulted in the amount of a players' sniper ammo to be incorrect
Fixed an issue that resulted in Business Defend Missions to not launch when intended
Fixed an issue that resulted in players not receiving invites while in Story Mode
Fixed an issue that resulted in players appearing under water after delivering the objective to their Facility at the Land Act Reservoir
Fixed issues with players' Personal Vehicles not appearing / appearing incorrectly after being requested
Fixed issues with Personal Vehicles spawning outside Facilities
Fixed an issue that resulted in players losing functionality after starting a Resupply Mission
Fixed subtitle issues for the Facility intro cutscene
Fixed an issue that resulted in passengers of the Mammoth Avenger to lose functionality
Fixed an issue that resulted players accepting invites to incorrectly appear inside the inviting player's Facility
Fixed multiple issues that resulted in players getting stuck on a black screen in GTA Online
Fixed an issue that resulted in players losing functionality after attempting to stand up from the Office sofa
Fixed inconsistencies with the number of laps that can be set in Hotring Races
Fixed issues that resulted in players losing functionality or getting stuck after trying to enter/exit or move position inside the Mammoth Avenger
Fixed an issue that resulted in players getting stuck between consoles in the Mammoth Avenger
Fixed an issue that caused the Mammoth Avenger weapons to no longer be visible after upgrading
Fixed an issue that resulted in players being warped to a different location after their Mammoth Avenger was destroyed while in autopilot
Fixed an issue that resulted in players being unable to engage/disengage the Mammoth Avenger autopilot
Fixed issues with players being busted while in the Mammoth Avengers' pilot seat
Fixed issues that resulted in players losing functionality or getting stuck after trying to enter/exit or move position inside the MOC
Fixed issues that meant players were unable to enter their Facility
Fixed issues with the positioning of various Freemode Job triggers
Fixed an issue that resulted in players spawning in places other than what they had chosen as their spawn location
Fixed minor model, livery, and modification issues on the following vehicles:

Akula
Annis Savestra
Benefactor Streiter
Buckingham Nimbus
Canis Kamacho
Grotti Visione
Karin 190z
Överflöd Entity XXR
Pfister Comet Safari
RUNE Cheburek
Übermacht Revolter
Vapid Dominator GTX
Vapid GB200
Vapid Riata
V-65 Molotok

Fixed an issue that prevented certain map legend entries from being selectable on the Pause Menu Map
Fixed an issue that caused the windscreen of the Ocelot Stromberg to disappear when hit with an explosion, despite resistance to explosives
Fixed an incorrect font size that appeared on some Organization alert messages
Fixed an issue where cowering Mission NPCs may get stuck and not correctly follow the player's group to continue the Mission
Fixed an issue that may have caused another player to be briefly seen standing on the track when respawning during Race Jobs
Fixed an issue that caused incorrect vehicle audio to be heard when observing another player's vehicle
Fixed a small delay in visual effects when shooting out the headlights / glass of another player's vehicle
Fixed an issue with rappelling from a helicopter that could show other players in the session stuck playing the rappel animation
Fixed a lighting issue that may occur with enemies on the submarine during The Bogdan Problem Mission
Fixed an issue that may have caused a dead player to exit a wrecked vehicle after being blown up
Fixed an issue that may have set the wrong location for Mission targets when using the Quick GPS functionality of the Personal Interaction Menu
Fixed an issue that could have prevented some players from being able to leave the HVY Insurgent Pick-Up when fully occupied
Fixed an issue that resulted in certain liveries to not be available for various vehicles
Fixed an issue that resulted in players having no functionality after playing the Race – Mall or Nothing in the GTA Online Tutorial
Fixed issues with insurance claims for Weaponized Vehicles
Fixed issues with friends spectating while the player being spectated is inside their Facility
Fixed an issue that resulted in players being able to use the Mammoth Avenger's guns while in the Freemode Event – Penned In
Fixed an issue that resulted in players' Mammoth Avengers not being returned to their Facility after choosing to 'Return to Storage'
Fixed issues with 'Exit All' option when leaving Facilities
Fixed an issue that resulted in players spawning incorrectly after being inside a Facility that was traded in
Fixed an issue that resulted in players losing functionality when entering the Facility
Fixed an issue that resulted in players being incorrectly removed from the MOC
Fixed an issue that resulted in the leaving Facility in Mammoth Avenger cutscene to incorrectly trigger
Fixed issues with the Criminal Enterprise Starter Pack UI and functionality
Fixed issues with Night and Thermal Vision
Fixed issues with button prompts for using weapons in multiple vehicles
Fixed checkpoint issues in multiple Races
Fixed issues with new item stars in Menus
Fixed an issue that caused the Target Assault Series blips to show as hidden after choosing to hide the Hotring Series blips
Fixed an issue that resulted in the MOC to be blipped as "(null)" in the Pause Menu map
Fixed an issue that resulted in players in an Organization incorrectly having access to the Relaxed riding style
Fixed an issue that resulted in players spawning under the map when entering another player's Facility
Fixed issues with player positioning in the Adversary Mode – Target Assault
Fixed issues with the leaderboard when spectating during the Adversary Mode – Target Assault
Fixed an issue in the Adversary Mode – Target Assault that caused players to spawn in incorrect vehicles
Fixed radio issues in the Adversary Mode – Target Assault
Fixed an issue in the Adversary Mode – Tiny Racers that caused the mode to not progress through rounds
Fixed an issue in the Adversary Mode – The Vespucci Job that resulted in players being unable to move at the start
Fixed an issue in the Adversary Mode – The Vespucci Job that resulted in the Runner driving the wrong car
Fixed help text issues in the Adversary Mode – The Vespucci Job
Fixed outfit issues in the Adversary Mode – The Vespucci Job
Fixed an issue in the Adversary Mode – Hard Target that resulted in players incorrectly being the hard target twice in a row
Fixed SFX issues in the Adversary Mode – Hard Target
Fixed an issue in the Adversary Mode – Running Back that resulted in players' vehicles being changed after respawning
Fixed issues with the score in the Adversary Mode – Trap Door
Fixed Personal Vehicle spawning issues in Heists
Fixed an issue that resulted in players' platform IDs not appearing correctly in Heist lobbies
Fixed an issue that resulted in the Facility Heist Planning Room doors being locked
Fixed multiple issues with the Facility Heist planning screen
Fixed issues with text display on the Doomsday Heist planning board that occurred with some languages
Fixed an issue that resulted in players still having Mission Objective as an option in the Quick GPS after completing a Heist
Fixed issues with enemy aggression in the Heist – The Data Breaches: Dead Courier
Fixed an issue in the Heist – The Data Breaches: Morgue where the Savage would destroy itself when landing
Fixed an issue in the Heist – The Data Breaches: Signal Intercepts that resulted in the custom Deluxos players made in the previous Mission to not be present
Fixed issues with button prompts in the Heist – The Data Breaches: Server Farm
Fixed an issue in the Heist – The Bogdan Problem: Finale that caused the Mammoth Avenger Services in the Interaction Menu to not work correctly
Fixed an issue in the Heist – The Bogdan Problem: Finale that caused the enemy helicopters to visibly spawn on the beach and explode
Fixed an issue in the Heist – The Bogdan Problem: Riot Control Van that resulted in passenger players to incorrectly see the on-screen prompt "Press circle to toggle focus"
Fixed an issue in the Heist – The Bogdan Problem: Avenger that resulted in players spawning under the map after dying
Fixed an issue in the Heist – The Bogdan Problem: Avenger that caused the Mission to incorrectly fail
Fixed an issue in the Heist – The Bogdan Problem: Avenger that caused the flashlight to turn on when turning on the generator
Fixed an issue in the Heist – The Doomsday Scenario: Finale where players would fall through the map after watching the mid-Mission cutscene
Fixed an issue in the Heist – The Doomsday Scenario: Flight Path that caused the enemy target to stop walking
Fixed an issue in the Heist – The Doomsday Scenario: Rescue Agent 14 that resulted in players moving across the room when attempting to take cover
Fixed cutscene inconsistencies with The Doomsday Scenario Heist
Fixed an issue in the Heist – The Doomsday Scenario: Finale that resulted in the Mammoth Avenger blip constantly changing color
Fixed issues with the doors during the cutscene in the Heist – The Doomsday Scenario: Finale
Fixed plane audio issues in the Heist – The Doomsday Scenario: Rescue Agent 14
Fixed an issue in the Heist – Prison Break: Station that caused players to fall through the map after the first cutscene
Fixed an issue in the Heist – Pacific Standard: Signal that caused Avi Schwartzman to fall through the boat
Fixed an issue in the Heist – Pacific Standard: Finale that caused the doors of the bank to not open
Fixed an issue in the Race – Water Slide that resulted in players starting the Race with their wheels up despite the Race starting on land
Fixed an issue that resulted in players performing the swimming animation when entering the Facility
Fixed an issue that caused the Facility interior to be missing
Fixed an issue that resulted in First Person not functioning in Sedan or SUV Races
Fixed an issue that resulted in players being unable to toggle the catch-up option in some Issi Races
Fixed an issue that resulted in players' characters looking different after swapping to the character in slot 2 then back
Fixed issues with player hand positioning on the Mammoth Avenger weapons
Fixed clipping issues with chairs inside the Mammoth Avenger
Fixed an issue that resulted in players retaining their rebreather/mask from the scuba gear when entering the Thruster
Fixed an issue that resulted in players hearing no Mammoth Avenger propeller audio
Fixed an issue that caused player's Mammoth Avengers to change color the first time they enter it
Fixed an issue that meant players could send a Strike Team after someone in the movies
Fixed issues with sitting animations in the Mammoth Avenger
Fixed Crew emblem issues in the Facility
Fixed an issue that resulted in players' scuba outfit appearing incorrectly
Fixed an issue that resulted in players having the headlight vehicle remote function during Hotring Races despite the vehicle having no headlights
Fixed issues with the Sea Sparrow blip
Fixed an issue that resulted in radio stations changing once a Race begins
Fixed naming issues with the fender mods for the Lampadati Michelli GT
Fixed clipping issues with body armor and Classic Racing Suits
Fixed incorrect text issues when retiring as a CEO
Fixed issues with players' characters fading in and out when leaving an Office
Fixed an issue that resulted in players being incorrectly shown the message "Defense settings are disabled during Missions"
Fixed UI issues with picking up snacks
Fixed an issue that resulted in players' hair color changing when changing outfits in a lobby
Fixed an issue that resulted in players not having the mechanic in their contacts
Fixed an issue that resulted in the players' vehicle hoods opening after driving into the MOC
Fixed an issue that resulted in players' Barrage vanishing when inside the Mammoth Avenger
General / Miscellaneous – PS4 Only
Fixed an issue that caused players to get stuck after accepting an invite to GTA Online from the PS4 home screen
General / Miscellaneous – PC Only
Fixed an issue that resulted in players not receiving Race payouts after using mouse steering
Fixed an issue that resulted in players being unable to trade in Biker Businesses
Fixed incorrect help text being displayed for the TM-02 Khanjali when using a keyboard and mouse
GTA Online: After Hours Update - Title Update 1.44 Patch Notes Screenshots
Artworks
GTA Online: After Hours Update - Title Update 1.44 Patch Notes Video