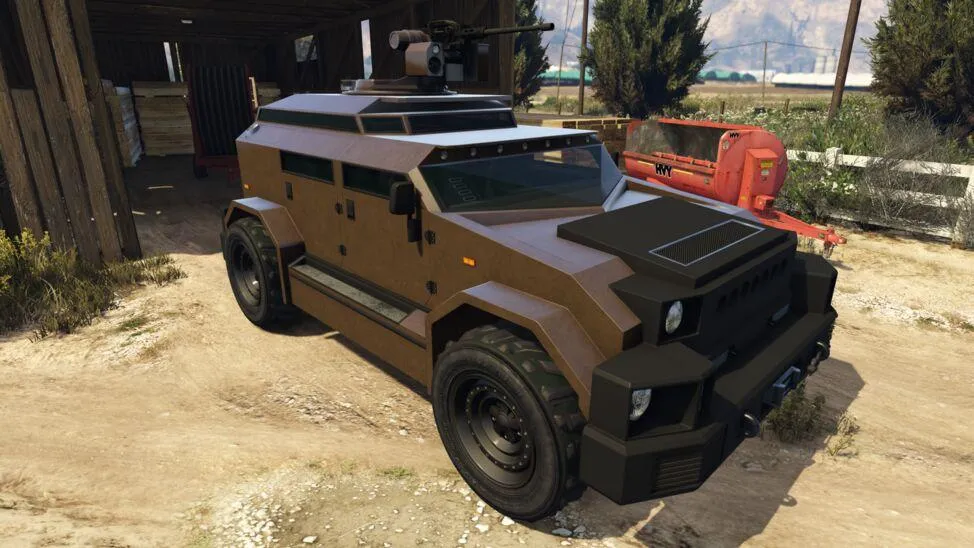 The HVY Menacer is an armored, weaponized Off-Road vehicle featured in GTA Online, added to the game as part of the 1.44 After Hours update on August 28, 2018.
How to get the Menacer in GTA Online:
The Menacer can be purchased in GTA Online from Warstock Cache & Carry for a price of $1,775,000.
The Menacer can be stored in any of your Properties/Garages as a Personal Vehicle. It can be customized at MOC / Avenger Workshop.
Once acquired, you can request the delivery of the Menacer from the Mechanic. However, the Menacer cannot be used in standard races.
This vehicle can only be modified at the Vehicle Workshop inside the Mobile Operations Center or Avenger.
HVY

Menacer in Real Life:

The design of the HVY Menacer is based on a real life Boss Hunting Truck.
HVY

Menacer Top Speed:

The actual top speed of the Menacer in GTA V is 94.25 mph (151.68 km/h) when it's fully upgraded, as it's been accurately tested in-game by Broughy1322.

The Menacer is an armored vehicle, and with full Armor it requires 23 Homing Missiles to be destroyed.
Can you sell the Menacer in GTA Online?
Yes, you can sell the Menacer at MOC / Avenger Workshop for a resale price of $1,065,000 (60% of the original purchase), plus 50% of the value of your upgrades.
Menacer: GTA V Vehicle Info
Vehicle Class

Off-Road

Manufacturer

HVY

Acquisition

Warstock Cache & Carry

GTA Online Price

$1,775,000

Storage Location

Garage (Personal Vehicle)

Delivery Method

Mechanic

Modifications

MOC / Avenger Workshop

Sell Price (Resale)

$1,065,000 ($1,355,413 when fully upgraded)

Race Availability

Target Assault Races

Top Speed - Game Files

80.78 mph (130.00 km/h)

Based on (Real Life)

Boss Hunting Truck
Seats

5

Mass / Weight

5,600

KG

Drive Train

AWD

Gears

6
Menacer: GTA V Performance
The below Top Speed & Lap Time have been accurately tested by
Broughy
.
Top Speed - Real

94.25 mph (151.68 km/h)

Lap Time

1:13.002

Bulletproof

No

Explosive Resistance

Amount of explosives required to destroy the Menacer, with 100% armor, and occupied by a player:

| Explosive Weapon | Amount |
| --- | --- |
| Homing Launcher / Oppressor Missiles / Jet Missiles | 23 |
| RPG / Grenades / Sticky Bomb / MOC Cannon | 8 |
| Explosive Rounds (Heavy Sniper Mk II) | 19 |
| Tank Cannon (Rhino / APC) | 4 |
| Anti-Aircraft Trailer Dual 20mm Flak | 2 |

Note: The Menacer has half-resistance when it's not occupied by a player.
Menacer: GTA V Statistics
Speed

69.75

Acceleration

50.00

Braking

20.00

Handling

60.61

Overall

50.09
Note: The above statistics are coming from the Rockstar official website.
Menacer Description:
The tools may change, but the good old-fashioned thrill of the hunt stays the same. Your pioneer forebears were marksmen: you drive the HVY Menacer. They could strip their rifle blindfolded: you can pay your mechanic to fit a rear-mounted minigun. They could fell game with a single shot: you can cut through crowds of peaceful protesters like a hot knife through butter. Now, get out there and make them proud.
Menacer: GTA V Appearances
Release Date

August 28, 2018

DLC / Title Update

1.44 After Hours

Game Edition

GTA Online

Platforms

PC

PlayStation 4

Xbox One
Similar Vehicles
Model ID

menacer

Notes

This vehicle can only be modified at the Vehicle Workshop inside the Mobile Operations Center or Avenger.

Menacer: Vehicle Customization

Total Cost to Fully Upgrade in GTA Online

$580,825

Modification
GTA Online Price
Armor

No Armor

$1,000

Armor Upgrade 20%

$7,500

Armor Upgrade 40%

$12,000

Armor Upgrade 60%

$20,000

Armor Upgrade 80%

$35,000

Armor Upgrade 100%

$50,000

Brakes

Stock Brakes

$1,000

Street Brakes

$20,000

Sport Brakes

$27,000

Race Brakes

$35,000

Bumpers > Front Bumpers

Stock Front Bumper

$2,200

Rail Bar

$4,600

Secondary Rail Bar

$7,400

XL Rail Bar

$11,700

Secondary XL Rail Bar

$14,500

Reinforced Ram Bar

$14,700

Secondary Reinforced Ram Bar

$14,900

Bull Bar

$15,100

Secondary Bull Bar

$15,300

Bulked Extender

$15,500

Primary Bulked Extender

$15,700

Secondary Bulked Extender

$15,900

Primary Front Barricade

$16,100

Secondary Front Barricade

$16,300

Chrome Front Barricade

$16,500

Bumpers > Rear Bumpers

Stock Rear Bumper

$2,200

Bulked Extender

$4,600

Primary Bulked Extender

$7,400

Secondary Bulked Extender

$11,700

Primary Bull Panel

$14,500

Secondary Bull Panel

$14,700

Primary Rear Barricade

$14,900

Secondary Rear Barricade

$15,100

Chrome Rear Barricade

$15,300

Engine

EMS Upgrade, Level 1

$9,000

EMS Upgrade, Level 2

$12,500

EMS Upgrade, Level 3

$18,000

EMS Upgrade, Level 4

$33,500

Exhaust

Stock Exhaust

$260

Exposed Stock

$750

Right Triple-Stack

$1,800

Carbon Right Triple-Stack

$3,000

Left Triple-Stack

$9,550

Carbon Left Triple-Stack

$9,750

Right Angled Triple-Stack

$10,500

Carbon Right Angled Triple

$12,000

Left Angled Triple-Stack

$13,750

Carbon Left Angled Triple

$14,625

Right Flushed Exhausts

$15,500

Left Flushed Exhausts

$16,475

Flexed Exhausts

$17,250

Grilles

Stock Grille

$200

Stripped Grille

$750

Geo Grille

$1,340

Exposed Grille

$1,650

Cross-Barred Grille

$3,000

Combination Grille

$3,200

Upgraded Combination Grille

$3,650

Intake Grille

$4,100

Chrome Intake Grille

$4,550

Carbon Intake Grille

$5,000

Hood

Stock Hood

$1,600

Striped Hood

$3,000

Primary Striped Hood

$5,000

Carbon Striped Hood

$8,000

Vented Hood

$9,600

Primary Vented Hood

$11,000

Carbon Vented Hood

$11,600

Durbar Bulkhead

$12,000

Primary Durbar Bulkhead

$12,400

Carbon Durbar Bulkhead

$12,400

Bevel Hatch

$12,500

Primary Bevel Hatch

$12,900

Carbon Bevel Hatch

$13,250

Panel Guards

$13,600

Primary Panel Guards

$13,900

Carbon Panel Guards

$14,150

Vent Scoop

$14,400

Primary Vent Scoop

$14,650

Carbon Vent Scoop

$14,850

Utility Hood

$15,050

Primary Utility Hood

$15,250

Carbon Utility Hood

$15,450

Horns
See the full list of the available Horns options »
Lights > Headlights

Stock Lights

$600

Xenon Lights

$7,500

Lights > Neon Kits
See the full list of the available Neon Kits options »
Livery

None

$11,400

Basic Camo

$18,240

Zancudo Camo

$19,380

Sprayed Camo

$20,520

3 Color Outline

$21,660

90s Sandbox

$22,800

Modern 5 Color

$23,370

Arid Theater

$23,939

Winter Camo

$24,510

Urban Warrior

$25,080

Nature Reserve

$25,650

Naval Battle

$26,220

Urban Geometric

$26,789

Coyote Geometric

$27,360

Large Geometric

$27,930

Naval Geometric

$28,500

Desert Fractal

$29,070

Urban Fractal

$29,639

Large Digital

$30,210

Medium Digital

$30,780

Small Digital

$31,350

Pink & Green Camo

?

Yellow & Blue Camo

?

Orange Shade Camo

Reward

Blue & Green Camo

?

Hunting Camo

?

Blue Tartan

Reward

Santo Capra Coins

Reward

Sessanta Nove Monogram

Reward

Sessanta Nove Multi-color

?

Dolla Dolla

?

Plates

Blue on White 1

$200

Blue on White 2

$200

Blue on White 3

$200

Yellow on Blue

$300

Yellow on Black

$600

Respray
See the full list of the available Respray options »
Roof

Stock Roof

$200

Durbar Armor Panel

$700

Military Support Slats

$1,150

Roof Brace

$1,600

Military Rack

$1,950

Secondary Weapons

Top .50 Cal Machine Gun

$55,000

Top .50 Cal Minigun

$205,000

Skirts

Stock Skirts

$2,500

Stripped Skirts

$5,500

Secondary Stripped Skirts

$8,000

Carbon Stripped Skirts

$10,500

Blacked Stripped Skirts

$14,000

Ridged Skirts

$14,500

Durbar Ridged Skirts

$15,000

Carbon Durbar Ridged Skirts

$15,500

Sport Skirts

$16,000

Secondary Sport Skirts

$16,500

Carbon Sport Skirts

$17,000

Double Indents

$17,400

Secondary Double Indents

$18,300

Carbon Double Indents

$19,000

Triple Indents

$20,425

Secondary Triple Indents

$21,025

Carbon Triple Indents

$21,425

Transmission

Stock Transmission

$1,000

Street Transmission

$29,500

Sports Transmission

$32,500

Race Transmission

$40,000

Turbo

None

$5,000

Turbo Tuning

$50,000

Wheels > Wheel Type
See the full list of the available Wheel Types options »
Wheels > Wheel Color
See the full list of the available Wheel Colors options »
Wheels > Tire Design

Stock Tires

$200

Custom Tires

$5,000

Wheels > Tire Enhancements

Standard Tires

$200

Bulletproof Tires

$25,000 (Rank 20)

Low Grip Tires

$500 (at LS Car Meet)

Wheels > Tire Smoke
See the full list of the available Tire Smoke options »
Windows

None

$500

Light Smoke

$1,500

Dark Smoke

$3,500

Limo

$5,000
Menacer: GTA V Screenshots
Menacer: Custom Paint Jobs
Artworks & Promotional Posters
Menacer Video