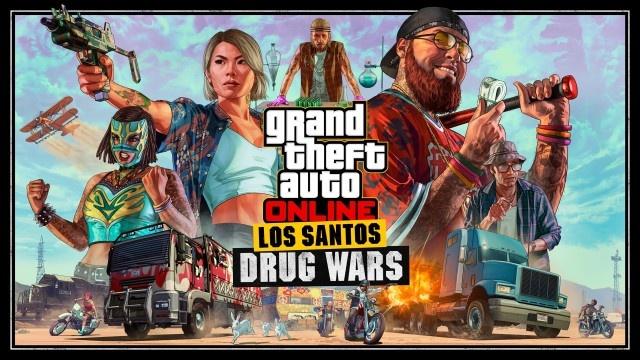 Release Date

December 13, 2022

Game Edition

GTA Online

Platforms

PC

PlayStation 5

Xbox Series X|S

PlayStation 4

Xbox One
The GTA Online December 2022 Update is called "Los Santos Drug Wars", and has been released December 13, 2022, featuring new psychedelics activities, missions, a new business enterprise to operate, new vehicles, and more.
The December 2022 update also comes with additional quality-of-life upgrades that improve the overall GTA Online experience and gameplay.
The GTA Online Los Santos Drug Wars DLC released on all platforms, has a size of 13 GB on Xbox Series X|S, 5.3 GB on PS5, and 3.4 GB on PC, PS4, and Xbox One.
Below you find everything that is included in the new GTA Online 'Los Santos Drug Wars' Update (GTA V Title Update 1.64), with all Contents, Patch Notes, Screenshots, Trailers, and more.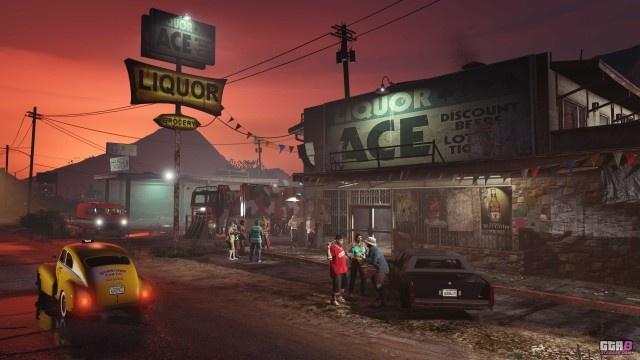 Los Santos Drug Wars: New Missions & The Freakshop
Dax, and his group of hard-partying nonconformists, the Fooliganz, are looking to establish their position by setting up shop in Blaine County.

Embark on the trip of a lifetime and join the troupe at a new base of operations - The Freakshop - and take on The Lost MC and other adversaries to dominate the illicit drug trade.

Get started by answering a call from Ron Jakowski and meeting up with the Fooliganz above Liquor Ace in Sandy Shores.
Six new "First Dose" story-driven missions have been added, which can be completed solo or with up to 4 players. These comprise the opening chapter of an expansive two-part story, with more missions to be released in the next months.
A new social space, called "The Freakshop", has been added, allowing players to launch new "First Dose" Story Missions, store and modify their new Acid Lab Business, purchase and modify Mk II weapons, as well as other social activities
Five new Fooligan Jobs are available through the new phone contact "Dax" after completing "First Dose - Welcome to the Troupe"
The Fooliganz Troupe includes leader Dax, metalhead wrestler Luchadora, chemist Labrat, and the returning "Nervous" Ron Jakowski.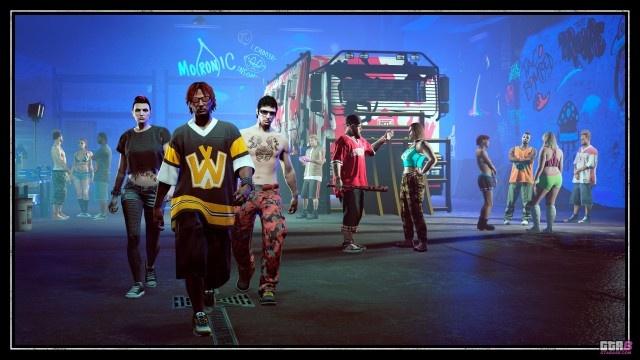 GTA Los Santos Drug Wars: Acid Lab Business & New Garage
After completing the "First Dose" missions and acquiring the necessary lab equipment, players can install the Acid Lab business in the rear of the new MTL Brickade 6x6 vehicle
This Acid Lab operates in line with existing businesses, launching source missions to gain supplies that will be turned into Acid product for players to sell
Players can request and drive their Acid Lab / Brickade 6x6 while in Freemode, along with the Maibatsu Manchez Scout C motorcycle, which is used to deliver Acid Product
The Acid Lab can also be given a custom name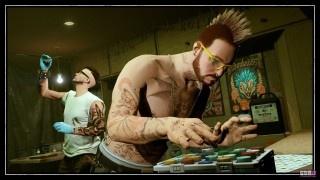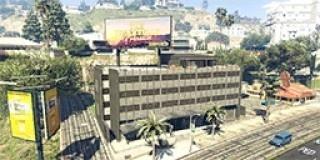 GTA December Update 2022 DLC: New Vehicles
Eight new vehicles have been added in December 2022 as part of the 'Los Santos Drug Wars' update, with 8 more to come in the subsequent weeks and months.
The retro-styled Declasse Tahoma Coupe (pictured below) was made available to all players for free from December 16 to December 18 as part of The Heists Challenge Reward. A new Classique Taxi vehicle can also be seen in the latest screenshots, which will be released soon.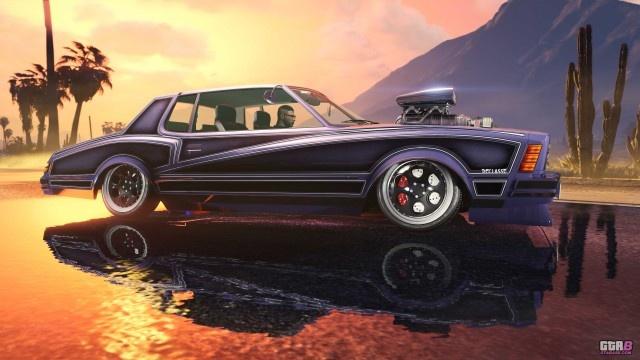 GTA December Update 2022 DLC: New Weapons
The Los Santos Drug Wars update will also add new weapons to GTA Online in the upcoming weeks.
These include the festive Candy Cane, the new WM29 Pistol, and the addition of the Railgun which was previously exclusive to single-player.
New liveries will be added for existing weapons, including:
Baseball Bat
Knife
Pistol Mk II
Micro SMG
Pump Shotgun
GTA Los Santos Drug Wars: New Characters
New Characters introduced to GTA Online as part of the December 2022 Update "Los Santos Drug Wars":
GTA December Update 2022: Experience Improvements
Building off the adjustments made with the previous Criminal Enterprises Update based on player feedback, this December's GTA Online update also adds a wide range of experience improvements - including visual, economy, and creator updates.
This is the list of the confirmed gameplay improvements added to GTA Online in December 2022 as part of the 'Los Santos Drug Wars' update:
General Improvements
Ray-traced reflections have been added to Fidelity Mode on PS5 and Xbox Series X|S, adding detail and contrast to the game world on both GTA 5 Story Mode and GTA Online. This allows for vehicles, characters, and more details to be shown on reflective and glossy surfaces.
Contacts can now be hidden from the phone through a new "Phone Contact Favorites" option in the Interaction Menu => Inventory
The Benefactor Terrorbyte can be used to launch Business Sell Missions in all Session types, including Invite-only Sessions.
All Agatha Baker Casino Story Missions at The Diamond Casino & Resort can now be launched with one player (these missions previously required at least 2 players).
The "Hide All" option in each Map Blip Options category has been reintroduced
Vehicle Updates
New vehicle purchases now arrive in your Garage faster than before.
The Ardent and Nightshark can now be used in Races (weapons are disabled in Races, except for GTA Races)
Bicycles have been added to the list of vehicles that can be requested from your Personal Garage when calling the Mechanic.
Players on PS5 and Xbox Series X|S can access Hao's Special Works without needing to complete Hao's introductory race.
Fixed an issue that allowed players to modify bicycles inside the Avenger
Economy Updates
Completing Vehicle Cargo Sell Missions in Public Sessions now awards a High Demand Bonus, bringing this in line with all other business activities
GTA$ and RP rewards for Smuggler's Sell Missions have been permanently tripled
Get more of what you want faster with an across-the-board increase in the GTA$ value of all Shark Cards.

All Shark Card denominations have been boosted by 20–25% when purchased directly in GTA Online or via any of the platform stores.
For special GTA+ Member Shark Cards, this is on top of the current 15% bonus GTA$.
Cosmetics
Hundreds of pieces of male and female clothing and accessories have been added to clothing stores
A new female hair style has been added
39 Unisex tattoos have been added
GTA+ Updates (PS5 / Xbox Series X|S only)
GTA+ bonuses and Gameplay Accelerators: Match and Heist bonuses available to GTA+ Members are now be displayed on Landing Page tiles
Improved visibility of Bonus Payouts: GTA+ members now see the bonuses they are receiving as a result of being a Member at the end of activities
Creator Updates
Players now have the option to create HSW Races, a race type limited to HSW vehicles. Existing Races can also be converted to HSW Races.
The RC Bandito is now available as a special vehicle type in the Race Creator
Wrench health pickups are now able to be correctly collected when the vehicle appears to be damaged
PS5 / Xbox Series X|S Only: Players can now place up to 300 props in the Race Creator
The Deathmatch Creator received various updates to Play Area, Eligibility, Spawning, Scoring, and other general updates
Lock Shops: A new option has been added to prevent players from entering shops when playing Deathmatches
Drip-feed Content
Early next year, expect Downtown Cab Co. to be looking for new recruits, a traveling Gun Van offering exclusive items, street dealers looking to pay premiums for your product, a new garage with the most vehicle storage yet, and more.
Taxi Driver Side-Mission: The Downtown Cab Co. opened for business in GTA Online on January 19, 2023. You are now able to begin Taxi Work to earn income, and successfully completing multiple fares without a break will increase the rewards.
New Garage Space: A new, customizable multi-floor garage will be added, named "Eclipse Blvd Garage", with 50 new vehicle slots
New Content: 8 New vehicles and a new Gun Van will be released in the upcoming weeks and months
Last Dose: The second and final series of missions will "kick in just when you least expect it" - and they will come as drip-feed content, and not in a separate Title Update.
Cut Weapons
Leaker alloc8or had also found 4 other weapons that were supposed to come with the December 2022 DLC (all from the canceled Cops 'n' Crooks update), however, it looks like these weapons may have been cut again, or might be postponed to a future update:
Police Rifle
Riot SMG
Baton
A new special version of the Stun Gun
GTA Online: New Fast Travel Service (PS5 / Xbox Series X|S)
On January 19, 2023, Rockstar implemented a newFast Travel service in GTA Online, that allows players to instantly travel around the map.
This new feature is exclusive to players on PlayStation 5 and Xbox Series X|S.
The GTA Online Fast Travel service works similarly to Story Mode, by simply entering a Taxi Cab and skipping the ride to teleport to the chosen location.
However, unlike single-player, in GTA Online you can't skip the trip to any specific waypoint: you can only fast travel to a list of 10 fixed destinations across the map, called "points of interest".
Skipping the Taxi trip costs $1,000 for regular players, while it's free for GTA+ members. There is also a 48-minute cooldown between Trip Skips, which is lowered to only 5 minutes for GTA+ members.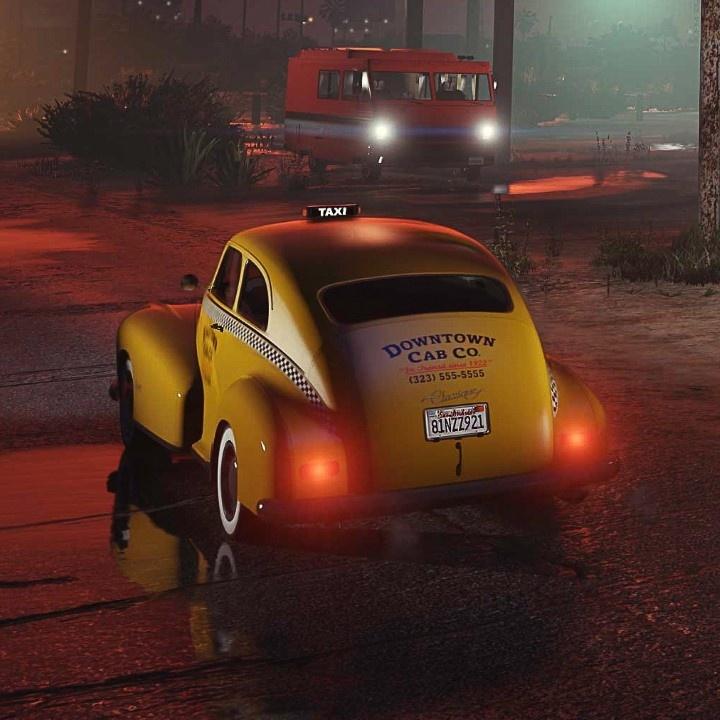 GTA December Update 2022: Festive Surprise
As usual in GTA Online, December is also the month where we'll see a return of the Christmas-themed content, Snow taking over the streets of Los Santos, log-in rewards, and free gifts by Rockstar Games.
Plus, a new time-limited Snowman collectible has been added: all around Los Santos and Blaine County, players can destroy up to 25 Snowmen to earn cash and RP. Destroying all 25 Snowmen unlocks the Snowman Outfit, which is added to your wardrobe.
There's also new and exclusive festive apparel coming with the new GTA+ Membership event period beginning on December 13 to help you gear up for the holiday season.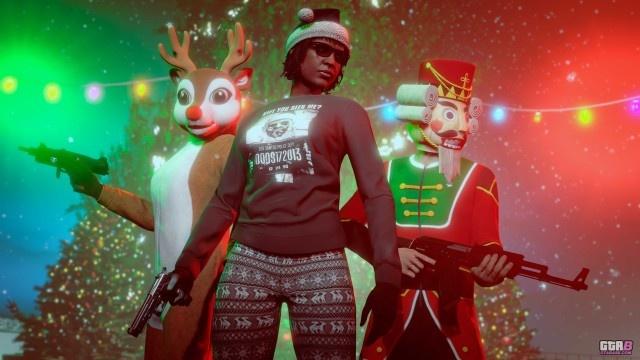 GTA December Update 2022: Make your own Music?
As reported by Tez2 himself, a reliable source indicates that Rockstar will let players produce their own music in GTA Online as part of the GTA December Update 2022.
Music has always been part of Rockstar's DNA, and they've been increasingly adding more music-related content to GTA Online in the past few years.
The next music-oriented idea from Rockstar seems to be a music mixer that could be called "Rapponator", which would include being able to create your own mixes and beats.
The name is suggested by the fact that Take-Two Interactive, Rockstar's parent company, registered a domain for "rapponator.com". Also, a decade ago, Rockstar released a similarly-named music mixer called "Beaterator", which allowed players to come up with their own loops.
GTA December Update 2022: Movie DLC with Michael?
According to earlier rumors, the focus of the GTA Online December 2022 Update was going to be the return and involvement of Michael De Santa, similar to how last year's Contract DLC had Franklin in the spotlight.
During the past months, a series of teases pointed to Michael De Santa appearing in GTA Online in an upcoming, movie-themed DLC. This included Movie References in the recent Vespucci Job (Remix) mode, the earlier Franklin's mention of Michael during The Contract DLC, and Michael's actor Ned Luke himself teasing his appearance.
The speculation was also fueled by Rockstar Games adding an NPC spawn point with a ped model named 'movie_set', in front of Record A Studios in Rockford Hills - as discovered by Tez2.
Some rumors also suggest that there could be a new Heist coming to GTA Online with the December 2022 update, maybe involving Micheal himself.
However, the latest rumors indicate that the Michael Movie DLC has actually been postponed once again to a later date.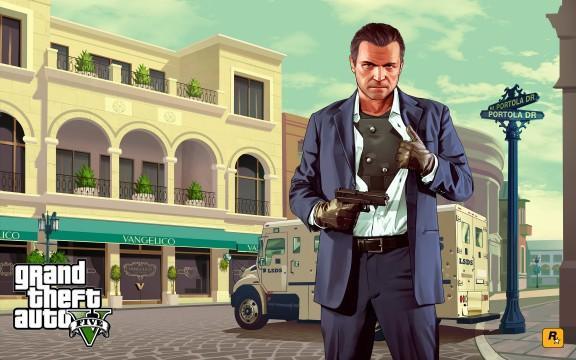 GTA Online Title Update 1.64: Full Patch Notes
As part of the GTA Online Update 1.64, there have also been a number of general improvements and fixes made to the game, also via small 1.65 and 1.66 patch updates.
Click here to read the Full List of Bug Fixes on the Rockstar Support site.
And as always, it will be followed by the usual weekly special events and bonuses, taking place over the coming months.
There are rumors that this could be the last GTA Online DLC to be released on the last-gen consoles (PS4 & Xbox One), with Rockstar then exclusively focusing on the next-gen platforms and being able to make even bigger updates.
GTA Online: LS Drug Wars Update Screenshots
GTA Online: LS Drug Wars Update Artworks
GTA Online: LS Drug Wars Update Videos