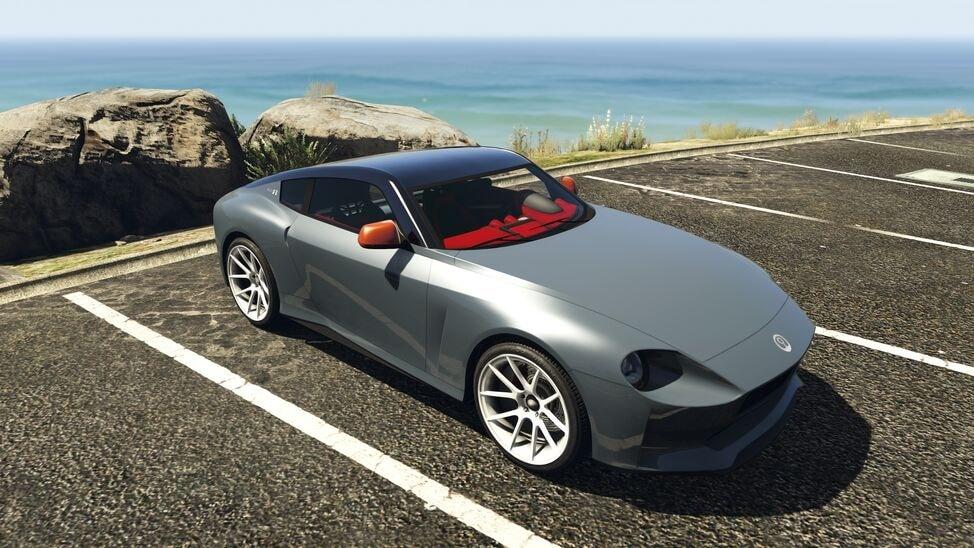 The Annis 300R is an armored, Sports Car featured in GTA Online, added to the game as part of the 1.64 LS Drug Wars update on December 13, 2022.
This is one of the Imani Tech vehicles that via the Agency Workshop can be equipped with a Missile Lock-On Jammer, which prevents it from being targeted by Homing Missiles, or can be turned into a Remote-Controlled vehicle. It also comes with an extra Armor Plating upgrade, increasing explosive resistance.
How to get the 300R in GTA Online:
The 300R can be purchased in GTA Online from Legendary Motorsport for a price of $2,075,000.
The 300R can be stored in any of your Properties/Garages as a Personal Vehicle. It can be customized at Los Santos Customs and Agency Vehicle Workshop. You can also modify it in a Vehicle Workshop inside one of your owned properties.
Once acquired, you can request the delivery of the 300R from the Mechanic.
Important: Rockstar has announced that the Annis 300R Sports car is available for purchase only for a limited time, from December 13 to December 28, 2022. It is unclear whether it will become available again in the future.
Annis

300R in Real Life:

The design of the Annis 300R is based on a real life 2023 Nissan Z (RZ34).
Annis

300R Top Speed:

The actual top speed of the 300R in GTA V is 120.00 mph (193.12 km/h) when it's fully upgraded, as it's been accurately tested in-game by Broughy1322.

The 300R is an armored vehicle, and with full Armor it requires 12 Homing Missiles to be destroyed.
Can you sell the 300R in GTA Online?
Yes, you can sell the 300R at Los Santos Customs for a resale price of $1,245,000 (60% of the original purchase), plus 50% of the value of your upgrades.
300R: GTA V Vehicle Info
Vehicle Class

Sports

Manufacturer

Annis

Vehicle Features

Armored VehicleCountermeasuresHas LiveriesImani TechProximity MinesRemote Control Unit

Acquisition

Legendary Motorsport

GTA Online Price

$2,075,000

Storage Location

Garage (Personal Vehicle)

Delivery Method

Mechanic

Modifications

Los Santos CustomsAgency Vehicle Workshop

Sell Price (Resale)

$1,245,000 ($1,820,470 when fully upgraded)

Race Availability

Can be used in Races

Top Speed - Game Files

94.23 mph (151.65 km/h)

Based on (Real Life)

2023 Nissan Z (RZ34)
Seats

2

Mass / Weight

1,590

KG

Drive Train

RWD

Gears

6
300R: GTA V Performance
The below Top Speed & Lap Time have been accurately tested by
Broughy
.
Top Speed - Real

120.00 mph (193.12 km/h)

Lap Time

1:03.881

Bulletproof

No

Explosive Resistance

Amount of explosives required to destroy the 300R, with 100% armor, and occupied by a player:

| Explosive Weapon | Amount |
| --- | --- |
| Homing Launcher / Oppressor Missiles / Jet Missiles | 12 |
| RPG / Grenades / Sticky Bomb / MOC Cannon | 4 |
| Explosive Rounds (Heavy Sniper Mk II) | 10 |
| Tank Cannon (Rhino / APC) | 2 |
| Anti-Aircraft Trailer Dual 20mm Flak | 1 |

Note: The 300R has half-resistance when it's not occupied by a player.
300R: GTA V Statistics
Speed

81.36

Acceleration

82.19

Braking

26.00

Handling

75.60

Overall

66.29
Note: The above statistics are coming from the Rockstar official website.
300R Description:
After four decades of pushing tech, perfecting performance, and ignoring rumors of massive price gouging, Annis presents the ultimate megamix of their greatest hits. And if its throwback touches don't persuade you, perhaps the potential to add a Missile Lock-On Jammer, Remote Control Unit, Slick Mines, and Armor Plating will.
300R: GTA V Appearances
Release Date

December 13, 2022

DLC / Title Update

1.64 LS Drug Wars

Game Edition

GTA Online

Platforms

PC

PlayStation 5

Xbox Series X|S

PlayStation 4

Xbox One
Model ID

r300

Notes

The Annis 300R is available only from December 13 to December 28, 2022.

300R: Vehicle Customization

Total Cost to Fully Upgrade in GTA Online

$1,150,940

Modification
GTA Online Price
Armor

No Armor

$1,000

Armor Upgrade 20%

$7,500

Armor Upgrade 40%

$12,000

Armor Upgrade 60%

$20,000

Armor Upgrade 80%

$35,000

Armor Upgrade 100%

$50,000

Armor Plating

No Armor Plating

Body Armor

$150,000

Brakes

Stock Brakes

$1,000

Street Brakes

$20,000

Sport Brakes

$27,000

Race Brakes

$35,000

Fenders

None

Primary Arches

$11,520

Secondary Arches

$12,240

Carbon Arches

$12,960

Primary Bolted Arches

$13,680

Secondary Bolted Arches

$14,400

Carbon Bolted Arches

$14,760

Front Bumpers

Stock Front Bumper

Carbon Splitter

$4,600

Primary Carbon Splitter

$7,400

Secondary Carbon Splitter

$11,700

Aftermarket Splitter

$14,500

Primary Aftermarket Splitter

$14,700

Secondary Aftermarket Splitter

$14.900

Garage Splitter

$15,100

Primary Garage Splitter

$15,300

Secondary Garage Splitter

$15,500

Super Splitter

$15,700

Primary Super Splitter

$15.900

Secondary Super Splitter

$16.100

Engine

EMS Upgrade, Level 1

$9,000

EMS Upgrade, Level 2

$12,500

EMS Upgrade, Level 3

$18,000

EMS Upgrade, Level 4

$33,500

Engine Covers

None

Primary Engine Covers

$45,120

Secondary Engine Covers

$47,940

Carbon Engine Covers

$50,760

Chrome Engine Covers

$53,850

Skull Engine Covers

$56,400

Camo Engine Covers

$57,810

Exposed Engine Covers

$59,219

Primary Exposed Engine Covers

$60,630

Secondary Exposed Engine Covers

$62,040

Carbon Exposed Engine Covers

$63,450

Chrome Exposed Engine Covers

$64,860

Skull Exposed Engine Covers

$66,270

Camo Exposed Engine Covers

$67,680

Exhausts

Stock Exhaust

Carbon Exhausts

$750

Titanium Exhausts

$1,800

Chrome Infinity Exhausts

$3,000

Carbon Infinity Exhausts

$9,550

Titanium Infinity Exhausts

$9,750

Chrome Oval Exhausts

$10,500

Carbon Oval Exhausts

$12,000

Titanium Oval Exhausts

$13,750

Hoods

Stock Hood

Carbon Hood

$3,000

Ridgeline Hood

$5,000

Carbon Ridgeline Hood

$8,000

Race Vented Hood

$9,600

Carbon Race Vented Hood

$11,000

Vanity Hood

$11,600

Carbon Vanity Hood

$12,000

Tuner Hood

$12,400

Carbon Tuner Hood

$12,400

Stream Vent Hood

$12,500

Carbon Stream Vent Hood

$12,900

Full Carbon Stream Vent Hood

$13,250

Split Dished Hood

$13,600

Carbon Split Dished Hood

$13,900

Primary Transparent Hood

$14,150

Secondary Transparent Hood

$14,400

Hood Remove

$14,650

Horns
See the full list of the available Horns options »
Imani Tech

None

Remote Control Unit

$235,000

Missile Lock-on Jammer

$400,000

Lights > Headlights

Stock Lights

$600

Xenon Lights

$7,500

Lights > Neon Kits
See the full list of the available Neon Kits options »
Livery

None

Black Shopping List

$18,240

White Shopping List

$19,380

Black Stance Andreas

$20,520

White Stance Andreas

$21,660

No. 26

$22,800

Retro Rally

$23,370

Team Stronzo

$24,510

Red Offset Stripe

$25,080

Debonaire Circuit

$25,650

Mirrors

Stock Mirrors

Primary Mirrors

$900

Carbon Mirrors

$1,500

Primary Bullet Mirrors

$1,700

Secondary Bullet Mirrors

$2,000

Carbon Bullet Mirrors

$2,750

Chrome Bullet Mirrors

$3,300

Plates

Blue on White 1

$200

Blue on White 2

$200

Blue on White 3

$200

Yellow on Blue

$300

Yellow on Black

$600

Proximity Mine

No Proximity Mine

Slick

$135,000

Rear Panel

None

Primary Plate

$4,600

Secondary Plate

$7,400

Carbon Plate

$11,700

Respray
See the full list of the available Respray options »
Roof

Stock Roof

Primary Roof Kit

$700

Secondary Roof Kit

$1,150

Carbon Roof Kit

$1,600

Ridgeline Roof

$1,950

Primary Ridgeline Roof Kit

$2,400

Secondary Ridgeline Roof Kit

$2,500

Carbon Ridgeline Roof Kit

$2,850

Inset Roof

$3,400

Primary Inset Roof Kit

$3,950

Secondary Inset Roof Kit

$4,500

Carbon Inset Roof Kit

$5,050

Skirts

Stock Skirts

Carbon Skirt

$5,500

Primary Carbon Skirt

$8,000

Secondary Carbon Skirt

$10,500

Aftermarket Skirt

$14,000

Primary Aftermarket Skirt

$14,500

Secondary Aftermarket Skirt

$15,000

Super Skirt

$15,500

Primary Super Skirt

$16,000

Secondary Super Skirt

$16,500

Spoilers

None

Primary Ducktail

$7,050

Secondary Ducktail

$10,000

Carbon Ducktail

$13,000

Primary Wedged Ducktail

$14,000

Secondary Wedged Ducktail

$16,000

Carbon Wedged Ducktail

$16,500

Primary Tuner Wing

$17,000

Secondary Tuner Wing

$17,500

Carbon Tuner Wing

$18,000

Primary Aggressor Wing

$18,500

Secondary Aggressor Wing

$19,000

Carbon Aggressor Wing

$19,500

Primary Big Wing

$20,000

Secondary Big Wing

$20,500

Carbon Big Wing

$21,000

Suspension

Stock Suspension

$200

Lowered Suspension

$1,000

Street Suspension

$2,000

Sport Suspension

$3,400

Competition Suspension

$4,400

Race Suspension

$4,600

Transmission

Stock Transmission

$1,000

Street Transmission

$29,500

Sports Transmission

$32,500

Race Transmission

$40,000

Turbo

None

$5,000

Turbo Tuning

$50,000

Wheels > Wheel Type
See the full list of the available Wheel Types options »
Wheels > Wheel Color
See the full list of the available Wheel Colors options »
Wheels > Tire Design

Stock Tires

$200

Custom Tires

$5,000

Wheels > Tire Enhancements

Standard Tires

$200

Bulletproof Tires

$25,000 (Rank 20)

Low Grip Tires

$500 (at LS Car Meet)

Wheels > Tire Smoke
See the full list of the available Tire Smoke options »
Windows

None

Light Smoke

$1,500

Dark Smoke

$3,500

Limo

$5,000
300R: GTA V Screenshots
300R: Custom Paint Jobs
Artworks & Promotional Posters