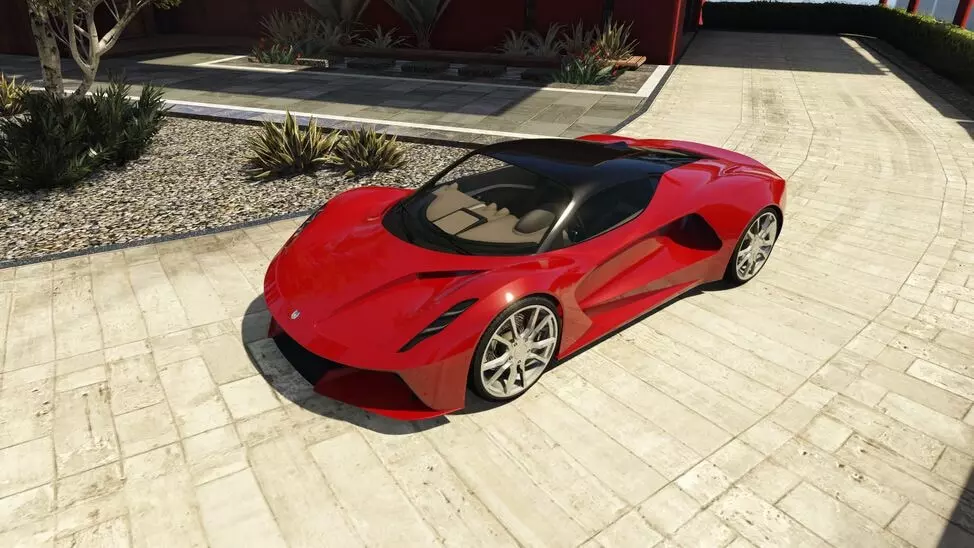 The Ocelot Virtue is an armored Super Car featured in GTA Online, added to the game as part of the 1.64 LS Drug Wars update on March 16, 2023.
This is one of the Imani Tech vehicles that via the Agency Workshop can be equipped with a Missile Lock-On Jammer, which prevents it from being targeted by Homing Missiles, or can be turned into a Remote-Controlled vehicle. It also comes with an extra Armor Plating upgrade, increasing explosive resistance.
How to get the Virtue in GTA Online:
The Virtue can be obtained in GTA Online as a Bonus Reward, or it can be purchased for a price of $2,980,000.
The Virtue can be stored in any of your Properties/Garages as a Personal Vehicle. It can be customized at Los Santos Customs and Agency Vehicle Workshop. You can also modify it in a Vehicle Workshop inside one of your owned properties.
Once acquired, you can request the delivery of the Virtue from the Mechanic.
How to get the Ocelot Virtue for Free in GTA Online:
You can also get the Ocelot Virtue for Free as a Bonus Reward by hosting and completing both the "First Dose" and "Last Dose" missions, as part of the Los Santos Drug Wars Update.
Once all missions have been completed, you will receive a call from Dax, letting you know you can pick up the car in the location marked with a yellow car icon on the map.
This free Ocelot Virtue comes with a unique Dr. Friedlander livery.
Ocelot Virtue in Real Life:
The design of the Ocelot Virtue is based on a real life Lotus Evija.
Ocelot Virtue Top Speed:
The actual top speed of the Virtue in GTA V is 119.25 mph (191.91 km/h) when it's fully upgraded, as it's been accurately tested in-game by Broughy1322.
The Virtue is an armored vehicle, and with full Armor it requires 12 Homing Missiles to be destroyed.
Can you sell the Virtue in GTA Online?
Yes, you can sell the Virtue at Los Santos Customs, however, if you obtained it as a free reward, the resale price will only include 50% of the value of the upgrades you applied to the vehicle.
Virtue: GTA V Vehicle Info
Seats

2

Mass / Weight

1,680

KG

Drive Train

AWD

Gears

1
Virtue: GTA V Performance
The below Top Speed & Lap Time have been accurately tested by
Broughy
.
Top Speed - Real

119.25 mph (191.91 km/h)

Lap Time

0:59.293

Bulletproof

No

Explosive Resistance

Amount of explosives required to destroy the Virtue, with 100% armor, and occupied by a player:

| Explosive Weapon | Amount |
| --- | --- |
| Homing Launcher / Oppressor Missiles / Jet Missiles | 12 |
| RPG / Grenades / Sticky Bomb / MOC Cannon | 12 |
| Explosive Rounds (Heavy Sniper Mk II) | 28 |
| Tank Cannon (Rhino / APC) | 6 |
| Anti-Aircraft Trailer Dual 20mm Flak | 2 |

Note: The Virtue has half-resistance when it's not occupied by a player.
Virtue: GTA V Statistics
Speed

86.20

Acceleration

100.00

Braking

42.67

Handling

100.00

Overall

82.22
Note: The above statistics are coming from the Rockstar official website.
Virtue: GTA V Appearances
Release Date

March 16, 2023

DLC / Title Update

1.64 LS Drug Wars

Game Edition

GTA Online

Platforms

PC

PlayStation 5

Xbox Series X|S

PlayStation 4

Xbox One
Model ID

virtue

Virtue: Vehicle Customization

Total Cost to Fully Upgrade in GTA Online

$975,370

Modification
GTA Online Price
Aerials

None

$5,000

Street Canards

$27,500

Primary Fin Racing Canards

$37,750

Secondary Fin Racing Canards

$40,750

Plastic Fin Racing Canards

$3,420

Armor

No Armor

$1,000

Armor Upgrade 20%

$7,500

Armor Upgrade 40%

$12,000

Armor Upgrade 60%

$20,000

Armor Upgrade 80%

$35,000

Armor Upgrade 100%

$50,000

Armor Plating

No Armor Plating

$20,000

Body Armor

$150,000

Brakes

Stock Brakes

$1,000

Street Brakes

$20,000

Sport Brakes

$27,000

Race Brakes

$35,000

Bumpers > Front Bumpers

Stock Front Bumper

$2,200

Primary Splitter

$4,600

Secondary Splitter

$7,400

Primary Street Splitter

$11,700

Secondary Street Splitter

$14,500

Prim. Perf. Bolt-On Splitter

$14,700

Sec. Perf. Bolt-On Splitter

$14,900

Primary Super Splitter

$15,100

Secondary Super Splitter

$15,300

Prim. C. Super Bolt-On Splitter

$15,500

Sec. C. Super Bolt-On Splitter

$15,700

Primary GT Bolt-On Splitter

$15,900

Secondary GT Bolt-On Splitter

$16,100

Plastic GT Bolt-On Splitter

$16,300

Bumpers > Rear Bumpers

Stock Rear Bumper

$2,200

Stock Carbon Diffuser

$4,600

Primary Trim Diffuser

$7,400

Secondary Trim Diffuser

$11,700

Primary Trim GT Diffuser

$14,500

Secondary Trim GT Diffuser

$14,700

Engine

EMS Upgrade, Level 1

$9,000

EMS Upgrade, Level 2

$12,500

EMS Upgrade, Level 3

$18,000

EMS Upgrade, Level 4

$33,500

Explosives

Ignition Bomb

$5,000

Remote Bomb

$7,500

Canards

None

$200

Street Splitter Canards

$750

Racing Splitter Canards

$1,340

GT Splitter Canards

$1,650

Horns
Horns
Imani Tech

None

$50,000

Remote Control Unit

$235,000

Missile Lock-on Jammer

$400,000

Lights > Headlights

Stock Lights

$600

Xenon Lights

$7,500

Lights > Neon Kits
Neon Kits
Livery

None

$11,400

White Wide Racing Stripes

$18,240

Yellow Wide Racing Stripes

$19,380

White Double Racing Stripes

$20,520

Yellow Double Racing Stripes

$21,660

Black Diagonal Racing Stripes

$22,800

Yellow Classic Sports

$23,370

Estancia Racing

$23,939

Jackal Racing

Reward

Ocelot Racing

Reward

Camo

$25,650

FriedMind Therapeutics?

$26,220

Mirrors

Stock Mirrors

$300

Primary Mirrors

$900

Secondary Mirrors

$1,500

Carbon Mirrors

$1,700

Plates

Blue on White 1

$200

Blue on White 2

$200

Blue on White 3

$200

Yellow on Blue

$300

Yellow on Black

$600

Proximity Mine

No Proximity Mine

$50,000

Slick

$135,000

Respray
Respray
Roofs

Stock Roof

$200

Small Racing Scoop

$700

Sports Racing Scoop

$1,150

Performance Racing Scoop

$1,600

GT Racing Scoop

$1,950

Skirts

Stock Skirts

$2,500

Primary Side Skirt

$5,500

Secondary Side Skirt

$8,000

Carbon Side Skirt

$10,500

Primary Street Skirt

$14,000

Secondary Street Skirt

$14,500

Carbon Street Skirt

$15,000

Primary Racing Skirt

$15,500

Secondary Racing Skirt

$16,000

Carbon Racing Skirt

$16,500

Primary GT Skirt

$17,000

Secondary GT Skirt

$17,400

Plastic GT Skirt

$18,300

Spoilers

None

$6,000

Primary Performance Spoiler

$7,050

Secondary Performance Spoiler

$10,000

Plastic Performance Spoiler

$13,000

Primary Aggressive Spoiler

$14,000

Secondary Aggressive Spoiler

$16,000

Plastic Aggressive Spoiler

$16,500

Primary GT Spoiler

$17,000

Secondary GT Spoiler

$17,500

Plastic GT Spoiler

$18,000

Sunstrips

None

$300

White Fukaru Sunstrip

$900

Black Fukaru Sunstrip

$1,500

White Meinmacht Sunstrip

$1,700

Black Meinmacht Sunstrip

$2,000

White Powermetal Sunstrip

$2,750

Black Powermetal Sunstrip

$3,300

Suspension

Stock Suspension

$200

Lowered Suspension

$1,000

Street Suspension

$2,000

Sport Suspension

$3,400

Trunks

Stock Trunk

$1,600

Secondary Stock Trunk

$3,000

Carbon Stock Trunk

$5,000

Wheels
LSC Wheels
Windows

None

$500

Light Smoke

$1,500

Dark Smoke

$3,500

Limo

$5,000
Virtue: GTA V Screenshots
Virtue: Custom Paint Jobs