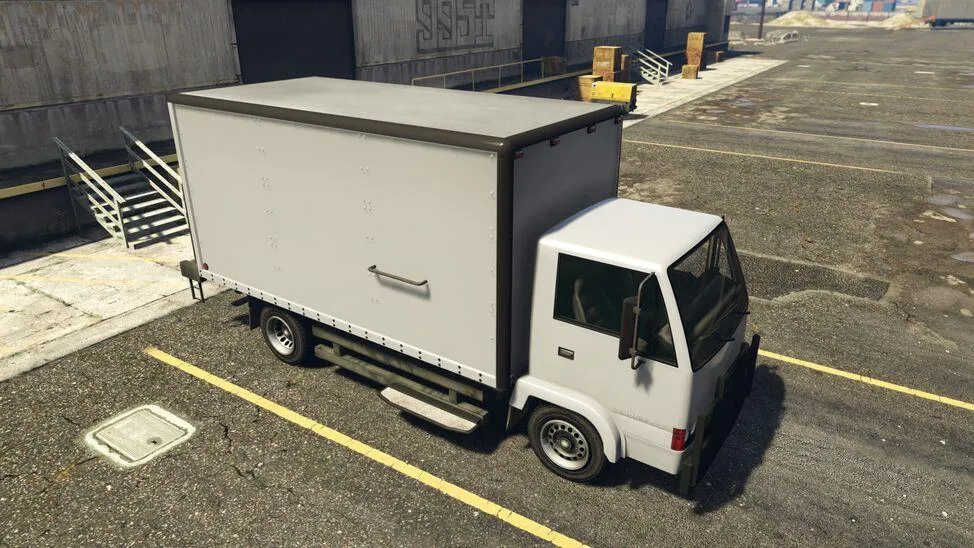 The Maibatsu Mule Custom is an armored weaponized Commercial vehicle featured in GTA Online on PS4, Xbox One, PC, PS5 and Xbox Series X|S, added to the game as part of the 1.44 After Hours update on July 24, 2018.
The Mule Custom is a variant of the standard Mule base model.
How to get the Mule Custom in GTA Online:
The Mule Custom can be purchased in GTA Online from Warstock Cache & Carry for a price of $95,760.
The Mule Custom can be stored in the Nightclub Warehouse. It can only be customized at the dedicated Vehicle Workshop in the Nightclub Warehouse.
Once acquired, you can request the delivery of the Mule Custom from the Interaction Menu - Special Vehicles.
How to unlock the Mule Custom Trade Price?
A trade price of $72,000 (Discounted)* can be unlocked for the Mule Custom.
*The discounted SecuroServ Trade Price for the Mule Custom is unlocked after the player has completed 5 Sell Goods missions from their Nightclub as a VIP, CEO or MC President. Requires a Nightclub Property.
Maibatsu Mule Custom in Real Life:
The design of the Maibatsu Mule Custom is based on a real life 1990 Mitsubishi Fuso FM series.
Maibatsu Mule Custom Top Speed:
The actual top speed of the Mule Custom in GTA V is 76.25 mph (122.71 km/h) when it's fully upgraded, as it's been accurately tested in-game by Broughy1322.
The Mule Custom is an armored vehicle, and with full Armor it requires 7 Homing Missiles to be destroyed.
Can you sell the Mule Custom in GTA Online?
No, you cannot sell the Mule Custom. Unfortunately in GTA Online it's not possible to sell Special Vehicles, Pegasus, or Facility Vehicles.
Mule Custom: GTA V Vehicle Info
Seats

4

Mass / Weight

6,000

KG

Drive Train

RWD

Gears

5
Mule Custom: GTA V Performance
The below Top Speed & Lap Time have been accurately tested by
Broughy
.
Top Speed - Real

76.25 mph (122.71 km/h)

Lap Time

1:39.803

Bulletproof

Bullet resistant windows. Only resistant to explosive during Nightclub Sell Missions.

Explosive Resistance

Amount of explosives required to destroy the Mule Custom, with 100% armor, and occupied by a player:

| Explosive Weapon | Amount |
| --- | --- |
| Homing Launcher / Oppressor Missiles / Jet Missiles | 7 |
| RPG / Grenades / Sticky Bomb / MOC Cannon | 7 |
| Explosive Rounds (Heavy Sniper Mk II) | 16 |
| Tank Cannon (Rhino / APC) | 3 |
| Anti-Aircraft Trailer Dual 20mm Flak | 1 |
Mule Custom: GTA V Statistics
Speed

53.66

Acceleration

27.50

Braking

8.33

Handling

45.45

Overall

33.74
Note: The above statistics are coming from the Rockstar official website.
Mule Custom Description:
Abandon your prejudices. This is not a delivery truck. It's a blank canvas. Somewhere you can create a thundering juggernaut of modern urban warfare, spitting missiles, machine gun fire, proximity mines and grenades at every turn, covered in near-impregnable armor, the terrifying spearhead of your new business empire. Cup holders not included.
Please note: this vehicle can be stored and modified exclusively in your nightclub warehouse.
Mule Custom: GTA V Appearances
Release Date

July 24, 2018

DLC / Title Update

1.44 After Hours

Game Edition

GTA Online

Platforms

PC

PlayStation 5

Xbox Series X|S

PlayStation 4

Xbox One
Model ID

mule4

Notes

*The discounted SecuroServ Trade Price for the Mule Custom is unlocked after the player has completed 5 Sell Goods missions from their Nightclub as a VIP, CEO or MC President. Requires a Nightclub Property.

Mule Custom: Vehicle Customization

Total Cost to Fully Upgrade in GTA Online

$971,950

Modification
GTA Online Price
Armor Plating

No Armor Plating

$1,000

Light Armor Plating

$55,000

Reinforced Riot Armor

$87,500

Heavy Armor Plating

$150,000

Brakes

Stock Brakes

$1,000

Street Brakes

$20,000

Sport Brakes

$27,000

Race Brakes

$35,000

Engine

EMS Upgrade, Level 1

$9,000

EMS Upgrade, Level 2

$12,500

EMS Upgrade, Level 3

$18,000

EMS Upgrade, Level 4

$33,500

Horns
See the full list of the available Horns options »
Lights

Stock Lights

$600

Xenon Lights

$7,500

Livery

None

$11,400

Basic Camo

$18,240

Zancudo Camo

$19,380

Sprayed Camo

$20,520

3 Color Outline

$21,660

90s Sandbox

$22,800

Modern 5 Color

$23,370

Arid Theater

$23,939

Winter Camo

$24,510

Urban Warrior

$25,080

Nature Reserve

$25,650

Naval Battle

$26,220

Urban Geometric

$26,789

Coyote Geometric

$27,360

Large Geometric

$27,930

Naval Geometric

$28,500

Desert Fractal

$29,070

Urban Fractal

$29,639

Large Digital

$30,210

Medium Digital

$30,780

Small Digital

$31,350

Pink & Green Camo

Reward

Yellow & Blue Camo

?

Orange Shade Camo

?

Blue & Green Camo

?

Hunting Camo

?

Blue Tartan

?

Santo Capra Coins

?

Sessanta Nove Monogram

?

Sessanta Nove Multi-color

Reward

Dolla Dolla

?

Plates

Blue on White 1

$200

Blue on White 2

$200

Blue on White 3

$200

Yellow on Blue

$300

Yellow on Black

$600

Respray
See the full list of the available Respray options »
Transmission

Stock Transmission

$1,000

Street Transmission

$29,500

Sports Transmission

$32,500

Race Transmission

$40,000

Turbo

None

$5,000

Turbo Tuning

$50,000

Weapons > Proximity Mine

No Proximity Mine

$700

Proximity Mine

$99,000

Weapons > Secondary Weapons

No Secondary Weapon

$1,000

Remote Grenade Launcher

$285,000

Weapons > Primary Weapons

No Weapon

$1,000

Machine Gun

$115,000

Missiles

$205,000

Wheels > Wheel Type
See the full list of the available Wheel Types options »
Wheels > Wheel Color
See the full list of the available Wheel Colors options »
Wheels > Tire Design

Stock Tires

$200

Custom Tires

$5,000

Wheels > Tire Enhancements

Standard Tires

$200

Bulletproof Tires

$25,000 (Rank 20)

Low Grip Tires

$500 (at LS Car Meet)

Wheels > Tire Smoke
See the full list of the available Tire Smoke options »
Windows

None

$500

Light Smoke

$1,500

Dark Smoke

$3,500

Limo

$5,000
Mule Custom: GTA V Screenshots
Mule Custom: Custom Paint Jobs
Mule Custom Video