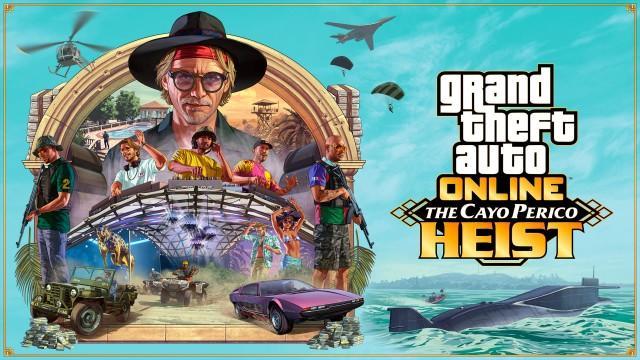 Release Date

December 15, 2020

Game Edition

GTA Online

Platforms

PC

PlayStation 4

Xbox One
The Cayo Perico Heist Update is the biggest and most anticipated update in GTA Online, and it arrived on December 15, 2020 on PlayStation 4, Xbox One, PC, and via backward compatibility also on PS5 and Xbox Series X|S.
This new GTA Online update features the first-ever Map Expansion DLC in the history of the game, the biggest GTA Online Heist adventure ever, a new Nightclub, new vehicles, tactical weapons, new music, and much more.
The GTA V Title Update 1.52 (Cayo Perico Heist DLC) has a size of 6.8 GB. It is marked as "version 1.35" Title Update on PS4.
Below you find everything that is included in The Cayo Perico Heist Update, along with Content, Patch Notes, Screenshots, Trailers, and more:
GTA Online Map Expansion: Cayo Perico Island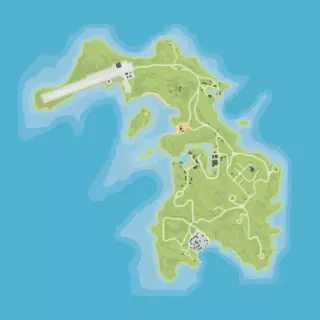 With the 1.52 Update, GTA Online features its first-ever Map Expansion, with an entirely new exotic location: the tropical island of Cayo Perico.
Cayo Perico is not only the nerve center of El Rubio's drug empire, but the island also consists of several key locations that players can explore while scoping for the Heist, plus dance parties on golden beaches. It features a riverside villa, many different buildings, pools, and luxury decks with incredible ocean views.
Is the Cayo Perico Island in Free Roam? How to get to Cayo Perico?
The new island of Cayo Perico is meant to located in Colombia, far away from Los Santos, so it does not appear in free-roam.
Players can roam Cayo Perico while scoping for the Heist itself, with no time limit to stay and explore, although there are El Rubios's guards monitoring the island, and you don't have access to your personal vehicles or weapons.
Also, upon completing the Heist as a leader, players can return to the Cayo Perico beach party at any time and can invite others along for the journey. However, unfortunately, you will still be limited to the beach party area, as the rest of the island is heavily guarded.
GTA Online: The Cayo Perico Heist
The Cayo Perico Heist is the biggest, most daring, and action-packed adventure added to GTA Online.
With the Cayo Perico Heist, you will infiltrate Cayo Perico, the ultra-secure private island that's home to the infamous El Rubio, the world's preeminent narcotrafficker and supplier to the Madrazo family. It will be up to you to find a way to breach it, evade or neutralize the heavily armed security forces, and escape with valuable evidence, art, gold, and a lot of money.
For the first time in GTA Online Heists, the Cayo Perico Heist gives you the ability to play everything solo - or alternatively in a crew of up to 4 players. Also, unlike previous Heists, there is no specific style when it comes to approaching Cayo Perico.
You can choose to complete as much (or as little) set-up and planning as you want - though if you want to call in an airstrike or use a cutting torch to burn through steel beams, you would be advised to put the time in beforehand. You can then choose how you infiltrate and escape the island, your weapons loadouts, air support, and even the time of day for the Heist.
As a result, no two approaches are alike on subsequent playthroughs. And repeat visits will allow you to heist other valuable artifacts.
Kosatka: New Submarine HQ in GTA Online
The RUNE Kosatka Submarine has been added to GTA Online. The Kosatka is a new driveable Submarine property that acts as a base of operations for planning The Cayo Perico Heist.
Very large, versatile, and heavily armed, this Submarine HQ can be customized with Guided Missiles, a Sonar Station, and a Weapon Workshop.
The Kosatka also comes with a Moon Pool where players can store the new Sparrow, Kraken Avisa, and Pegassi Toreador vehicles.
New Vehicles in GTA Online
New Vehicles have been added to GTA Online, including cars, quads, boats, planes, and helicopters.
Some of these vehicles will be released on Legendary Motorsport and SSSASA throughout the upcoming weeks.
New Weapons in GTA Online
3 New Weapons have been added to GTA Online. Two of them must be unlocked on Cayo Perico:
New Nightclub: The Music Locker
A new Nightclub, called "The Music Locker", is now open in Los Santos in GTA Online. The Music Locker is located underground below The Diamond Casino & Resort, and is the starting point for The Cayo Perico Heist, where you will meet Miguel Madrazo.
The new Club features stunning visuals and an impeccable sound system, and is home to a new wave of world-class DJs, starting with Detroit legend Moodymann, and later followed by Keinemusik and Palms Trax.
The Music Locker is open to anyone and everyone, but owners of a Penthouse in The Diamond have exclusive access to table service in the club's VIP section.
New Characters in GTA Online
New Characters introduced to GTA Online as part of this Title Update:
New Music & Radio Stations
Alongside the opening of The Music Locker Club and its new slate of resident DJs, GTA Online's musical universe further expands with the launch of The Cayo Perico Heist.
Three new radio stations have been added:
Plus, brand new music has been added for existing stations FlyLo FM and Worldwide FM. In total there are over 250 new tracks, making this the biggest ever musical update to GTA Online.
There are also be new missions and opportunities: UK DJ Joy Orbison is having trouble getting a strong enough signal for his pirate radio station "Still Slipping Los Santos". If he's going to take his sound city and statewide, he's going to need some help from the player.
GTA Online Title Update 1.52 / 1.53 Full Patch Notes
The biggest GTA Online Update ever also comes with even more features:
[May 27, 2021] Eight new Stunt Races have been added to GTA Online:

Sun, Sea, and Chicanes
A Tight Spot
Bridge Too Far
Cluster Struck
Vicious Spiral
Canyon Fodder
Smoke Up Your Asphalt
City Limits

[March 16, 2021] Improvements made to GTA Online loading times on PC - Thanks to t0st for his contributions.
[December 31, 2020] New Treasure Chests collectible Items have been added to GTA Online. These can be found in Cayo Perico while scoping for the heist.
New DJ Request Missions have been added to GTA Online for owners of the Casino Penthouse who have completed The Cayo Perico Heist. Players will earn special rewards for completing these requests.
New Hidden Cache collectibles have been added to GTA Online. Players can find up to 10 Hidden Caches on the ocean floor around San Andreas each day. Players who own the Kosatka Sonar Station can blip the Caches on their radar. Finding these Hidden Caches rewards players with GTA$ and RP.
Over 180+ items of clothing have been added for both Male and Female characters in GTA Online.
Over 30+ Tattoos have been added to GTA Online.
Nine new Face Paints have been added to GTA Online.
Six new celebration emotes have been added to GTA Online, which can be used while dancing
Several new Awards related to The Cayo Perico Heist have been added to GTA Online, including the opportunity for players to earn up to 1.4 million in bonus GTA$ for various Heist challenges.
Five new styles of Blackjack tables and four new styles of Three Card Poker tables are available for purchase for players who own a Casino Penthouse and the Private Dealer. They can be purchase from the Casino Shop using Chips and equipped using the Interaction Menu.
As part of the GTA Online Update 1.52, there have also been a number of general improvements and fixes. The full Patch Notes for Title Update 1.52 can be seen at Rockstar Support at this link.
Plus, the usual weekly special events and bonuses will take place over the coming months.
GTA Online Cayo Perico Screenshots
GTA Online Cayo Perico Artworks
GTA Online Cayo Perico Trailers