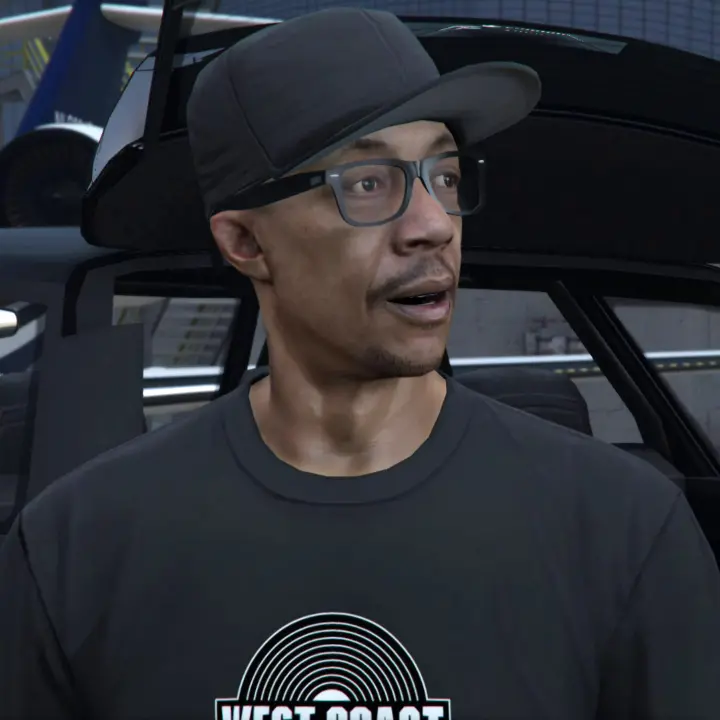 DJ Pooh is a character that appears in GTA Online, introduced on December 15, 2020 as part of the 1.52 Cayo Perico Heist and 1.58 The Contract update.
Mark Jordan, better known as DJ Pooh, is a real-life record producer, rapper, actor and film director. He is the radio host for the West Coast Classics radio station in GTA V, and he voices his own character in GTA Online.
Pooh makes a cameo appearance in GTA Online during the introductory cutscene of the "Gather Intel" mission of The Cayo Perico Heist, along with Dr. Dre and Jimmy Lovine.
He also appears as part of The Contract Update released on December 15, 2021, where he contacts Franklin Clinton and the GTA Online protagonist to recover Dr. Dre's stolen tracks.
DJ Pooh: Character Info
Gender

Male

Born In Year

1966 (47 years old in 2013)

Nationality

United States

Occupation

Radio Host; Record producer; Rapper; Film Director

Also Known As

Mark Jordan

Performer / Actor

Himself (Mark Jordan)

Affiliation

Dr. Dre Franklin Clinton
DJ Pooh: Appearances
DJ Pooh Screenshots
DJ Pooh Artworks