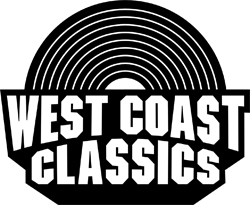 West Coast Classics is a radio station featured in Grand Theft Auto V and GTA Online.
The genre of music played by West Coast Classics is Hip Hop, Rap. This radio station is hosted by DJ Pooh.
Coming at you from the city of Davis – music from the days of the pager.
Featuring songs such as:
The Dogg Pound – What Would You Do
Compton's Most Wanted – Late Night Hype
NWA – Gangsta Gangsta
West Coast Classics Info
Music Genre

Hip Hop, Rap

Radio Frequency

95.6 FM

Radio Host

DJ Pooh
Notes

West Coast Classics received new additional tracks into its music catalog with The Contract Update (December 15, 2021).
Release Date

September 17, 2013

DLC / Title Update

1.01 Game Launch

Game Edition

GTA OnlineGTA V Story Mode

Platforms

PC

PlayStation 4

Xbox One

PlayStation 3

Xbox 360
West Coast Classics Tracklist:
| # | Title | Artist | Year |
| --- | --- | --- | --- |
| 1 | Ambitionz Az a Ridah | 2Pac | 1996 |
| 2 | Appetite for Destruction | N.W.A | 1991 |
| 3 | C Walk | Kurupt ft. Tray Dee & Slip Capone | 1998 |
| 4 | Dollaz & Sense | DJ Quik | 1994 |
| 5 | Gangsta Gangsta | N.W.A | 1988 |
| 6 | Gin and Juice | Snoop Dogg | 1993 |
| 7 | Late Nite Hype | Compton's Most Wanted | 1990 |
| 8 | Mind Playing Tricks on Me | Geto Boys | 1991 |
| 9 | Nothin' But the Cavi Hit | Mack 10 ft. Tha Dogg Pound | 1996 |
| 10 | Played Like a Piano | King Tee ft. Ice Cube & Breeze | 1990 |
| 11 | So You Want to Be a Gangster | Too Short | 1991 |
| 12 | Still D.R.E | Dr. Dre ft. Snoop Dogg | 1999 |
| 13 | Streiht Up Menace | MC Eiht | 1993 |
| 14 | The Next Episode | Dr. Dre ft. Snoop Dogg, Kurupt & Nate Dogg | 1999 |
| 15 | What Would You Do | Tha Dogg Pound ft. Snoop Dogg | 1994 |
| 16 | What You Wanna Do | Kausion | 1995 |
| 17 | You Know How We Do It | Ice Cube | 1993 |
Exclusive to Next Gen editions (PS4, Xbox One & PC)
| # | Title | Artist | Year |
| --- | --- | --- | --- |
| 18 | 1st of the Month | Bone Thugs-N-Harmony | 1995 |
| 19 | Afro Puffs | Lady of Rage | 1994 |
| 20 | Ballad of a Menace | CPO | 1990 |
| 21 | Bow Down | Westside Connection | 1996 |
| 22 | Captain Save a Hoe | E-40 | 1994 |
| 23 | I Got 5 on It | Luniz | 1995 |
| 24 | No More Questions | Eazy-E | 1988 |
| 25 | Servin' 'Em Heat | South Central Cartel | 1993 |
| 26 | Sherm Sticc III | Jayo Felony | 1995 |
| 27 | The Murda Show | Spice 1 ft. MC Eiht | 1993 |
| 28 | This DJ | Warren G | 1994 |
| 29 | We Roll Deep | Conscious Daughters | 1993 |
Additional Tracks added on December 15, 2021:
2Pac feat. Roger Troutman & Dr. Dre - California Love (Single Version)
2Pac - Can't C Me
40 Glocc - Pa Pa's Lil Soldier
50 Cent - In Da Club
50 Cent feat. Mobb Deep - Outta Control (Remix)
Blackstreet feat. Dr. Dre & Queen Pen - No Diggity
Dr. Dre - Keep Their Heads Ringin'
Dr. Dre feat. Snoop Dogg - The Next Episode
Dr. Dre feat. Hittman, Six-Two, Nate Dogg & Kurupt - Xxplosive
Dr. Dre feat. Daz & Snoop Dogg - Lil' Ghetto Boy
Ice Cube feat. Dr. Dre & Mc Ren - Hello
JAY-Z - Trouble
Mary J. Blige - Family Affair
Nas - Nas Is Coming (feat. Dr. Dre)
Obie Trice feat. Dr. Dre - Shit Hits The Fan
Sam Sneed - U Better Recognize (feat. Dr. Dre)
Truth Hurts feat. Rakim - Addictive
Radio Preview
Full Radio Playlist