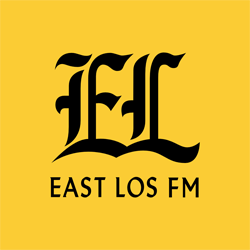 East Los FM is a radio station featured in Grand Theft Auto V and GTA Online.
The genre of music played by East Los FM is Latin American Music. This radio station is hosted by DJ Camilo & Don Cheto.
Mexican electronica mixing corridos and traditional songs with hip hop, rock, and ska.
Featuring songs such as:
La Vida Boheme – Radio Capital
Hechizeros Band – El Sonidito
La Liga ft. Alika Nueva Alianza – Yo Tengo El Don
East Los FM Info
Music Genre

Latin American Music

Radio Frequency

106.2 FM

Radio Host

DJ Camilo & Don Cheto
Release Date

September 17, 2013

DLC / Title Update

1.01 Game Launch

Game Edition

GTA OnlineGTA V Story Mode

Platforms

PC

PlayStation 4

Xbox One

PlayStation 3

Xbox 360
East Los FM Tracklist:
| # | Title | Artist | Year |
| --- | --- | --- | --- |
| 1 | Autos, Moda y Rock and Roll | Fandango | 1987 |
| 2 | Criminal Sound | Niña Dioz | 2010 |
| 3 | El Cocaino | Los Buitres De Culiacan Sinaloa | 2012 |
| 4 | El Rey Y Yo | Los Angeles Negros | 1969 |
| 5 | El Sonidito | Hechizeros Band | 2008 |
| 6 | El Tatuado | Don Cheto | 2009 |
| 7 | Estoy | Mexican Institute of Sound | 2012 |
| 8 | Fiebre de Jack | She's A Tease | 2010 |
| 9 | Fresco | Milkman | 2012 |
| 10 | La Granja | Los Tigres Del Norte | 2009 |
| 11 | Maldito | Jessy Bulbo | 2007 |
| 12 | Pachuco | Maldita Vecindad | 1991 |
| 13 | Radio Capital | La Vida Boheme | 2011 |
| 14 | Se Me Perdio la Cadenita | Sonora Dinamita | 1978 |
| 15 | Yo Tengo El Don | La Liga ft. Alika | 2012 |
Radio Preview
Full Radio Playlist