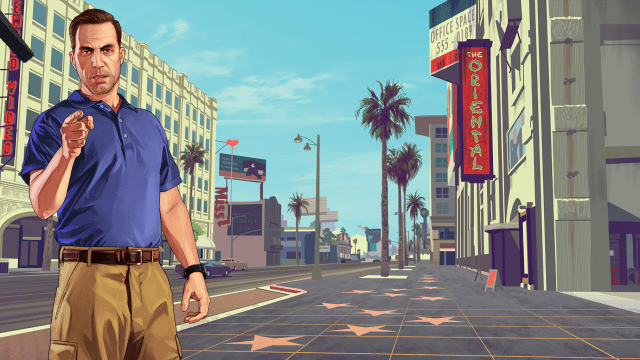 Steve Haines appears as a Major Character and Antagonist in Grand Theft Auto V.
Steven "Steve" Haines is a highly decorated, yet highly corrupt agent from the FIB. Haines uses his position as Dave Norton's superior to force Michael, Franklin and Trevor into doing his dirty work for him.
Haines was born in 1975 and joined the FIB in 1993. He became such a highly-decorated and high-ranked FIB special agent that he was given leadership to his own FIB special unit, becoming the handler and boss of several FIB agents, such as Andreas Sanchez and Dave Norton. However, despite his decorations and ranking, by 2013 Haines was infamously corrupt. He was known to be on the payroll of several wealthy people, including billionaire Devin Weston, whom Haines considers a "close friend".
Haines does not hesitate when it comes to breaking the law and FIB procedure if there is an opportunity to advance his career. He appears to be pleasant and charming on his TV show but is shown to be selfish, arrogant, callous, manipulative, and overconfident when met in person by Michael. He has a very short temper and extremely little patience, as shown when he chokes Michael for making a few jokes at his expense. He is despised by almost everyone he comes into contact with and has little to no regard for innocent casualties caused by his actions.
After finding out about Norton's deal with Michael Townley, he realizes he can use his influence over Norton to coerce Michael and his associates into carrying out illicit tasks for him. All of these jobs are aimed at sabotaging the IAA, so the government would allocate more funding to the FIB.
Steve Haines: Character Info
Gender

Male

Born In Year

1975 (38 years old in 2013)

Nationality

United States

Location

Los Santos

Occupation

FIB Agent; TV Show Host

Also Known As

Steve; Steve-O

Performer / Actor

Robert Bogue

Affiliation

Andreas SanchezDave NortonDevin WestonFederal Investigation Bureau (FIB)Michael De Santa

Playability

Director Mode

Vehicle

Weapons

AP Pistol
Steve Haines: Appearances
Game Edition

GTA V Story Mode

Platforms

PC

PlayStation 4

Xbox One

PlayStation 3

Xbox 360
Appearances in Story Missions:
Steve Haines Screenshots
Steve Haines Artworks