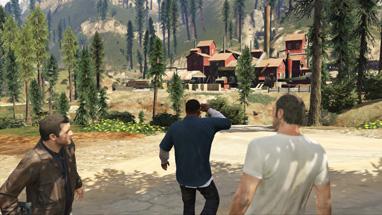 Lamar Down is a main story mission in Grand Theft Auto V given by Franklin Clinton, involving protagonist Michael De Santa, Franklin Clinton and Trevor Philips.
It's the 63° GTA V mission in chronological order, and it takes place in Los Santos.
Lamar's in trouble and needs help.
Gold Medal Objectives (100%)
The following are the Mission Objectives required to obtain the Gold Medal in the mission "Lamar Down":
Headshots: Kill 18 enemies with a headshot.

Use Michael's special ability as much as possible.

Accuracy: Finish with a shooting accuracy of at least 70%.

Use Michael's ability for better accuracy.

Three Way: Kill an enemy with all 3 characters.
Time: Complete within 13:30.
Note: You can complete each Gold Medal requirement in multiple playthroughs of the mission. You don't need to obtain them all in one single playthrough.
Lamar Down - Mission Details:
Tanisha shows up at Franklins Vinewood Hills house. She tells Franklin that Lamar needs help and Stretch has set him up again. Franklin is annoyed that he has to help Lamar out of a bad situation again. Tanisha asks him to help Lamar out one last time, for her and Franklin agrees. Before she leaves, she tells Franklin that Lamar is at the Paleto Forest Sawmill.
Franklin calls heads to the sawmill. He calls Lester and asks if he can find out any extra information for him. Lester looks into it and sees that there are police reports of a weed operation being run by a gang at the sawmill. He also says that it's a big operation so there may be a fair few Ballas there. Franklin asks Lester to get in contact with Michael and Trevor for him as he'll need all the help he can get.
Franklin arrives at the sawmill where Michael and Trevor are waiting for him. They scope out the place and decide to hit it from three different areas. Play can be switched to all three of them during the mission. The group attack the sawmill and take out all the Ballas in their way.
They find Lamar being held hostage just outside the sawmill. The character in play saves him and the four start fighting their way back out. Once all the Ballas are dealt with, the group split up with Franklin driving Lamar back to his house.
Once back at Lamar's house, Lamar asks Franklin for some money as he's struggling. Franklin gives him $50. Lamar kicks off thinking Franklin will have more than that but Franklin gets annoyed with Lamar saying he too never got paid for jacking the cars for Devin and is always out saving Lamar.
Franklin leaves and bumps into Haines and Dave. They want Trevor killed and say Franklin is the only one to do. He argues back saying he's Trevor's friend and to get Michael to do it but the pair ignore his pleas saying he'll do it for them when they call.
Lamar Down: Mission Objectives
Go to the

sawmill

.
Get into the assault

position

.
Find Lamar.
Get to

Lamar

.
Lead Lamar to the

sawmill exit

.
Get Lamar back to his

house

.
Lamar Down: Mission Info
Mission Number

63

Mission Type

Mandatory Mission

Mission Giver

Franklin Clinton

Protagonist (Playable)

Michael De SantaFranklin ClintonTrevor Philips

Location

3671 Whispymound Drive, Vinewood Hills

State / Area

Los Santos
Rewards

Tanisha Jackson as a Director Mode character.
Lamar Down: Videos
PS3 / Xbox 360: Gold Medal Video Walkthrough
PS4 / Xbox One (First Person): Gold Medal Video Walkthrough
Lamar Down: Screenshots
Coming soon.