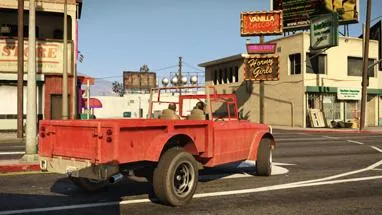 Hang Ten is a main story mission in Grand Theft Auto V given by Trevor Philips, involving protagonist Michael De Santa and Trevor Philips.
It's the 49° GTA V mission in chronological order, and it takes place in Los Santos.
Trevor and Wade leave Floyd and Debra's condo.
Gold Medal Objectives (100%)
The following are the Mission Objectives required to obtain the Gold Medal in the mission "Hang Ten":
Time: Complete within 04:00.
Note: You can complete each Gold Medal requirement in multiple playthroughs of the mission. You don't need to obtain them all in one single playthrough.
Hang Ten - Mission Details:
Trevor journeys back to Los Santos and heads to Floyd's apartment. Outside is Floyd, telling Trevor he's not allowed in. Trevor ignores this and pushes his way in to find Debra, who's returned home from the conference. She gets angry at Trevor and asks him to leave. Trevor refuses and begins arguing back, asking Floyd and Debra to accept him just the way he is.
Debra starts screaming more, telling not just Trevor but Floyd to leave. Debra states she doesn't need this "crap" and starts berating Floyd saying he's not a man and that Bob was right about him. It is presumed that Bob is her lover. She then calls Trevor weird, shouts at him and pulls a gun out on him when he still doesn't leave.
Trevor states "You people are not very fucking nice" and the screen goes black. A few seconds later, Trevor can be seen leaving the apartment, covered in blood, implying he killed them both. Wade is outside and wants to go in and see Floyd but Trevor advises against it. They both get into Trevor's truck and head to the Vanilla Unicorn.
On the trip over, Trevor explains that Floyd and Debra have "disappeared" and probably not return. Once at the Vanilla Unicorn, Trevor tells Wade they're at their new home. Trevor goes to find the manager. He gets to his office and says "prepare to meet your new partner" and closes the door.
Play then switches to Michael who is on the phone to Lester. Lester says Trevor just called him about hitting the Union Depository. The pair agree they want to do the job and agree to meet at the Vanilla Unicorn, the strip club Trevor's just taken over.
Hang Ten: Mission Objectives
Hang Ten: Mission Info
Mission Number

49

Mission Type

Mandatory Mission

Mission Giver

Trevor Philips

Protagonist (Playable)

Michael De SantaTrevor Philips

Location

Floyd's Apartment, Vespucci Beach

State / Area

Los Santos
Rewards

Trevor gets Vanilla Unicorn as safehouse; Michael,Franklin and Trevor now have bonuses at Vanilla Unicorn; Mr.Raspberry Jam as a custom item for Trevor's Bodhi

Unlocked Items

Vanilla UnicornExtra Commission
Hang Ten: Videos
PS3 / Xbox 360: Gold Medal Video Walkthrough
PS4 / Xbox One (First Person): Gold Medal Video Walkthrough
Hang Ten: Screenshots
Coming soon.