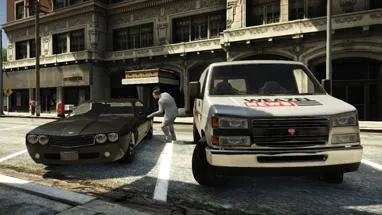 Gauntlet (1-3) is a main story mission in Grand Theft Auto V given by Lester Crest, involving protagonist Michael De Santa, Franklin Clinton and Trevor Philips.
It's the 68° GTA V mission in chronological order, and it takes place in Los Santos.
This is a Heist Setup mission that is played depending on the approach selected for The Big Score (Subtle Approach).
Prepare for the Big Score.
Gold Medal Objectives (100%)
The following are the Mission Objectives required to obtain the Gold Medal for each of the three Gauntlets:
Mapped: Deliver the Gauntlet pictured in the email.
Not a Scratch: Deliver the Gauntlet with no damage.
Pimped Out: Spend $17,000 modifying the Gauntlet.

Franklin can use the purchasable LSC to mod the vehicles for free. This will still omplete the objective.
Note: You can complete each Gold Medal requirement in multiple playthroughs of the mission. You don't need to obtain them all in one single playthrough.
Gauntlet (1-3) - Mission Details:
This mission can be completed by either Michael, Franklin or Trevor.
Lester will send out an email saying he needs three modded Gauntlets. Any three Gauntlets will do by Lester does send the locations of three. They are:
At Pillbox Hill, on the top of a multistory parking lot
Behind the Vangelico store at Rockford Hills
In front of the Templar Hotel, near Legion Square in Mission Row
Each Gauntlet will need to be taken to a Los Santos Customs shop to be modified for the heist. After doing so, the car will need to be driven to a lock up.
Gauntlet (1-3): Mission Objectives
Take the getaway vehicle to

Los Santos Customs

.
Purchase the vehicle mods required for the job.
Take the getaway vehicle to the

lockup

.
Leave the vehicle in the lockup.
Gauntlet (1-3): Mission Info
Mission Number

68

Mission Type

Branching Choice

Mission Giver

Lester Crest

Protagonist (Playable)

Michael De SantaFranklin ClintonTrevor Philips

Location

Pillbox Hill; Rockford Hills; Mission Row

State / Area

Los Santos
Heist Finale

Notes

This is a branching mission that is played when choosing The Big Score (Subtle Approach).
Gauntlet (1-3): Videos
PS3 / Xbox 360: Gold Medal Video Walkthrough
PS4 / Xbox One (First Person): Gold Medal Video Walkthrough
Gauntlet (1-3): Screenshots
Coming soon.