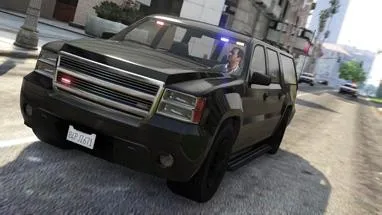 Carbine Rifles is a main story mission in Grand Theft Auto V given by Lester Crest , involving protagonist Michael De Santa .
It's the 13° GTA V mission in chronological order, and it takes place in Los Santos.
This is a Heist Setup mission that is played depending on the approach selected for The Jewel Store Job (Loud Approach) .
Prepare for the Jewel Heist.
Gold Medal Objectives (100%)
The following are the Mission Objectives required to obtain the Gold Medal in the mission "Carbine Rifles":
Swift Getaway: Lose the wanted level within 2 minutes.
Note: You can complete each Gold Medal requirement in multiple playthroughs of the mission. You don't need to obtain them all in one single playthrough.
Carbine Rifles - Mission Details:
Lester will text Michael, letting him know that there's a tactical team doing towards Palomino Avenue. Lester wants Michael to steal the LSPD tactical team truck that is loaded with weapons and bring it back to Darnell Bros.
Michael ambushes the truck, kills the NOOSE guards and steals the vehicle. Once in the truck, a three-star wanted level is generated and Michael will have to lose the cops. Once all wanted levels are gone, Michael delivers the truck to Darnell Bros and calls Lester to let him know the task is complete.
Carbine Rifles: Mission Objectives
Steal the

LSPD tactical team truck

.
Lose the Cops.
Go to the

garment factory

.
Carbine Rifles: Mission Info
Heist Finale

Featuring

FIB (Granger) NOOSE

Notes

This is a branching mission that is played when choosing The Jewel Store Job (Loud Approach).
Carbine Rifles: Videos
PS3 / Xbox 360: Gold Medal Video Walkthrough
PS4 / Xbox One (First Person): Gold Medal Video Walkthrough
Carbine Rifles: Screenshots
Coming soon.