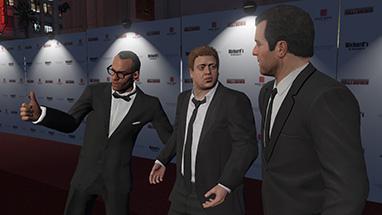 Meltdown is a main story mission in Grand Theft Auto V given by Solomon Richards , involving protagonist Michael De Santa .
It's the 64° GTA V mission in chronological order, and it takes place in Los Santos.
Michael attends the Meltdown premiere.
Gold Medal Objectives (100%)
The following are the Mission Objectives required to obtain the Gold Medal in the mission "Meltdown":
Time: Complete within 06:30.
Pedal to the Metal: Reach top speed in any vehicle.
Tier One Operator: Kill 12 enemies with a headshot.

Michael's ability can be used inside the house.

Headshot Rescue: Rescue Amanda and Tracey with a headshot.

Use Michael's special ability to avoid hitting Amanda or Tracey.
Note: You can complete each Gold Medal requirement in multiple playthroughs of the mission. You don't need to obtain them all in one single playthrough.
Meltdown - Mission Details:
Michael heads to Ponsonbys, where he buys a tuxedo for the Meltdown premiere. Jimmy meets him outside with a limousine. They head to the Oriental Theater on Vinewood Boulevard, where the premiere is being held.
On the journey over, Devin calls Michael, accusing him of killing Molly. Michael tells him to chill but Devin sarcastically tells him he'll forgive and forget. Michael and Jimmy arrive and walk the red carpet. Michael and Solomon celebrate on the carpet together. Before Michael and Jimmy head into the theater, Devin shows up and implies that he's done something to Amanda.
Michael and Jimmy leave and head back home to save Amanda and Tracey. Michael arrives home to find a couple of Merryweather cars in his driver. He heads into the house and finds Amand being threatened by one of the agents and kills them. he heads upstairs where one of them is holding Tracey and shots them in the head.
More Merryweather agents show up and Michael clears his house of them. He heads back upstairs to make sure Tracey and Amanda are ok and is jumped by an agent. before the agent can shot Michael, the lights go out. Jimmy appears wearing night-vision goggles and hits the agent over the head with one of his bongs.
Michael tells his family to stay put while he makes a few calls. The next day, Michael calls Lester and tells him what happened and that he's asked his family to move out for a few days.
Meltdown: Mission Objectives
Buy your tuxedo in

Ponsonbys

to attend the Meltdown premiere.
Meet

Jimmy

.
Get in the

limousine

.
Go to the

red carpet

.
Save your

family

.
Take out the

hostage taker

.
Clear the house of

Merryweather

.
Go to your

family

.
Meltdown: Mission Info
Meltdown: Videos
PS3 / Xbox 360: Gold Medal Video Walkthrough
PS4 / Xbox One (First Person): Gold Medal Video Walkthrough
Meltdown: Screenshots
Coming soon.