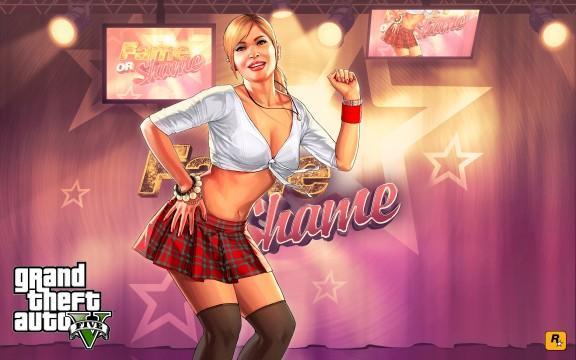 Tracey De Santa appears as a Major Character and Companion in Grand Theft Auto V.
Tracey De Santa is Michael and Amanda's bratty, fame-obsessed daughter. She has aspirations to become a singer and dancer.
Tracey has a very bad relationship with her parents, appearing to be very spoiled, obnoxious, and immature.
She is known to be rebellious in her actions against her parents, and even going as far as auditioning for Fame or Shame without their approval.
Tracey De Santa: Character Info
Gender

Female

Born In Year

1991 (22 years old in 2013)

Nationality

United States

Location

Portola Drive, Rockford Hills, Los Santos

Family

Home / Residence

De Santa Residence (Michael's Mansion)

Affiliation

Lazlow JonesTrevor Philips

Playability

Director Mode

Vehicle

Also Known As

Tracey Townley; Tracey Suxxx; Traci
Performer / Actor

Michal Sinnott
Tracey De Santa: Appearances
Game Edition

GTA V Story Mode

Platforms

PC

PlayStation 4

Xbox One

PlayStation 3

Xbox 360
As Mission Giver

In Story Missions
Tracey De Santa Screenshots
Tracey De Santa Artworks