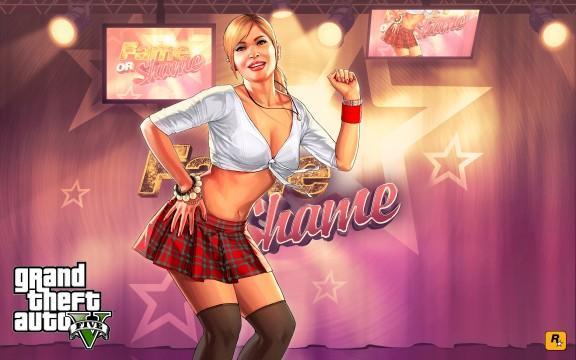 Tracey De Santa appears as a Major Character and Companion in Grand Theft Auto V.
Tracey De Santa is Michael and Amanda's bratty, fame-obsessed daughter. She has aspirations to become a singer and dancer, but has a very bad relationship with her parents, appearing to be very spoiled, obnoxious, and immature.
Formerly named Tracey Townley, Tracey was born to Michael and Amanda de Santa in 1991. Two years later she became an older sister when her brother Jimmy was born. In 2004, Michael, fearing for his family's safety after his life as a bank-robber, struck a deal with FIB agent Dave Norton, faked his death, and moved his family to Los Santos. During this time, her relationship with her family became strained due to her parents disapproving of her lifestyle choices.
Tracey's personality is hard to define, but she is seen to be a very spoiled, obnoxious, and immature person, being portrayed as the stereotypical "Daddy's Girl". She is rebellious in her actions, going as far as auditioning to Fame or Shame without their approval. She is also shown to be quite naive, and her dialogue is almost always used for comic relief. Her sheep-like nature gives her the impression that everyone has her own best interest in mind. When things do not go according to her plans, she throws tantrums and blames everyone for "ruining her life".
Her relationship with her father betters after the events of Reuniting the Family when they talk about their issues and attempt to resolve them. Michael mentions that, once he becomes a successful movie director, she will make Tracey a movie star.
Tracey De Santa: Character Info
Gender

Female

Born In Year

1991 (22 years old in 2013)

Nationality

United States

Location

Portola Drive, Rockford Hills, Los Santos

Also Known As

Tracey Townley; Tracey Suxxx; Traci

Performer / Actor

Michal Sinnott

Family

Affiliation

Lazlow JonesTrevor Philips

Property / Safehouse

De Santa Residence (Michael's Mansion)

Playability

Director Mode

Vehicle
Tracey De Santa: Appearances
Game Edition

GTA V Story Mode

Platforms

PC

PlayStation 4

Xbox One

PlayStation 3

Xbox 360
Tracey De Santa Missions in Grand Theft Auto V:

Appearances in Story Missions:
Tracey De Santa Screenshots
Tracey De Santa Artworks