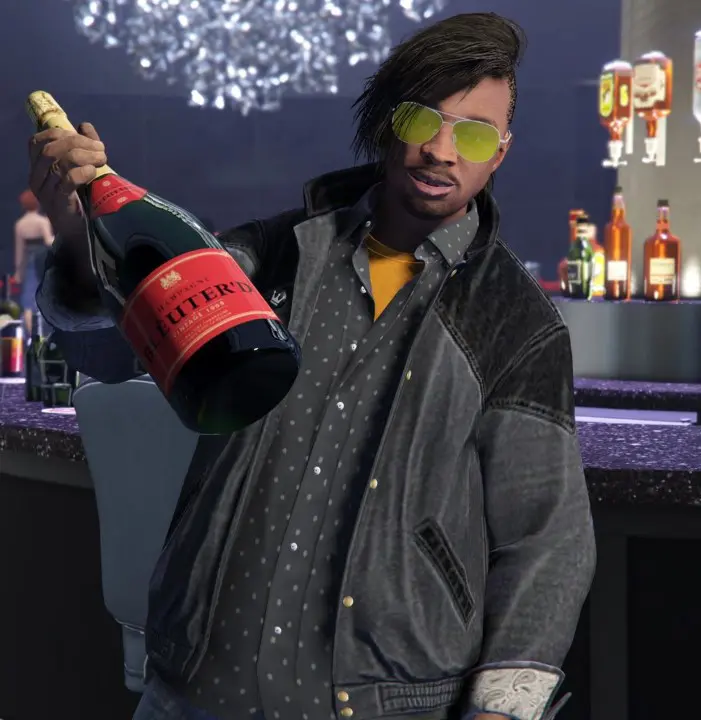 Yung Ancestor is a character that appears in GTA Online, introduced on December 12, 2019 as part of the 1.49 Diamond Casino Heist update.
Yung Ancestor is a famous rapper staying at the Diamond Casino & Resort.
He is first met when the player takes the elevator up to the roof terrace of the Diamond Casino. Yung will exclaim that the party sucks and goes on to announce an afterparty in his penthouse - among the people invited is Brucie Kibbutz, but the Online Protagonist is not. This cutscene is followed by Lester Crest calling the protagonist, mentioning that they can use Yung Ancestor as means to infiltrate the casino for the Diamond Casino Heist if choosing The Big Con Approach.
In order to get Yung to help, the player must help him get rid of the evidence of his murder "accident" by trashing a blue rental car and destroying all of the cameras the paparazzi used to take photos of one of Yung's parties.
Yung Ancestor: Character Info
Gender

Male

Nationality

United States

Occupation

Rapper

Also Known As

Yung Ancestor

Performer / Actor

Danny Brown

Vehicle
Yung Ancestor: Appearances
Release Date

December 12, 2019

DLC / Title Update

1.49 Diamond Casino Heist

Game Edition

GTA Online

Platforms

PC

PlayStation 4

Xbox One
Yung Ancestor Screenshots
Coming soon.
Yung Ancestor Artworks
Coming soon.