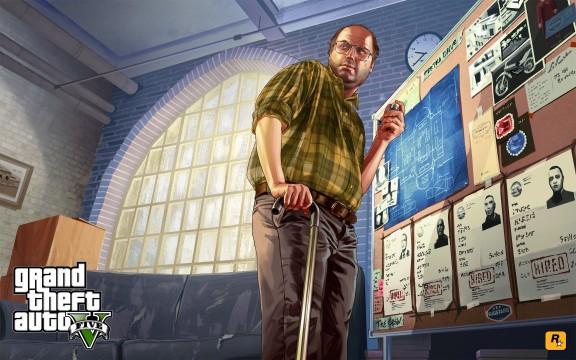 Lester Crest appears as a Major Character and Companion in Grand Theft Auto V, as well as a character in GTA Online.
An old friend of Michael, Lester is the mastermind behind the Heists that Michael, Franklin, and Trevor pull off. He also issues assassination missions to Franklin.
Despite Lester's physical disabilities, he makes up for this with genius-level intelligence, masterful expertise in technology and computing, and a sharp eye for detail, which is what makes him an excellent planner for the various heists he has pulled off throughout his life.
Lester suffers from a wasting disease that has gradually worn down his motor skills and left him wheelchair-bound. Due to his disability, he has grown overweight and also suffers from asthma. He became affiliated with Michael Townley and Trevor Philips, becoming a regular member of their heist crews since the start of their partnership, working as a planner and information scout. He refuses to participate in the 2004 cash storage facility heist, his suspicions being confirmed when it is revealed that Michael faked his death and moved to Los Santos, having made a deal with the FIB.
Lester and Michael reunite in 2013 when Michael finds himself in need of money after angering Cartel boss Martin Madrazo. Lester agrees to help, but only after Michael does him a favor, helping assassinate Lifeinvader CEO Jay Norris. Lester and Michael continue their partnership afterward in several heists.
Lester is socially awkward and not the best conversationalist, but is very intelligent and very well informed on world politics and details of corporate activities, using this information to be involved in stock fraud and corporate assassinations.
He also plays a major role in Grand Theft Auto: Online, helping the players in preparing and setting up heists, and also reappearing during the Diamond Casino Heist, when he begins a romantic relationship with Georgina Cheng.
Lester Crest: Character Info
Gender

Male

Nationality

United States

Location

House, Amarillo Vista, El Burro Heights, Los Santos

Occupation

Computer Hacker, Heist Planner

Also Known As

L; Lest; Wheels; Long John Teabag; LJT

Performer / Actor

Jay Klaitz

Family

Affiliation

Franklin Clinton Michael De Santa Trevor Philips

Playability

Non-Playable

Vehicle
Lester Crest: Phone Services
Lester Crest can be called by the GTA: Online Protagonist for the following services:
Set Bounty
" Choose a player to place a Bounty on or view their current Bounty value. "
A Bounty of the price paid, minus $1000, will be placed on the head of the selected player. Whoever kills this selected player will receive the Bounty money for themselves. NPC kills or suicides do not count for removing the bounty.
Price: $2,000-$10,000
After rank: 10
Remove Wanted Level
" Completely remove your wanted level. "
Completely removes the player's wanted level once payment is received. If multiple players are in the same vehicle at the time of the call, only one player must use this to remove the wanted level for everyone in the vehicle.
Price: $200/Star
After rank: 21
Off the Radar
" Remove your blip from the World Map for one minute. "
The player's and everyone else in the vehicle with the player's location on the radar is hidden from everyone else in the session.
Price: $500
After rank: 40
Reveal Players
" Reveal hidden players on the world map. "
Reveals any players using the "Off The Radar" service.
Price: $500
After rank: 40
Request Job
" Request an invite to a previously completed Job. "
After a few seconds, you will be sent an invite to a random job you have completed for Lester previously.
Price: $0
After rank: 0
Locate a Boat
" Locate a boat and display it on the Map. "
Lester will locate the nearest available boat, and the player can take it without it counting as a stolen vehicle. The player must return it within 12 in-game hours or get a wanted level.
Price: $400
After rank: 0
Locate a Helicopter
" Locate a chopper and display it on the map. "
Lester will locate the nearest available helicopter, and the player can take it without it counting as a stolen vehicle. The player must return it within 12 in-game hours or get a wanted level.
Price: $700
After rank: 35
Locate a Car
" Locate a car and display it on the map. "
Lester will locate the nearest available car, and the player can take it without it counting as a stolen vehicle. The player must return it within 12 in-game hours or get a wanted level.
Price: $100
After rank: 15
Locate a Plane
" Locate a plane and display it on the map. "
Lester will locate the nearest available plane, and the player can take it without it counting as a stolen vehicle. The player must return it within 12 in-game hours or get a wanted level.
Price: $1000
After rank: 45
Cops Turn Blind Eye
" Cops will ignore any crimes you commit for a short period of time. "
Once activated, the player can commit any crime for 3 minutes without receiving a wanted level. They can still get a wanted level if they share a car with a player who is wanted.
Price: $5000
After rank: 12
Lester Crest: Appearances
Game Edition

GTA OnlineGTA V Story Mode

Platforms

PC

PlayStation 4

Xbox One

PlayStation 3

Xbox 360
Lester Crest Screenshots
Lester Crest Artworks