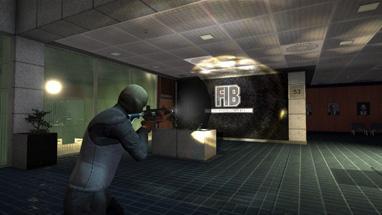 Mission Information
Mission Number

66

Mission Type

Branching ChoiceHeist

Mission Giver

Steve Haines

Description

Michael and Franklin parachute onto the FIB headquarters to infiltrate their network and perform a data theft.

Protagonist (Playable)

Michael De SantaFranklin Clinton

Location

Darnell Bros.; NOOSE Headquarters; FIB Headquarters; Franklin's House

State / Area

Los Santos
Heist Setups

Notes

This is a branching mission that is played when choosing The Bureau Raid (Roof Entry)

Rewards

$242,346 (Franklin only)
Gold Medal Objectives (100%)
The following are the Mission Objectives required to obtain the Gold Medal:
No Innocents: Don't kill any innocent civilians.
Headshots: Kill 20 enemies with a headshot.
Accuracy: Finish with a shooting accuracy of at least 70%.
Perfect Drop: Land perfectly on the main section of the roof.
Hacker: Hack the system within 45 seconds.
Time: Complete within 19:00.
Note: You can complete each Gold Medal requirement in multiple playthroughs of the mission. You don't need to obtain them all in one single playthrough.
Mission Objectives
Go to the

government facility

.
Get in the

helicopter

.
Fly to the

jump zone

.
Land on the

FIB building rooftop

.
Go to the

server room

.
Hack the

server terminal

.
Hold the

FIB

while the data is downloaded.

Escape

the FIB building.
Use the rappel to get to the ground.
Destroy the

helicopter gunship

.
Get in the

ambulance

.
Go to

Franklin's house

.
Heist Maximum Revenue
The Roof Entry is the more profitable option. Even though you have to hire three crew members, nobody will die thus meaning no casualty costs. Use Taliana Martinez (5%) as the driver, Daryl Johns (6%) as the gunman and Rickie Lukens (4%) as the hacker
FIB budget: $331,985
Lester's cut (12%): $39,838
Crew cut (15)%: $49,797
Michael's cut: $0
Franklin's cut: $242,349
Videos
PS3 / Xbox 360: Gold Medal Video Walkthrough
PS4 / Xbox One (First Person): Gold Medal Video Walkthrough
Screenshots