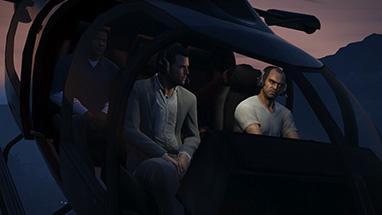 Predator is a main story mission in Grand Theft Auto V given by Trevor Philips, involving protagonist Michael De Santa, Franklin Clinton, Trevor Philips and Chop.
It's the 44° GTA V mission in chronological order, and it takes place in Blaine County.
Franklin, Trevor and Michael chase the O'Neil gang into the woods.
Gold Medal Objectives (100%)
The following are the Mission Objectives required to obtain the Gold Medal in the mission "Predator":
Accuracy: Finish with a shooting accuracy of at least 70%.
Time: Complete within 09:00.

After Franklin's call, switch directly to him.

Headshots: Kill 3 enemies with a headshot.

Use Michael's special ability to shoot more accurately.

Thin the Herd: Don't kill any animals.

There will be several deer in the forest, make sure not to hit them.
Note: You can complete each Gold Medal requirement in multiple playthroughs of the mission. You don't need to obtain them all in one single playthrough.
Predator - Mission Details:
This mission can be started by either Michael, Franklin or Trevor.
Michael and Trevor are at Trevor's trailer in Sandy Shores. Trevor is getting high off of gasoline but Patricia, who has now been released from being tied to a chair and is doing housework, slaps him around the face and tells him off, much to Michael's amusement.
Michael and Trevor then have another heated discussion about how they're living their lives but laugh it off over a beer. Trevor says he's been in contact with Franklin, who is helping out with some trouble Trevor's been having.
The pair get into Trevor's truck to meet Franklin. Michael asks what Franklin's helping him with. Trevor just states "He's tailing some guys, Mikey, tailing". Play then automatically switches to Franklin on the Great Ocean Highway, who is tailing the O'Neil brothers in a car with Chop.
The O'Neil brothers catch on that they're being tailed and start speeding away. Franklin carries on pursuing them and calls Trevor to let him know of their location. Trevor tells Franklin that he and Michael will come to meet him in Trevor's helicopter.
The O'Neil brothers head through Raton Canyon, with Franklin still close behind. An elk runs out into the road, causing the O'Neil brothers to swerve their car and crash it. The three O'Neil brothers that were in the car escape just as the car sets on fire. Franklin calls Trevor to tell him the events that just unfolded and that the O'Neil brothers ran out into the woods.
Play then switches to Trevor and Michael, who are on their way to the airfield to pick up the helicopter. They both get in and head to Raton Canyon. On the way there, Trevor explains to Michael why the O'Neil's are after him. Once at Franklin's location, Michael uses a sniper rifle with a thermal scope, looking for the O'Neils.
Michael takes out two of the brothers but the remaining brother, Elwood, starts shooting rockets at the helicopter Michael and Trevor are in. Play then switches to Franklin, who pursues Elwood on foot with Chop. Franklin finds Elwood and kills him. Trevor picks up Franklin and Chop in the helicopter and the four all head back to the airfield in Sandy Shores.
Predator: Mission Objectives
Go to

Franklin's location

.
Chase the

O'Neil brothers

.
Go to the

car

.
Go to the

airfield

.
Go to the

forest

.
Take out the O'Neil brothers before they escape.
Follow

Chop

.
Pick up Franklin and Chop from

Raton Canyon

.
Go to the

airfield

.
Predator: Mission Info
Mission Number

44

Mission Type

Mandatory Mission

Mission Giver

Trevor Philips

Protagonist (Playable)

Michael De SantaFranklin ClintonTrevor PhilipsChop

Location

Trevor's Trailer, Sandy Shores

State / Area

Blaine County
Predator: Videos
PS3 / Xbox 360: Gold Medal Video Walkthrough
PS4 / Xbox One (First Person): Gold Medal Video Walkthrough
Predator: Screenshots
Coming soon.